Free agency is now just under a month away and many teams are already looking ahead to when it opens up.  There will be several prominent players set to hit the open market in late July while many teams have key restricted free agents to re-sign as well. A Predators legend is a UFA, but there are other, perhaps more important names for the Nashville front office to focus on.
Key Restricted Free Agents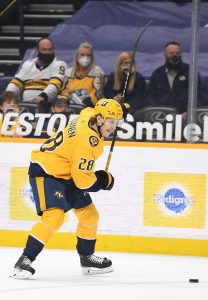 F Eeli Tolvanen – After dominating the KHL in 2017-18, many expected Tolvanen to step into the NHL as a superstar. That wasn't even close to the case as the young sniper failed to even make the team the following season, spending two full years at the minor league level. In 2020-21 though, the Predators started to see a return on their investment, with Tolvanen eventually taking over a spot in the top-six. His development made Viktor Arvidsson expendable and should mean he is in line for even more responsibility next season. Now comes a negotiation and if GM David Poile is known for anything, it's locking up players he believes are core pieces to long-term deals right away. Ineligible for arbitration, the only real leverage Tolvanen has is the threat of the KHL, meaning he should come back for a reasonable price unless the team starts buying out UFA time on a max-term deal.
D Dante Fabbro – Will Fabbro even be negotiating a contract with the Predators? Nashville will need to go the eight-skater protection route in the expansion draft in order to keep him away from Seattle, unless another deal is worked out in the next few weeks. If they do find a way to keep the 23-year-old defenseman, he'll need a new contract this summer as an arbitration-eligible RFA. Fabbro is only coming off his entry-level deal, but since he signed as a 21-year-old and played ten games in his first season (including his six playoff games) he has already completed the three professional years that arbitration required.
G Juuse Saros – Don't forget about Saros, who is also an RFA after taking complete control of the starting role this season. The 26-year-old netminder posted a .927 save percentage and finished sixth in Vezina Trophy voting, truly establishing himself among the league's elite goaltenders. That kind of performance certainly came in a timely fashion for Saros, who is scheduled for unrestricted free agency next summer and could be in for a huge payday this year. If the Predators want to lock him up long-term, he'll be getting much more than the $1.5MM he has earned in each of the last three years. If he decides to go to arbitration, a one-year deal would walk him right to the open market.
Other RFAs: F Mathieu Olivier, F Michael McCarron, F Anthony Richard, F Rem Pitlick, F Josh Wilkins, F Tanner Jeannot, F Lukas Craggs, F Cole Smith, D Ben Harpur,  D Frederic Allard, D Jeremy Davies, D Josh Healey
Key Unrestricted Free Agents: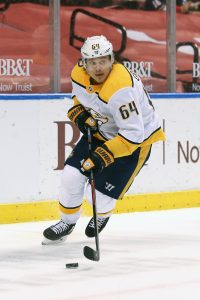 F Mikael Granlund – The veteran forward entered the UFA market last offseason as a top name, but ended up settling for just a one-year deal in Nashville after seeing the limited flat-cap market. He still earned a solid paycheck at $3.75MM, but is now another year older and enters free agency with more question marks. Granlund has never seemed to fit perfectly in Nashville, unable to reach the offensive heights that he found in Minnesota, and now has just 62 points in 130 games since arriving in 2019–he scored 47 goals and 136 points over his best two-year period with the Wild. Is his time as a play-driving top-six talent gone? Can he still play center on a full-time basis? It will be tough for a team to offer a long-term deal without knowing the answers to those questions, but it doesn't really make sense for Nashville to bring him back unless it's on another reasonable short-term contract.
D Pekka Rinne – 683 regular season games. 19,225 shots faced. 369 wins. 60 shutouts. These are all franchise records that Rinne holds for the Predators after 15 years with the organization, but a tough decision will be coming for Poile and the Nashville front office. Rinne is now 38 and has a .900 save percentage over his past two seasons. He had a losing record this year and isn't the Vezina-winning goaltender he once was. Some would expect that means it's the Predators or retirement, but when their season ended Rinne explained that he didn't "want to close any doors." Seeing the veteran netminder in any other colors would certainly be shocking, but at some point, the Predators are going to have to move on, whether he's ready to call it quits or not.
Other UFAs: F Brad Richardson, F Erik Haula, F Sean Malone, F Michael Carcone, D Erik Gudbranson, D Luca Sbisa, D Tyler Lewington
Projected Cap Space
After moving Arvidsson's contract the Predators have nearly $23MM in cap space to work with this summer, but a lot of that could be eaten up just by their restricted free agents. The expansion draft could provide some additional cap relief depending on who the Kraken decide to take, but it will be tough to really dole out a ton of money on the open market.
Photos courtesy of USA Today Sports Images.  Contract information courtesy of CapFriendly.