Navigating the salary cap is one of the more important tasks for any GM.  Teams that can avert total cap chaos by walking the tightrope of inking players to deals that match their value (or compensate for future value without breaking the bank) remain successful.  Those that don't see struggles and front office changes.
PHR will look at every NHL team and give a thorough look at their cap situation heading into the 2020-21 season.  This will focus more on players who are regulars on the roster versus those who may find themselves shuttling between the AHL and NHL.  All cap figures are courtesy of CapFriendly.
Vancouver Canucks
Current Cap Hit: $83,001,878 (over the $81.5MM Upper Limit)
Entry-Level Contracts
D Quinn Hughes (one year, $917K)
F Elias Pettersson (one year, $925K)
Potential Bonuses
Hughes: $850K
Pettersson: $2.85MM
Total: $3.7MM
So far in this series, there haven't been many star players currently on entry-level deals.  That isn't the case here.  Pettersson has quickly established himself as a legitimate front-line player and while he spent most of last season on the wing, shifting to the lesser-valuable position isn't going to hurt his bargaining position one bit.  He has back-to-back 66-point seasons under his belt and is in position to command $7MM or more on his next deal, even in this cap climate.
Hughes doesn't have quite as long of a track record as his lone full NHL season was 2019-20 but it was certainly a good one.  He finished second in Calder Trophy voting and immediately jumped into a regular top-four role.  There's still room to grow and if that workload and production increase as expected, he'll be leading Vancouver blueliners in AAV by this time a year from now.
One Year Remaining, Non-Entry-Level
F Sven Baertschi ($3.367MM, UFA)
D Jordie Benn ($2MM, UFA)
G Thatcher Demko ($1.05MM, RFA)
D Alexander Edler ($6MM, UFA)
F Adam Gaudette ($950K, RFA)
F Tanner Pearson ($3.75MM, UFA)
F Brandon Sutter ($4.375MM, UFA)
Let's get the bad contracts out of the way first.  Baertschi cleared waivers due to his contract last season and they weren't able to find a taker for him in a trade this offseason.  Barring any surprises, he's probably heading for a similar fate.  He can still be a factor in the NHL and it wouldn't be shocking to see him sign elsewhere next year but it will be closer to the $1MM mark than his current one.  Sutter is another pricey deal for a role player.  He can still play on the fourth line and kill penalties but given their cap situation, they could free up $1.075MM by sending him to the AHL as well as there's no chance he'd be claimed on waivers.
Pearson has rebounded nicely since joining the Canucks and quietly put up a career year offensively last season despite the pandemic shutting things down.  In a normal cap environment, a similar showing in 2020-21 would have him in line for a raise but now, even matching his current rate will be difficult.  A big drop isn't likely either but he's not going to get the contract he normally would in this situation.  Gaudette had a good sophomore season but without much leverage (no arbitration rights) and Vancouver's cap situation, he was basically stuck taking a one-year deal and will hope for better fortunes next time around.
Edler has been a fixture on the back end for the Canucks for parts of 14 seasons and he's still playing a prominent role.  Impact defenders haven't been hit as hard when it comes to contracts this offseason as some forwards have which should help his cause.  However, Edler hasn't really shown an inclination or desire to test the open market as he has made it clear that he wants to stay in Vancouver.  But with Pettersson and Hughes heading for significant raises a year from now, GM Jim Benning is going to need to reallocate a lot of money from their expiring deals to those two.  Will they still have enough to keep Edler around?  He'll have to take a big cut for it to happen although it's worth noting that he will be eligible for performance incentives on a one-year contract next offseason.  Benn played a limited role last season and he's another one that could be shopped to try to clear some money still.  Failing that, he'll play a similar role next year and will be looking at a price tag that's about half of what he's getting now next offseason.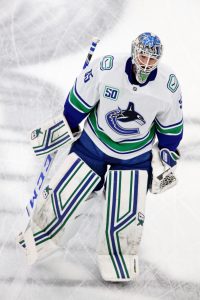 Demko could very well be one of the more interesting RFA cases next offseason.  Not just in Vancouver but anywhere.  Since he was drafted back in 2014, he has been viewed as their goalie of the future and that hasn't changed, especially since they opted not to hand Jacob Markstrom a long-term contract in October to help pave the way for Demko to ascend to that role.  He will almost certainly be their protected goalie in the Seattle expansion draft.  And yet he has just 37 career regular season games under his belt (plus a stellar four-game playoff stint from the summer).  He'd be lucky to double that number in a shortened season so he'll still be relatively inexperienced when his deal is up.  Could he sign a second bridge deal that's comparable to Tristan Jarry's three-year, $10.5MM pact that he recently inked?  Sure, but that walks him to UFA eligibility at 28 which isn't ideal.  Suffice it to say, there's a lot riding on this limited season for Demko.
Two Years Remaining
F Jay Beagle ($3MM, UFA)
F Brock Boeser ($5.875MM, RFA)
F Loui Eriksson ($6MM, UFA)
G Braden Holtby ($4.3MM, UFA)
F Antoine Roussel ($3MM, UFA)
Again, let's get the bad out of the way first.  Eriksson hasn't come close to living up to his contract and he quite became another addition to the list of ill-fated 2016 UFA deals.  He's another candidate to be buried in the minors if they need to try to free up some cap room.  The same can be said for Beagle who can still win faceoffs but is making way too much for someone that's basically just a specialist on the draw at this stage of his career.
As for Boeser, he has been a capable top-six winger in his three full NHL seasons although staying healthy has been a challenge at times.  He's definitely a part of the core although a $7.5MM qualifying offer is required to retain his RFA rights.  That seemed reasonable back at the time but the market being what it is now and the cap flattening out, making room for that deal will be a bit trickier.  Roussel could have easily gone in the previous paragraph but he can still play an effective energy role.  He's overpaid in that spot and will be looking at a lot less money two years from now but at least he provides some value.
Holtby was signed to act as a bridge goaltender for Demko to eventually move into the number one slot.  He could be appealing in expansion to the Kraken depending on how next season goes but with Demko expected to get the starting role eventually, Holtby may be hard-pressed to find a number one opening two years from now which means his next price tag could be a bit lower.
Three Years Remaining
F Micheal Ferland ($3.5MM, UFA)
F Bo Horvat ($5.5MM, UFA)
F J.T. Miller ($5.25MM, UFA)
Horvat doesn't put up the offensive numbers that a true number one center does but when you factor everything else in, he's a capable number one center.  He plays a lot of heavy defensive minutes while being the captain.  Assuming he hovers around the 60-point mark (he played above that rate last season), he'll be highly coveted on the open market and should garner a sizable raise.  Miller's acquisition was questioned at the time but he had the best season of his career in 2019-20, tallying over a point per game while logging more than 20 minutes a game for the first time.  If he shows this wasn't just some good luck, he too will be coveted by many teams in free agency which means a raise would be on the horizon for him as well.  Ferland's future is uncertain due to lingering concussion trouble.  He's hoping to return for next season but hasn't been cleared yet.  If he doesn't get the green light, he'll be eligible for LTIR which will at least give the Canucks some short-term breathing room on the cap.