We've now gotten past Thanksgiving and the holiday season is right around the corner. Like the last few years, PHR will take a look at what teams are thankful for but this year comes with a bit of a change. Normally teams would have an idea of where their season was heading, coming up on the one-quarter mark with mountains of statistics to analyze. Instead, in this unprecedented year, the season hasn't even begun. We'll still take a look at what each group is excited about and what they could hope for once the calendar turns to 2021.
What are the Flames most thankful for?
NHL free agency.
If you can't beat 'em, pay 'em? The Flames haven't made it past the first round of the Stanley Cup Playoffs in five years, so decided to point at the Vancouver Canucks—who came within one game of the Western Conference Finals—and say "I want that." When free agency came along, Calgary spent big on Jacob Markstrom and Chris Tanev, both key members of the Canucks playoff run and veterans of the fierce Pacific Division. Markstrom, who signed a six-year $36MM contract with the Flames has a chance to be the team's first long-term starter since Miikka Kiprusoff retired in 2013. Since he left, the Flames have seen goaltenders like Joey MacDonald, Reto Berra, Karri Ramo, Joni Ortio, Jonas Hiller, Niklas Backstrom, Chad Johnson, Brian Elliott, Jon Gillies, Eddie Lack, Mike Smith, and most recently, Cam Talbot, come and go without a ton of success. David Rittich remains as the backup but is only signed through this season.
Tanev meanwhile, who inked a four-year $18MM deal, will be asked to bring the same sort of hard-nosed defensive presence that he had in Vancouver for so many years. The 30-year-old defenseman replaces T.J. Brodie in the top-four, while Travis Hamonic also became an unrestricted free agent (but has yet to sign). Vancouver fans will tell you that there's nothing wrong with Tanev's play when he's on the ice, but it's not all that common for him to be there. The shot-blocking, penalty-killing veteran has never played more than 70 games in a season, though this year that wasn't his fault—he played all 69 games before the season was canceled.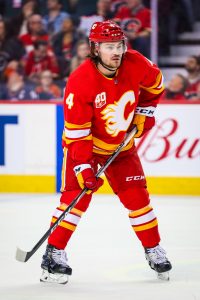 Who are the Flames most thankful for?
Rasmus Andersson & Matthew Tkachuk.
Many of those minutes left behind by Hamonic's departure should be eaten up by Andersson, who looks like a star about to break out in Calgary. The 24-year-old had a strong regular season but was outstanding for the Flames in the postseason (when Hamonic was absent after opting out of the return to play), leading all Calgary defensemen with five points in ten games and logging more than 21 minutes a night. That playoff breakout came several months after the Flames signed Andersson to a six-year extension, keeping his cap hit at a manageable $4.55MM through the 2025-26 season. When captain Mark Giordano eventually retires, Andersson looks primed to become the leader of the Calgary defense corps.
The same can be said about Tkachuk, if it hasn't already. The 22-year-old forward is still thought of second after Johnny Gaudreau when speaking about the Flames forward group, but he likely should be number one with a bullet. Tkachuk led the team in scoring with 61 points in 69 games and could have potentially been the difference in their first-round series against the Dallas Stars, had he not suffered a concussion in game two. There aren't many players around the league that can impact the game in as many ways as the young forward, scoring at a high rate while also contributing physically and getting under his opponents' skin. He only has two years left on his current contract but is under control as a restricted free agent at the conclusion of the 2021-22 campaign.
What would the Flames be even more thankful for?
A few more Johnny Gaudreau goals.
There's no way around it, Gaudreau was one of the biggest disappointments of the 2019-20 season. After scoring 36 goals and 99 points in the previous campaign he finished fourth in Hart Trophy voting and looked like he was going to be a league-leading presence for years to come. Instead, he potted just 18 goals this season (only 12 of them at even-strength) and was completely invisible for the Flames at the most important times. Gaudreau did have seven points in ten postseason games, but only one of them—an empty-net goal in game three of the qualification round—was on anything but the powerplay. Man-advantage points are essential, but the Flames desperately needed some help at even-strength and simply couldn't rely on their 27-year-old star to provide it.
While Tkachuk may be the new leader up front, Calgary's fate can still be determined by Gaudreau, who has two years left on his deal to prove he can be that superstar on a consistent basis. The fact that his name came up in trade speculation once again shouldn't be a shock.
What should be on the Flames' holiday wish list?
Some added secondary scoring.
Only six forwards provided any consistent offense this season for the Flames, with Milan Lucic sitting as the best-of-the-rest with exactly eight goals and 20 points. That's just not enough secondary production for a team that wants to contend for the Stanley Cup, especially when those top names like Gaudreau and Sean Monahan are struggling themselves. Without many real changes upfront—Josh Leivo, another Canucks free agent signed a one-year, $875K deal, while Dominik Simon came in on the league minimum—the team will need a young player or two to step up their game.
Most of the focus will be on Sam Bennett, the 24-year-old center who does lots of things except score in the regular season. He had just 12 points in 52 games during the 2019-20 campaign, a completely unacceptable total for the 2014 fourth-overall pick. Bennett showed up in a big way in the playoffs, leading the team with five goals and eight points, but can't just disappear for the entire season again. Dillon Dube, another young forward that provides more than just offense, will need to add to that part of his game as well if he's to become a true impact player for the Flames. If neither does, Calgary GM Brad Treliving could be shopping again at the deadline.
Photo courtesy of USA Today Sports Images