Navigating the salary cap is one of the more important tasks for any GM.  Teams that can avoid total cap chaos by walking the tightrope of inking players to deals that match their value (or compensate for future value without breaking the bank) remain successful.  Those that don't see struggles and front office changes.
PHR will look at every NHL team and give a thorough look at their cap situation for the 2022-23 season and beyond.  This will focus more on players who are regulars on the roster versus those who may find themselves shuttling between the AHL and NHL.  All cap figures are courtesy of CapFriendly.
Winnipeg Jets
Current Cap Hit: $79,878,398 (under the $82.5MM Upper Limit)
Entry-Level Contracts
F Morgan Barron (one year, $925K)
F Cole Perfetti (two years, $894K)
D Dylan Samberg (one year, $925K)
Potential Bonuses
Barron: $850K
Perfetti: $850K
Samberg: $350K
Total: $2.05MM
Barron came over from the Rangers at the trade deadline last season and saw regular action down the stretch in a limited role.  That spot in the lineup carried over to this year where he was doing well before suffering a wrist injury).  Even so, he's not likely going to produce enough to hit his 'A' bonuses while he's a candidate to take a contract that's cheaper than this one but is a one-way pact.  Perfetti held his own in his first taste of NHL action last year and has impressed in the early going this season while seeing a lot of action in the top six which will give him a good chance to hit some of his bonuses (four 'A' ones).  Notably, although he burned his first entry-level year last season, he did not accrue a season towards free agent eligibility so he'll be five years away from UFA status.  That could make him a candidate for a three-year bridge deal (or even four years) with an AAV in the $3MM-$4MM range if he's able to stay in that role.
Samberg is looking to establish himself as a regular but has been in and out of the lineup early on.  Assuming that continues, he's also a candidate to sign a short-term bridge deal that's cheaper than this one in exchange for a one-way pact or a two-way contract with an above-average AHL salary.
Signed Through 2022-23, Non-Entry-Level
F Pierre-Luc Dubois ($6MM, RFA)
F Axel Jonsson Fjallby ($750K, RFA)
F Sam Gagner ($750K, UFA)
F Saku Maenalanen ($750K, UFA)
G David Rittich ($900K, UFA)
D Logan Stanley ($900K, RFA)
F Dominic Toninato ($750K, UFA)
Dubois' future in Winnipeg has been in question for some time and the fact he accepted his qualifying offer without even attempting to go through arbitration was telling.  He has told the team that he won't sign a long-term deal with them at this time so if nothing changes, he's probably heading for a one-year agreement in the $7MM range.  If he goes elsewhere or changes his mind, a long-term deal closer to $8MM per year is doable.  As for the other four forwards, Gagner's market was weak this summer which likely won't change barring an offensive breakout while the other three are just hoping to establish themselves as regulars.  The Jets are in a spot where they don't necessarily have to keep this many roster spots at the minimum but if they're able to do so, that does give them some flexibility to add elsewhere.
Stanley is still trying to establish himself as an every-game regular and while he played in 58 games last year, his ice time was still somewhat limited.  He should be in a position to get more than his $1MM qualifying offer but it's unlikely that they'll find common ground on a long-term deal; a one-year contract that buys both sides more time to evaluate makes a lot of sense as a result.
Rittich is looking to turn things around after a tough year with Calgary last season.  A rebound performance could push him closer to $2MM a year from now but if he puts up a similar performance, he may be in tough to find a guaranteed one-way contract.  His stock has dropped quite a bit over the last couple of years.
Signed Through 2023-24
D Kyle Capobianco ($762.5K, UFA)
D Dylan DeMelo ($3MM, UFA)
D Brenden Dillon ($3.9MM, UFA)
F David Gustafsson ($775K, RFA)
F Jansen Harkins ($850K, UFA)
G Connor Hellebuyck ($6.167MM, UFA)
F Mark Scheifele ($6.125MM, UFA)
F Blake Wheeler ($8.25MM, UFA)
Wheeler got off to a tough start last season but to his credit, he rebounded nicely to have a productive year.  However, that level of production isn't worthy of his current cap hit but that's also something GM Kevin Cheveldayoff likely expected at this point of the contract.  He'll be 38 when he next is eligible for free agency and while there should be some interest, it's likely to be at half of this rate or less.  The same can't be said for Scheifele.  His deal has been a team-friendly one throughout and he'll be 31 on the open market where he could land close to a max-term agreement.  He has been at or above a point per game for the last six years and while some regression will be likely in the final few seasons, it's possible that he could push for close to $9MM in free agency, especially as the salary cap will be starting to go a bit higher by then.
Harkins' season didn't get off to a great start as he cleared waivers but he's back up for the time being at least.  He's another player that is still trying to get established as an NHL regular.  If that happens between now and the end of this deal, he could surpass the $1MM mark on the open market but if not, he's someone that might have to drop down to a two-way contract.  Gustavsson is a recent example of taking less than his qualifying offer to get more guaranteed money as he's also trying to become a full-timer.  So far this season, he's holding his own on the fourth line but will need to do more than just log light minutes if he wants any sort of meaningful increase.
Dillon has been somewhat of a higher-priced stabilizer the last few years.  He's serviceable as a fourth option but in an ideal scenario, he's anchoring a third pairing.  That said, he also has a strong track record so there's a good chance he can land a contract similar to this one both in cost and term (four years) on the open market.  DeMelo is another stabilizer type although he's one that Winnipeg hoped could play in the top four but it hasn't played out like that.  He has been a pricey number five but he's a right-shot defender who won't hurt a team most nights.  There's a lot of demand for that type of blueliner so he also should be able to land a multi-year agreement around this price tag in 2024.  Capobianco is yet another player that's looking to get established as a full-time NHL player (there's a pattern with how the Jets have filled those depth spots this season) after being non-tendered by Arizona.  He only made his debut with the team yesterday which isn't a good sign.  Unless something changes, he'll be at or near the minimum once again.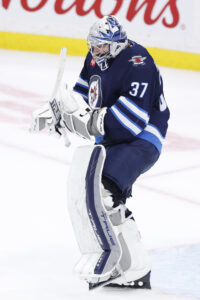 Hellebuyck has led the league in saves in four straight seasons which is an impressive feat; in an age where teams have been trending towards platoons, he's still a workhorse between the pipes.  He has been quite impressive early on this year with numbers close to his Vezina-winning campaign.  While signing a 31-year-old (his age in 2024) goalie to a long-term deal will carry some risks at the back end, he should have considerable interest around the league.  He has made a bit above the median for a starter throughout this contract and as the Upper Limit starts to rise, there's a very good chance that trend will continue which could put his next deal closer to the $7MM mark if not a bit higher.
Signed Through 2024-25
F Mason Appleton ($2.167MM, UFA)
F Nikolaj Ehlers ($6MM, UFA)
D Neal Pionk ($5.875MM, UFA)
D Nate Schmidt ($5.95MM, UFA)
Ehlers has settled in nicely as a winger that's going to hover around 25 goals and 60 points in a season.  His price tag for that role is certainly a reasonable one.  He should be someone that really benefits from the higher cap at that time; the winger market has been weaker lately but three years from now, that shouldn't be the case which will have him well-positioned to add a million or more on his next deal which should be close to a max-term agreement.  Appleton struggled last year with Seattle which resulted in a reunion with Winnipeg while this contract reflects an expectation that he can get back to performing at the level he did in 2020-21.  If he does that, this contract will be just fine; otherwise, it'll be a small overpayment.
Schmidt's stock has dropped in recent years.  After being a solid two-way threat with Vegas, he struggled in Vancouver and was a cap dump to Winnipeg a year later where he at least had a decent first year with the Jets.  He needs to be around the 30-point mark to have a chance at living up to his contract and three years from now, it seems likely that he'll be heading for at least a small dip in pay.  That's not the case for Pionk.  Being four years younger than Schmidt certainly helps on that front while his peak production has been higher than Schmidt's and he's a right-shot defender.  Barring a return to the level of production in his first year with Winnipeg (45 points), he shouldn't be in line for a significant increase but a long-term deal in the $6.5MM to $7MM range is achievable even if he stays around the 35-point mark.