It wasn't a particularly strong free agent market down the middle this summer and most of the notable ones signed within the first couple of days of the market opening up.  One of the exceptions is Tyler Bozak and as a result, he finds himself in good shape in terms of trying to find his next home.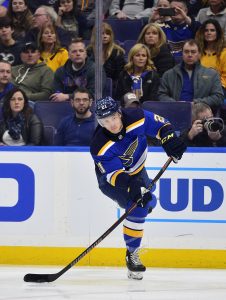 The 35-year-old has seen his production dip over the past few years as he has gone from someone logging more than 20 minutes per night with Toronto to playing more of a third line role which is where he best fits at this stage of his career.  He's also now coming off a season that saw him miss 21 games due to a concussion which certainly doesn't help his value.
But what does help his value is his two-way ability.  He can log a regular shift on the penalty kill and consistently is well above average at the faceoff dot which is always appealing to coaches.  On the offensive front, he has averaged at least 0.4 points per game in each season throughout his career and actually is coming off his best year in that stat since 2016-17 although with him playing the fewest games in a single season of his career, it's a bit of a small sample size.
Nevertheless, Bozak can still be counted on to contribute a bit offensively, kill penalties, and take some key situational faceoffs.  That's not a $5MM profile anymore like his last contract was but there is definitely a role for him to still fill.
Stats
2020-21: 31 GP, 5-12-17, -3 rating, 10 PIMS, 35 shots, 42.8 CF%, 14:55 ATOI, 56.8% faceoffs
Career: 764 GP, 167-282-449, -84 rating, 222 PIMS, 1,268 shots, 48.9 CF%, 17:47 ATOI, 53.8% faceoffs
Potential Suitors
Teams looking for an upgrade on the third line or a veteran to insulate some younger options should have some interest in Bozak.  That's a relatively specific role to fill but one that makes sense for prospective contenders as well as rebuilding teams that could use him for a few months and then flip him to a contender closer to the trade deadline.
In the East, Montreal lost Phillip Danault to Los Angeles in free agency, their two top centers are currently 21 years old, and their likely third line pivot in Jake Evans has less than a full year of NHL games under his belt including playoffs.  Bozak would fit as some veteran insurance for the youngsters while replacing Danault's situational faceoff role.  Boston hasn't replaced David Krejci down the middle and while Bozak wouldn't be a direct replacement, he'd give them some depth but making it work on the salary cap would be a challenge.  The Rangers could opt to put Filip Chytil back on the wing which would open up a spot on the third line for Bozak and a one-year term fits with the pricey contracts that are on the horizon a year from now.  Florida makes some sense as well with Bozak filling the role vacated by Alexander Wennberg but they need to get Sam Reinhart re-signed first to see what money they have left.
Out West, St. Louis still makes plenty of sense for Bozak aside from their cap situation.  If they can find a taker for Vladimir Tarasenko, the move would likely free up enough space to bring back Bozak to fill the same role on the depth chart he had last season.  If Colorado is opening to spending right to the Upper Limit in the offseason, Bozak would certainly fit on their third line although there's definitely risk to being capped out that early.  Just ask Vegas about that; they could use Bozak and have LTIR room to add him into although getting back into compliance when Alex Tuch is ready to return would put them right back where they were last season in terms of dancing around the cap.  Nashville certainly has the cap space and an opening to add Bozak but if they're heading towards something resembling a rebuild, it may not be the best fit.
Projected Contract
Bozak ranked 35th on our Top 50 UFA list with a projected one-year deal with a base salary of $2.5MM and $1MM in performance bonuses.  (As Bozak is 35, he's eligible for a contract with incentives as long as it's a one-year agreement.)  There are enough spots for him to command that price tag but if he wants to go to a contender, he may have to take a lesser deal or at least push more of the guaranteed money into incentives to give the signing team the flexibility to get a deal done.  At this point in free agency, Bozak is the best option left among middlemen and unless he plans to wait out the Tarasenko situation, he should sign his next contract fairly soon.
Photo courtesy of USA Today Sports Images.