July 28: The Seattle Kraken saved cap space at seemingly every turn through the expansion draft, passing on several high-profile candidates. They've now decided to use that cap space in free agency, signing Vezina finalist Philipp Grubauer. Kevin Weekes of NHL Network first heard a deal could happen between Seattle and Grubauer, while Elliotte Friedman of Sportsnet reports it will be a six-year contract with an average annual value of $5.9MM. The team has also officially announced a five-year contract for free agent forward Jaden Schwartz, which will carry an average annual value of $5.5MM.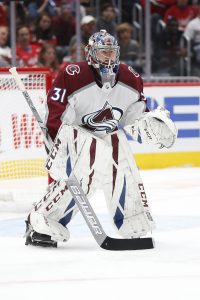 It's a huge swing for the expansion franchise, inking number four and nine from our Top 50 UFA List. Add in Alexander Wennberg, who signed earlier today for three years and $13.5MM and the Kraken have quickly used their cap space to improve the roster. Still, the Grubauer move in particular brings up several questions.
Seattle now has three NHL goaltenders on the roster between Grubauer, Chris Driedger and Vitek Vanecek. That will lead to a crunch before the start of the season given all three are waiver-eligible, meaning there could be a trade coming in the next few weeks. Friedman tweets that the Washington Capitals would be interested in re-acquiring Vanecek if possible, though it's unclear what it would cost them at this point. Remember, the Kraken passed on selecting Brenden Dillon from the Capitals in expansion, only to watch Washington flip him for two second-round picks. If the return on Vanecek is any less than that, it will certainly raise some voices in criticism of GM Ron Francis.
For Grubauer specifically, he leaves one of the best teams in the league for a complete question mark. Colorado recently re-signed both Cale Makar and Gabriel Landeskog for huge cap hits, not leaving a lot of room to fit in their starting goaltender. The 29-year-old Grubauer could very well become the face of the franchise in Seattle after his outstanding 2020-21 performance, but he won't have quite the same team in front of him.
The Avalanche now are left scrambling for a starting option, with not many left on the free agent market. Trade targets like Darcy Kuemper stand out as top options, though that also comes at a cost. Losing Grubauer is painful, but the team was going to be in a very tough financial situation if they tried to outbid a $5.9MM cap hit.
Schwartz meanwhile joins the Kraken as the team's first big forward addition (apologies to Wennberg), signing a long-term deal. He will likely slot into the team's top line, though there are now several wingers that could be interchangeable pieces in Seattle. After a down year with the St. Louis Blues, Schwartz still landed a slight raise on the $5.35MM cap hit he has carried over the last five seasons.
Photo courtesy of USA Today Sports Images