With the trade deadline fast approaching, we will be taking a closer look at the situation for each team.  Where do they stand, what do they need to do, and what assets do they have to fill those needs?  Next up are the Ottawa Senators.
It certainly hasn't been the year that the Ottawa Senators imagined after a deep playoff run just a year ago. With a combination of veterans and young talent, including two-time Norris Trophy winner Erik Karlsson, it looked like the team was trending in a positive direction. Very little has gone right as the Senators are struggling in a weak Atlantic Division and while they haven't been mathematically eliminated from the playoffs, the team has little to no chance. The team's struggles have suddenly made the team sellers, but what are they willing to move?
Record
17-25-9, 7th in Atlantic Division
Deadline Status
Seller
Deadline Cap Space
$5.8MM – full-season cap hit, 0/3 retained salary transactions, 49/50 contracts per CapFriendly
Draft Picks
2018: OTT 1st (only if it's a Top-10 pick), OTT 3rd, OTT 4th, OTT 5th, OTT 6th, OTT 7th, NYR 7th
2019: OTT 1st (unless Ottawa kept 2018 pick), OTT 2nd, OTT 4th, OTT 5th, OTT 6th, OTT 7th
Trade Chips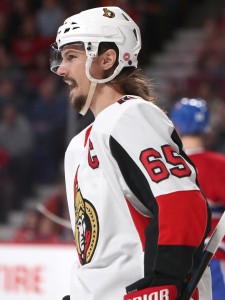 While there have been constant assurances from Ottawa general manager Pierre Dorion that the team will not trade Karlsson, especially before the trade deadline, there remains constant rumors and suggestions that teams might make major offers to pry the team's captain away as rumors continue to surface that while he loves Ottawa, he doesn't believe ownership will be able to deliver a winner. The team could get better much faster if they can get a great return on Karlsson.
However, assuming Karlsson stays put, the team has made numerous other players available, the most notable would be winger Mike Hoffman, who the team believes it should also be able to get a good return for. The 28-year-old center still has two more years on his contract after this one and has scored 92 goals over the past four seasons. Throw in the fact that centers are at a premium and the team could benefit greatly from a deal centering around Hoffman.
Five Players To Watch For: W Alexandre Burrows; C Mike Hoffman; D Erik Karlsson; D Johnny Oduya; C Jean-Gabriel Pageau
Team Needs
1) Unloading High-Priced Contracts: If they can find a taker for one of their two most bloated contracts in defenseman Dion Phaneuf or perhaps more importantly forward Bobby Ryan, that could fix a lot of the team's problems. If the team could free up some cap space, then they can make a competitive offer in a year to extend Karlsson, who is looking to break the bank. However, Phaneuf still has three more years after this one at $7MM per year, while Ryan has four more years at $7.25MM. Neither would be particularly easy to unload without retaining a large chunk of their salaries.
2) Young experienced talent/Picks: While the team has a lot of youth, what the team really needs is to form a nucleus around center Matt Duchene, who they traded for during the season. The team has a lot of young talent, but what they need is young players who have already established themselves somewhat in the league and won't be a liability early on as they try to transition to the NHL. As for picks, the team traded away their 2018 first-rounder in the Duchene trade, but (fortunately for them) it was top-10 protected which could give the Senators the chance to keep the pick for this year. However, if that's the case, then the first-rounder will transfer to 2019. Replacing that lost first-rounder should be a key priority for a team that is struggling.
Photo courtesy of USA Today Sports Images.