After heart surgery took him off the ice last season, Henrik Lundqvist has decided enough is enough. The legendary goaltender has announced his retirement, thanking all the people that have been part of his career over the last few decades.
From the excitement I felt as an 8-year old at my first practice to the 15 years of butterflies I had every time I took the ice in the greatest city in the world. I'm extremely grateful for what hockey has brought me and taught me in life. These lessons will never leave me.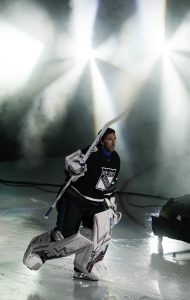 In the end, Lundqvist will have played every single game of his NHL career in a New York Rangers sweater after all. After 15 years with the organization, he attempted to play a year with the Washington Capitals in 2020-21, but after a heart issue was discovered in offseason training, that never happened. Now 39, Lundqvist will hang up his pads after 887 regular season appearances.
That's good enough for eighth all-time, though Lundqvist will likely be passed by Marc-Andre Fleury this season. He sits sixth all-time in wins and finished in the top-six for Vezina Trophy voting for ten straight seasons to start his career. He took home the award in 2012 after posting a .930 save percentage in 62 appearances, finishing third in Hart Trophy voting that year as well. One of the best of his generation, Lundqvist was never able to raise the Stanley Cup but did Olympic and World Championship gold as part of Team Sweden.
Even without any championships, Lundqvist is heading to the Hall of Fame as the unquestioned greatest Swedish goaltender of all time. He'll finish his career with a 459-310-96 record, with 64 shutouts.
A little later in the morning, the Rangers made their own announcement. This season, Lundqvist's jersey will be raised to the rafters at Madison Square Garden and his No. 30 will be retired from use.
Photo courtesy of USA Today Sports