Earlier this season, Patrick Marleau became the NHL's all-time leader in games played. After playing in last night's season finale, the record now sits at 1,779. The ageless wonder hasn't missed a game in over a decade as he chased down that record, even if his playing time in those games diminished.
Last night, Marleau was presented with a stick from Gordie Howe's final game. He saluted the crowd in San Jose, an emotional moment for many as the season came to a close. If you assumed, like many others, that was likely it for the 41-year-old forward, you might be mistaken.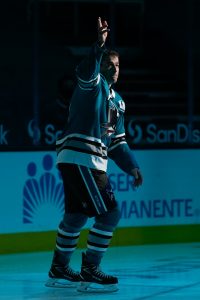 Speaking to reporters including Curtis Pashelka of the Mercury News, Marleau didn't sound ready to retire, saying he's "looking forward to a rebound season next year."
Of course, there is another games played record within his reach. Though Howe was the leader for regular season games, Marleau still sits 18 games behind Mark Messier for the combined record of regular season and playoffs. He would obviously break that record with another full season and would become the only man to ever suit up 2,000 times in the NHL.
If Marleau is to return, he'll need a new contract. He signed a one-year, $700K deal before this season, but would actually be due a raise even though his play didn't warrant one. The NHL minimum increases to $750K next year.
In 56 games, Marleau recorded just four goals and nine points, easily the worst season of his 23-year career. He did admit to reporters that he was dealing with a high ankle sprain and a groin injury by the end of the season, but it seems unlikely that he will be able to provide much offense even if fully healthy.
Photo courtesy of USA Today Sports Images