After spending the first 19 seasons of his NHL career with one organization, Patrick Marleau will now join his fourth in the past calendar year. The San Jose Sharks legend will be traded to the Pittsburgh Penguins in exchange for a third-round selection according to Pierre LeBrun on TSN, pending a trade call with the league. LeBrun adds on Twitter that the pick can become a second-round selection should the Penguins win the Stanley Cup.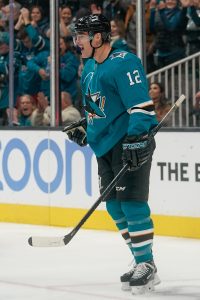 Marleau, 40, was traded last summer from the Toronto Maple Leafs to the Carolina Hurricanes, only to be bought out and become an unrestricted free agent. After it looked like he might have a hard time finding work, his old team in San Jose ended up signing Marleau for one more go-round. In 58 games with the Sharks the veteran forward has ten goals and 20 points, but will bring his near 2000 NHL games played to the Penguins for one more shot at the Stanley Cup.
While he likely won't be playing 20 minutes a night like he did earlier in his career, Marleau still has enough game left that he can give the Penguins' bottom-six a different look. The team already added Jason Zucker to the group to skate next to Sidney Crosby, but still had some questions at the bottom of the lineup given their injuries.
Marleau never has lifted the silver chalice over his head, despite playing 191 playoff games in a long career. The iron man hasn't missed a game due to injury in a decade.
Photo courtesy of USA Today Sports Images