The Edmonton Oilers have announced several roster moves: defenseman Philip Broberg as well as forwards Raphael Lavoie and Adam Erne have been recalled from the team's AHL affiliate, the Bakersfield Condors, while forwards Mattias Janmark and Dylan Holloway have been placed on long-term injured reserve. Janmark's LTIR placement is retroactive to October 26th.
Janmark, 30, has not played since that date and is currently dealing with a shoulder injury. He still has not yet returned to skating, so his LTIR placement reflects the long-term nature of his absence. A veteran bottom-six forward, Janmark scored 10 goals and 25 points last season but has been held off the scoresheet through seven games this year.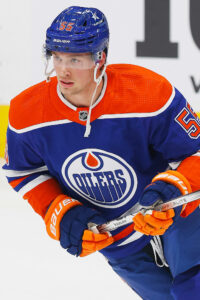 Holloway has been hit with some really poor luck, as just shortly after playing what some in the Edmonton media referred to as his "best game as an Edmonton Oiler" Saturday against the Seattle Kraken he has landed on LTIR.
Holloway went hard into the boards against the New York Islanders Monday night, leaving the game before its conclusion.
Oilers head coach Kris Knoblauch said after the game that Holloway's absence would be "longer-term," an unfortunate reality that Holloway's placement on LTIR reflects.
A fast and energetic forward, Holloway's offensive production in the NHL hasn't quite matched what he posted at the University of Wisconsin or what the Oilers likely expected when they drafted him 14th overall in 2020. This season was viewed as a crucial one for Holloway's offensive development, and now with this injury, he has been hit with a potentially significant setback.
As for the recalls, bringing Broberg back into the fold affords Knoblauch more options on defense as he, before these moves, had just six defensemen on his roster. With Broberg now available, he could opt to shift Vincent Desharnais out of the everyday lineup, something that might be necessary as the hulking six-foot-seven rearguard has struggled this season.
Broberg, who is just a few short months older than Holloway, is in many ways in a similar situation. He's also a player the Oilers spent a premium pick on who has yet to truly figure out how to make an impact in the NHL. Perhaps with the games afforded to him by this recall, Broberg will be able to make strides in establishing himself as a regular at the game's highest level.
Erne, 28, is a veteran bottom-six forward who has been recalled to bolster the depth Knoblauch has at his disposal on offense. While he has not scored in six NHL games this season, he does bring nearly 400 games of NHL experience to the table. Lavoie, 23, is notably less experienced but has had a genuine AHL breakout over the last two seasons, putting together an impressive run of offensive production.
He's gotten a chance in the Oilers' top-nine already this season, but now with two new voices behind the Oilers bench it's unsurprising that he's gotten another shot to impress.
These recalls fill out the Oilers roster to a degree the team may not have been able to do without Janmark's $1MM cap hit on LTIR. Now Knoblauch has additional players at his disposal on the NHL roster who can hopefully help the Oilers dig themselves out of the colossal early-season hole they dug themselves into.
Photos courtesy of USA Today Sports Images