The Panthers have had a big hole on their back end since Aaron Ekblad suffered a season-ending leg injury last month.  They've taken a step towards shoring up their depth and have taken one of the more notable rentals off the board with the acquisition of Brandon Montour from Buffalo in exchange for a third-round pick in 2021.  Both teams have confirmed the trade.  Florida GM Bill Zito released the following statement about his new rearguard:
Brandon is a capable and talented right-shot defenseman who will have an immediate impact on our club. His two-way acumen and ability to play important minutes make him an exciting addition to the Panthers.
The 26-year-old is only a few years removed from being someone viewed as a long-term top-four piece going back to his time with Anaheim.  Buffalo was convinced that he'd be that for them and flipped a first-round pick along with Brendan Guhle, a fairly well-regarded prospect at the time, to acquire Montour just two years ago.  However, things haven't gone anywhere near as well as expected with the Sabres.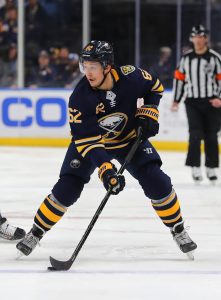 His offensive output has dipped since putting up two straight seasons of over 30 points in 2017-18 and 2018-19.  Last season, he managed just five goals and 13 assists in 54 games while seeing his ATOI dip below the 2o-minute mark.  As a result, Montour profiled as a possible non-tender candidate last offseason although the two sides were able to agree to a one-year, $3.85MM contract just before the free agent market opened up.  The results have only been mildly better from an offensive standpoint as he's up to 14 points (5-9-14) in 38 games so far this season but he, like many other Sabres, have struggled considerably at times in the defensive zone.
At 26, Montour still is young enough to turn things around and a change of scenery will certainly be beneficial to him as he looks to restore some value before hitting the UFA market for the first time in July.  From Florida's perspective, the fact that Montour can log 20-plus minutes a night – something most of the blueliners that will be moved in the next two days can't do – is a big benefit as it allows him to slide into their top four if needed or give a big boost to their third pairing.  Considering the state of the right side of their back end with Ekblad out, it's probable that he begins in a more prominent role, sliding in behind MacKenzie Weegar to bolster their second pair.
Unlike many playoff contenders, cap space isn't an issue for Florida, especially after they cleared the rest of Brett Connolly's contract to Chicago earlier this week.  They entered today with more than $14MM in cap room, per CapFriendly, so it was something they didn't require in order for this move to happen; TSN's Darren Dreger reports (Twitter link) that there was no salary retention on Buffalo's end, leaving them with two remaining retention slots.
Former NHL defenseman Shane O'Brien was the first to report that Montour was going to Florida while Kevin Weekes of the NHL Network first reported the third-round pick going to Buffalo.
Photo courtesy of USA Today Sports Images.