With the postseason down to just two teams, most squads are now well into their offseason planning.  What storylines lie ahead around the league in what is shaping up to be a likely busy NHL offseason?  Next up in our Offseason Keys series is a look at the Vegas Golden Knights.
After an inaugural season that even the most of optimistic of fans would have had a hard time expecting, expectations were high for Vegas going into their sophomore year.  They made a big splash in free agency with the addition of Paul Stastny, then followed that up with the acquisition and extension of Max Pacioretty.  They landed the biggest fish at the trade deadline in Mark Stone and inked him to a long-term deal as well.  Despite those additions, they ultimately came up short in the postseason in very controversial fashion against San Jose.  Now, with a lot of the heavy lifting done, new GM Kelly McCrimmon must decide on what roster tweaks need to be made.  Here are the keys to their offseason.
Add An Impact Defender
Vegas has done a great job with their defense-by-committee approach.  However, at some point, it would certainly be beneficial for them to have a top-four that stands out considerably from their third pairing.  As things stand with their roster, there are some questions as to whether or not they truly have a legitimate top pairing player.
Shea Theodore has the upside to perhaps get to that level one day but he's still developing and isn't there yet.  Nate Schmidt has gone from being a role player in Washington to the defacto number one but he isn't ideally suited to be in that role.  They have some quality prospects but none of them are pegged to be top-pair players either.
That's part of the reason that Vegas has been linked to pending UFA defenseman Erik Karlsson dating back to the 2018 trade deadline.  Finding that type of player that can basically bump everyone else down a peg and really add another dimension to their back end.  It's a tough ask considering Karlsson is the only free agent that can make that type of impact and their cap situation (more on that later) but finding a way to add a key defender would really bolster their chances for next season.
Re-Sign Karlsson
After a career year that pretty much no one saw coming, center William Karlsson and the team weren't able to agree on a long-term contract and instead opted to work out a one-year, $5.25MM pact, essentially punting the decision to one year down the road where both sides would have a better idea about the sustainability of his offensive outburst.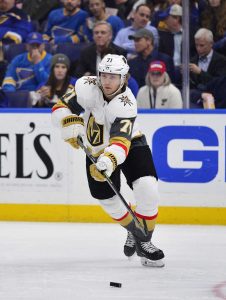 That time has come and while Karlsson's numbers dipped, he still had a strong season, posting 24 goals and 32 assists in 82 games while logging nearly 19 minutes a night in ice time.  At a bare minimum, that's second line production and should have him well-positioned for a raise, especially with salary arbitration eligibility.
One thing that can't happen this time from the perspective of the Golden Knights is history repeating itself.  While they were able to do a one-year deal last summer, doing so once again this offseason would take Karlsson to UFA eligibility a year from now which is far from an ideal situation.  Getting at least a multi-year deal done, if not a long-term one, has to be considered their top priority.
Clear Cap Space
As a result of long-term extensions handed out to Schmidt, Pacioretty, Stone, and Alex Tuch at various points of the season, the team now has a little over $83MM of commitments for next season, per CapFriendly.  While there is an expectation that the Upper Limit will rise, it may not get to $83MM.  Even with David Clarkson ($5.25MM) heading for LTIR once again, a new deal for Karlsson will wipe out those savings and more.  Clearly, cost-cutting moves need to be made.
Defenseman Colin Miller appears to be one of the potential casualties.  While he briefly spent time as a healthy scratch, he's still a capable offensive blueliner, picking up 70 points over his two seasons in Vegas.  He's also a right-shot defender, something that is always in high demand and his contract, $3.875MM for three more years, is actually rather reasonable.  McCrimmon should be able to get a strong return for Miller if he does decide to move the 26-year-old.
However, with several other roster spots to fill, it's quite unlikely that moving out Miller will be enough.  Players like center Cody Eakin ($3.85MM), winger Ryan Reaves ($2.775MM), and defenseman Nick Holden ($2.2MM) could all be in jeopardy of losing their spots as well.  All three happen to be entering the final year of their contracts which could make them intriguing to teams that don't want to turn to the open market to add players on longer-term deals.
At any rate, after former GM George McPhee made plenty of moves to add to this team over the past two seasons, McCrimmon will be forced to change that this summer and start dealing away some veterans to create enough cap space to accommodate the increased price tag of their core.
Photo courtesy of USA Today Sports Images.