With the postseason and draft now finished, the activity is really about to pick up with free agency now just days away.  What storylines lie ahead around the league in what is shaping up to be a busy NHL offseason?  Next up in our Offseason Keys series is a look at the Boston Bruins.
After being ousted in the second round in 2018, Bruins GM Don Sweeney opted to make only a handful of tweaks to his roster with the belief that it was good enough to contend.  His confidence in his squad proved to be well-founded as Boston (bolstered by a pair of late-season additions up front) wound up as Eastern Conference champions before coming up just short in the Stanley Cup Final.  Accordingly, most of their to-do list this summer revolves around taking care of his own team rather than making changes.
Re-Sign Core RFA Defensemen
Although Charlie McAvoy just wrapped up his second full season in the NHL, he has already hit restricted free agency since Boston opted to burn the first year of his entry-level deal in the 2017 postseason.  He has emerged as their top defenseman already but because of his more limited track record (injuries in both seasons have limited him to just 117 regular season games or less than a year and a half of actual action), his contract talks will be a little trickier.  There's no doubt that the Bruins would love to get him locked up long-term but he may be one of the candidates among this class of prominent RFAs to wind up with a bridge deal to allow time to better assess what his overall offensive upside may be.
As for Brandon Carlo, he has quickly established himself as a capable shutdown defender and is a fixture in their top-four moving forward.  His contract shouldn't be as challenging as McAvoy's as he isn't much of an offensive threat which will limit his overall earning potential.  Players like this don't tend to get long-term deals but this is one case that could be an exception.
As contracts for these two players will ultimately eat up a big chunk of their remaining salary cap space, Sweeney would certainly love to get these deals done over the next couple of days to know exactly what they have to work with on Monday when free agency opens up.
Krug Extension Talks
Torey Krug has gone from being an undrafted college free agent signing to one of the more consistent offensive threats from the back end in the league.  He's about to enter the final year of his deal which means he will be eligible for a contract extension on July 1st.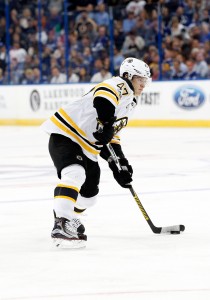 With three straight seasons of over 50 points under his belt, the 28-year-old has certainly positioned himself for a significant raise on the $5.25MM he has on his current deal.  To get an idea of what it will likely cost to get him to sign early, watch for whatever Jake Gardiner gets on the open market and add from there.  Sweeney will have to decide whether or not that is too much for someone that gets a significant portion of his production from the power play.
If it's deemed to be too expensive of an asking price, it wouldn't be surprising to see Krug's name pop up in trade speculation once again as this is the point of the offseason where teams still have some room in the budget to work with where they could come up with a viable trade.  Having said that, the much more likely scenario is that the two sides eventually agree on a new contract; between that and new deals for their two RFAs, the core of their back end will be locked up for a while to come.
Add Secondary Scoring
When discussing the Bruins, adding scoring depth is pretty much becoming an annual thing.  It's something that Sweeney has tried to address throughout his tenure with varying degrees of success.  David Backes hasn't worked out while concussions stopped Rick Nash from making much of an impact.  Drew Stafford and Lee Stempniak were small upgrades when they were acquired but weren't kept around.
Last season, the additions of Charlie Coyle and Marcus Johansson were certainly fruitful.  However, while Coyle is under contract for one more year, Johansson is set to become an unrestricted free agent which means there is a vacancy that they will want to fill if they can't get him signed to a new deal.
If the Bruins can get deals done for McAvoy and/or Carlo shortly, it would give them more certainty as to how much they can spend to try to fill this role now instead of giving up draft picks or prospects to try to fill that void closer to the trade deadline.  That would certainly be a more desirable outcome than having history repeat itself once again with a midseason swap or two required to bolster Boston's offensive depth.  The strength of this free agent class is secondary wingers which should play into their favor if they have enough cap space left to go this route.
Photo courtesy of USA Today Sports Images.