With the postseason wrapping up tonight, most squads are now well into their offseason planning.  What storylines lie ahead around the league in what is shaping up to be a likely busy NHL offseason?  Next up in our Offseason Keys series is a look at the New York Islanders.
Expectations were low for the Islanders after they lost their leading scorer and captain John Tavares to Toronto last summer.  However, they were still able to land a quality head coach in Barry Trotz while new GM Lou Lamoriello's depth additions in free agency wound up paying dividends right away.  As a result, not only did the Islanders make the playoffs, they swept Pittsburgh in the opening round before suffering the same fate at the hands of Carolina.  New York enters the offseason with considerable cap space so there should be more changes on the horizon.  Here is what will be on Lamoriello's to-do list this summer.
Goaltending Decisions
Heading into the season, the goaltending tandem of Robin Lehner and Thomas Greiss was a huge question mark.  Lehner was coming off a rough year in Buffalo while Greiss had the worst numbers of his career in 2017-18.  This was looking like it was going to be their Achilles' heel but instead, the opposite happened.  Lehner had a career season, fulfilling (for one season at least) the high expectations that came upon being a player that Buffalo gave up a first-round pick for.  (But clearly, unfortunately for the Sabres, it wasn't with them.)  Meanwhile, Greiss bounced back nicely, giving the Islanders a very strong platoon between the pipes.
Lamoriello now needs to decide if he thinks that these performances were a sign of things to come or a one-off.  Lehner's slated to hit unrestricted free agency and will be looking at a sizable raise from the $1.5MM he made this past season.  He'll also be in line for a multi-year commitment this time around.  While there's certainly some upside to giving him that contract based on how he performed, it's not without its risks either.  As for Greiss, he will be eligible for a contract extension on July 1st.  Is he in the plans moving forward?
Complicating matters is top prospect Ilya Sorokin.  He won't be coming to North America this season but his contract in the KHL will be up in 2020.  The Islanders are certainly going to want him to make the jump but as one of the top goalies in that league, he'll undoubtedly receive some big money offers to stay home.  He'll be forced to sign a one-year entry-level deal to start with New York but realistically, he's going to want a pathway to a big role (and money) to put pen to paper to start with.  Committing to Lehner as their long-term starter could have some repercussions when it comes to Sorokin.  There were plenty of question marks with their goaltending head into the season and even after the year they had, there are still a lot of questions that Lamoriello will need to ponder.
New Deal For Lee
New York certainly doesn't want history to repeat itself when it comes to losing their captain to unrestricted free agency but there is the potential for that to happen as winger Anders Lee is slated to hit the open market next month.  There's mutual interest in a new deal but there appears to be one big issue that needs to be bridged before the two sides make a contract official.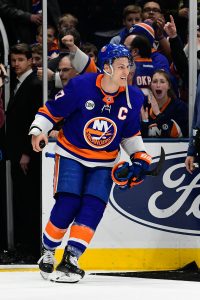 Lee is believed to be seeking a near max-term contract which, if he re-signs before the market opens up, can go as long as eight years.  He turns 29 less than a month from now so a deal like that will take him to 37.  That's a big risk, especially for someone whose output has varied over the past few years though he has managed at least 28 goals in each of the last three seasons.
Right now, Lee is a viable front-line player but over time, that will change and they certainly want to avoid another Andrew Ladd situation.  That's why Lamoriello is believed to be pushing for a shorter-term pact, even though doing so will likely come with a higher price tag in terms of AAV.  While Lee doesn't have quite the overall impact that Tavares did, losing a top scorer and captain in two straight seasons to the open market would be tough to take.  Can they find the right compromise?
Utilize Their Defensive Depth
While their back end isn't full of brand name defenders, New York's group wound up being quite effective and certainly contributed to the success of their goaltending.  Thanks to their efforts, the Islanders were the stingiest team in the league in terms of goals allowed.
The good news is that they're pretty deep already.  The better news is that there is more help on the horizon.  Top prospect Noah Dobson figures to be in the mix for a spot next season after a dominant showing at the junior level.  Sebastian Aho (not the Carolina one) had a big year and is nearly ready for a longer look in the NHL as well.  Behind them, Bode Wilde had a big year at the junior level and they're hopeful that he will make an impact down the road.  Add that to a capable group of seven at the NHL level and all of a sudden, the Islanders could be in a position to deal a blueliner or two at a time where the UFA market is pretty soft.
Nick Leddy underachieved considerably last season which has led to some speculation that he could be in play.  With a $5.5MM cap hit for three more years, he carries a hefty price tag but as someone that has been a capable top-four option in the past, there may be teams thinking that a change of scenery could get him going again.  Thomas Hickey was brought back last summer on a four-year deal but wound up playing more of a depth role when he was in the lineup.  He's someone that could certainly be moved as well.  Regardless of who moves, the Islanders are in good shape as one of few teams that could realistically move a defenseman with plenty of teams being on the market for one.
Photo courtesy of USA Today Sports Images.