With the postseason now finished, the activity is about to pick up with free agency now just days away.  What storylines lie ahead around the league in what is shaping up to be a likely busy NHL offseason?  Next up in our Offseason Keys series is a look at the Colorado Avalanche.
Despite making the postseason a year earlier and holding their own against Nashville, Colorado was a popular pick to take a step back in 2018-19.  While their point total in the regular season dipped slightly, they still made it to the playoffs and did some damage while they were there as they made short work of Calgary before pushing San Jose to seven games in the second round.  They have a strong young nucleus to build around and GM Joe Sakic has ample salary cap room to work with to try to bring in a few more pieces.  Here's what the Avalanche need to accomplish this offseason.
New Deal For Rantanen
Mikko Rantanen followed up his breakout 2017-18 season with an even better showing this past season as he set new career highs across the board.  In doing so, he also took away any questions about whether his sophomore year was an aberration or a sign of things to come.  Clearly, it's the latter as he was a key part of Colorado's top line that also featured Nathan MacKinnon and Gabriel Landeskog.
The good news for the Avs is that both of those other players are signed for at least two more years at below-market rates.  Rantanen isn't in that situation as he's a restricted free agent when his contract expires next month.  Unlike Landeskog and MacKinnon, his deal won't be coming in below market value.
Rantanen is one of the top restricted free agents in this elite class of RFAs that don't have salary arbitration eligibility.  By all accounts, none of their agents want to set the market and go first so it wouldn't be particularly shocking to see this drag out for a little while.  From a budgetary perspective, Sakic would be wise to allocate roughly $10MM per year towards this contract as he plans his other offseason activity.
Decide Barrie's Future
Tyson Barrie has been no stranger to the rumor mill in recent years.  He has seemingly almost always been in play to some extent though never with Colorado really actively listening to offers.  But they've been content to listen and haven't done anything to try to quell the notion that they're willing to deal him.  As Barrie enters the final year of his contract next season, the decision on his future becomes much more pressing.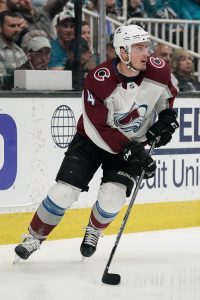 Not surprisingly, he was in trade speculation in the days leading up to the draft and those will likely continue in the coming days.  The free agent market isn't particularly deep so teams on the lookout for help on the right side defensively will be calling, especially if they have a need for more offense from their back end.  If Sakic decides that the time is right to move him, Barrie's value is as high as it's going to be right now and the trade options are more plentiful than they'll be midseason when more teams are capped out.
On the flip side, the team could decide that it's worth pursuing an extension for the 27-year-old.  Yes, they have Erik Johnson signed long-term and top prospect Cale Makar under team control for six more years plus promising prospect Conor Timmins in the system as well.  However, it's rarely a bad thing to have a surplus of quality defenders.  Getting Barrie to commit to a long-term deal would be pricey though as he'll undoubtedly be looking for a nice boost on his current $5.5MM AAV.
Add Top-Six Winger
Sakic has already stated that he intends to be aggressive this offseason.  Part of that aggression needs to be focused on adding some secondary scoring.  Their top three forwards combined for 106 goals which is great but it also accounted for a little more than 40% of their total offense.  They've shown that they can have success with that but adding some help on the second line would go a long way towards bolstering their attack.
With Carl Soderberg having a resurgent season plus Alexander Kerfoot and Tyson Jost on the team already, they're not in bad shape down the middle behind MacKinnon.  Adding Alex Newhook in the draft gives them a good center for the future as well.  That means that they can focus on adding support on the wing which is where the depth of this free agent class lies.
While Artemi Panarin may be out of their price range as a team that has had a budgeted payroll well below the Upper Limit in the past, players like Anders Lee, Mats Zuccarello, Micheal Ferland, and Gustav Nyquist would all give their second line a boost and a bit more lineup flexibility if they want to split up their big three from time to time.  With a team that's viewed as on the rise and lots of cap room to work with this summer, Sakic will be able to present these players with a compelling case to join them which would be a good way to start their summer spending.
Photo courtesy of USA Today Sports Images.