With the postseason down to just two teams, most squads are now well into their offseason planning.  What storylines lie ahead around the league in what is shaping up to be a likely busy NHL offseason?  Next up in our Offseason Keys series is a look at the Washington Capitals.
After Washington won the Stanley Cup last season, they opted to keep the core of the team intact heading into 2018-19.  The decision certainly made plenty of sense and the Caps wound up winning the Metropolitan Division.  However, they were then upset at the hands of the upstart Hurricanes in the first round so there could be some changes to the roster this time around.  Here's what's on GM Brian MacLellan's to-do list this offseason.
Extension Talks
If it seems like so long ago that center Nicklas Backstrom was coming to the end of his contract, it's because it has been.  His current ten-year contract (one that is no longer permissible in the CBA) was signed back in 2010 and since then, he has been a bargain considering how much time he has spent on Washington's top line.
However, he's now entering the final year of his contract and will be eligible to sign a contract extension as of July 1st.  Backstrom has already indicated a willingness to sign a new deal but it's also fair to say that he's going to be looking for a decent-sized raise on his current $6.7MM AAV.  Considering Washington is perpetually up against the Upper Limit, there is a limit to what MacLellan will be willing to pay but it wouldn't be surprising to see a deal worked out fairly quickly.
The same can't be said for their other core player entering the final year of his deal.  Goaltender Braden Holtby is coming off his second straight season with a GAA and a SV% below the league average.  While he's still viewed as a starter for now, has he started to decline or were the last two seasons just an aberration and he'll get back to being one of the better netminders in the league?  That type of uncertainty will complicate things.
So too will the looming Seattle expansion.  Top prospect Ilya Samsonov will need to be protected for that draft.  If he re-signs, so will Holtby.  There's also a chance that Holtby will have enough leverage to yield a no-move clause which would guarantee him protection.  Long story short, this could be a Pittsburgh situation all over again.  With that in mind, it may be more prudent to see how the start of next season goes before deciding what to do but there should at least be cursory discussions that occur this summer.
Vrana Contract
Washington doesn't have a long list of notable free agents to re-sign but winger Jakub Vrana's case will be an interesting one to follow.  He spent a fair amount of time in the top six and upped his production accordingly, beating his point total from 2017-18 by 20 while jumping to a respectable 23 goals.  Unfortunately for both him and the Capitals, Vrana struggled in the postseason which will likely affect his value.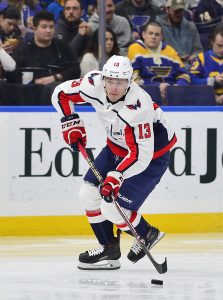 MacLellan stated previously that he's open to signing the 23-year-old to a long-term deal but last month, it was noted that the focus is a shorter-term bridge contract or one that is only slightly longer.  Considering their cap situation, going with a bridge pact would give them a bit more flexibility this summer but it will result in a higher AAV a couple of years down the road.
In recent years, MacLellan has been able to lock up his core players to long-term pacts when he wants to but this may wind up being one of the exceptions.  Getting Vrana to forego potential UFA years will take the team being willing to pay him top-six money when he has yet to establish himself as a regular in that role.  Given how few dollars they have to work with this summer, that may just be too much risk for their liking.
Reshape The Bottom Six
The majority of players that spent time in Washington's bottom six up front are slated to become free agents (either restricted or unrestricted) this summer.  Not many are likely to be back for financial reasons as wingers like Brett Connolly (UFA), Carl Hagelin (UFA), and Andre Burakovsky (RFA with a qualifying offer of $3.25MM) are all likely to be out of their price range unless one is willing to take a below-market deal to remain with the team.
Internally, there aren't many options that are ready to step up.  Players like Shane Gersich and Liam O'Brien could be fourth line fits.  Nathan Walker, a Group VI free agent, is open to re-signing but he's only a depth option as well.  They'll likely have to look outside the organization to find a player or two that can step onto their third line.
Burakovsky could be dangled to yield one of those pieces, as long as there's a team willing to tender him a qualifying offer.  Beyond that though, watch for Washington to be active on the UFA market to find role players willing to take a short-term bargain deal as they change the makeup of their bottom six group.
Photo courtesy of USA Today Sports Images.