With the postseason now finished, the activity is about to pick up with the draft now just days away.  What storylines lie ahead around the league in what is shaping up to be a likely busy NHL offseason?  Next up in our Offseason Keys series is a look at the Dallas Stars.
After narrowly missing out on the playoffs, the Stars went a different direction last offseason, bringing in a first time NHL coach in Jim Montgomery as their new bench boss.  The hope was that he'd make them a better all-around team.  That didn't exactly happen.  Instead, their offense actually dropped to 29th overall.  However, their defensive performance improved as well while they received top-notch goaltending.  That was enough to get them back into the postseason and through the first round after dispatching of Nashville but there is still more work to be done.  Here are the keys to their offseason.
Add Defensive Depth
With Miro Heiskanen, Esa Lindell, and John Klingberg all signed or under team control for at least the next three seasons, the Stars have a good core group in place.  However, things start to go downhill fairly quickly after that.
Jamie Oleksiak was brought back from Pittsburgh and quickly fell down the depth chart down the stretch.  He then suffered a knee injury in the opening round.  He's signed for two more years but it's hard to place him in more than a sixth role at this point.  Veteran Roman Polak was re-signed but he's also someone that is best suited to be on the third pairing.  The organization once had high hopes for restricted free agent Julius Honka but he was a healthy scratch more often than he actually played so he's probably not in the mix as well while Stephen Johns' concussion trouble present questions about whether or not he'll be able to play again.  At the very least, they can't count on him returning.
As a result, GM Jim Nill would be wise to add a top-four defender at the very least as well as some extra depth.  Finding someone that can play on the second pairing would allow them to take some pressure off the likes of Polak and Oleksiak and keep them in roles they're better suited for.  In terms of adding depth, bringing back Taylor Fedun would be a good place to start after he impressed upon being acquired from Buffalo.  Some improvements to the back end have been made in recent years but there is still more work to be done.
Zuccarello Decision
Mats Zuccarello seemed like a great fit for Dallas when they acquired him from the Rangers.  Yes, he was injured in his first game with the team but he came back and tied for the team lead in scoring in the postseason.  While he's an unrestricted free agent next month, he seems like a no-brainer to bring back.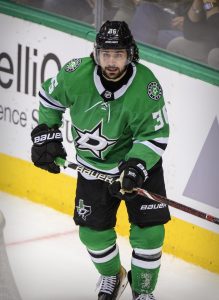 However, it's not quite so simple.  As part of the trade with New York, the 2020 third-round pick that Dallas is set to give up becomes a first rounder if Zuccarello re-signs.  While he acquitted himself quite well with his new team and has several good years left in him, is it justifiable to part with a first-rounder to keep him around where there are other top-six wingers that will be available in a couple of weeks on the open market?
It will also be worth watching to see what type of raise the 31-year-old will covet.  He made $4.5MM on his previous contract and as someone who averaged 56 points in the previous five years before 2018-19 (and played at a 68-point pace this past season), he's going to be in line for a notable raise.  When you put everything together, it's shaping up to be a pretty expensive price to pay to keep Zuccarello in Dallas and Nill will need to decide whether it's justifiable to pay it or look elsewhere.
Bring In Scoring Help
Regardless of what they do with Zuccarello, more help up front is required.  As a team, Dallas scored just 210 goals in 2018-19, good for 29th in the NHL.  Their top line for most of the season (Jamie Benn, Tyler Seguin, and Alexander Radulov) combined for 89 of them, or more than 42% of their goals as a team.  While it's great to have a strong number one line, asking one trio to shoulder that much of the scoring load is tough.
The good news for the Stars is that Jason Spezza's $7.5MM contract comes off the books.  That type of money being freed up will allow them to go after some of the more prominent forwards on the open market.  Another impact forward on the roster full-time would go a long way towards giving them a second line that's capable of doing some damage.  That would either free up more room for the Seguin unit or give them the ability to split things up into two strong groups.
On top of that, some more secondary scoring is also needed.  Radek Faksa was the only other full-time Dallas forward to reach the double-digit mark in goals.  Teams with eyes on contending need a few more of those on the roster.  Fortunately for Nill, there are quite a few of those players available in free agency and that's something they should be able to add without much difficulty.  It's going to be hard to ask the goaltending to be as successful as Ben Bishop and Anton Khudobin were this past season and getting some more offense would go a long way towards giving them a lot more margin for error for 2019-20.
Photo courtesy of USA Today Sports Images.