The Montreal Canadiens have added one of the most clutch goal-scorers of all time. Marie-Philip Poulin, arguably the brightest star in women's hockey today, has taken a position as a player development consultant. The part-time position will be in addition to her role as captain of the Canadian national team, as her playing career is not yet complete.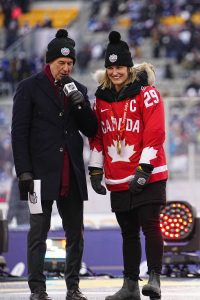 In a statement, Canadiens president Geoff Molson explained why the team is bringing Poulin aboard:
It is a privilege to add someone as competent as Marie-Philip Poulin in our ranks. She is the best in her field, and her accomplishments will help us build a winning culture within the Canadiens. Her arrival is another step towards achieving the diversity that we want to establish within our organization.
Poulin, 31, has already had one of the most historic careers imaginable, being named captain of Boston University, winning three Olympic gold medals (and one silver), two World Championship gold medals (and six silvers), and two CWHL championships (and multiple MVPs). It isn't just being lucky enough to play on good teams either–Poulin has an uncanny knack for showing up at the biggest moments. Whether it is a late-period tying goal or overtime winner, it's usually her.
In the release, the Canadiens indicate that Poulin will be joining players "on the ice and in video sessions to work on their individual and collective skills" and will work under the direction of Rob Ramage and Adam Nicholas. While this isn't a full-time position, one is likely waiting for her when she eventually hangs up her skates.
Photo courtesy of USA Today Sports Images