Zack Kassian had one of the lowest-scoring seasons we've seen in quite some time as he put up just two goals last season in 51 games with the Arizona Coyotes. This prompted Arizona to buy out the 32-year-old forward prior to free agency in a move that made sense, given the lack of production from the former 13th overall pick. Kassian lasted just a single season in the desert and never really seemed comfortable playing on a very bad Coyotes team.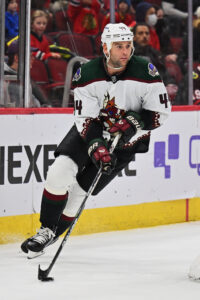 This is Kassian's first crack at free agency and unfortunately for him he is coming off a season in which he posted career lows in many statistical categories. As mentioned earlier, he had just two points on the season, and posted a -18. His hitting was way down, which is one of the facets of the game he typically excels in. Kassian threw just 32 hits in 51 games last season, a dramatic drop from the 158 he threw the year prior with the Edmonton Oilers in 58 games. It's not uncommon for physical players to see a decline in their 30's, but the decline generally isn't that steep.
Kassian deserves a ton of credit for battling several off-ice issues and resurrecting his career when it looked like it could be in trouble. At one point in 2015 Kassian bounced from Vancouver to Montreal to Edmonton in less than six months and looked like he could be out of the league. But, to his credit, he turned it around and even managed to post career highs in 2019-20 when he potted 15 goals to go along with 19 assists in 59 games. This run of good play prompted the Oilers to sign Kassian to a four-year contract extension in January 2020 worth $3.2MM annually. Unfortunately for the club and the player, Kassian struggled through the pandemic shortened 2020-21 season and hasn't regained his footing ever since. Over the past three seasons combined Kassian has posted just 10 goals and 16 assists in 136 games, a drastic decline from his 2019-2020 numbers. The other issue that will work against Kassian is that he is strictly a 5 on 5 player. He has never been a regular contributor on the power play and hasn't been a regular part of a penalty kill since 2018-19.
In a normal cap world, Kassian would have played out the final season of his contract with a salary that is well below his cap hit but given how poor his play was Arizona opted to move on and spread out that cost over two seasons.
Despite his struggles last season, it is still likely that Kassian will get an opportunity when training camps open in a few weeks. Teams are always looking for physical players, especially ones who can take a regular shift and will play under a reduced cap hit. Kassian checks all those boxes, which is a good indication that someone will give the Windsor, Ontario native a look to see if he still has anything to offer.
Stats
2022-23: 51 GP, 2-0-0, -18 rating, 50 PIMS, 25 shots, 37.5% faceoffs, 38.4% CF, 9:09 ATOI
Career: 661 GP, 92-111-203, -55 rating, 913 PIMS, 798 shots, 31.0% faceoffs, 48.2% CF, 12:37 ATOI
Potential Suitors
Kassian is still chasing hockey's ultimate prize, the Stanley Cup. And after spending a dozen years in the league, he would probably prefer to spend his time chasing a championship with a Stanley Cup contender. However, given his status as a fringe NHLer at the moment, he likely won't have the opportunity to be choosey. That doesn't mean he won't have a suitor, but it could mean that he would be playing on a weaker team, or a team that has a borderline chance of making the playoffs. But anything can happen, and even players that are past their best before date can catch on with good teams when it is least expected.
Let's start out West in Edmonton. Kassian found his game almost eight years ago when it looked like his career was hanging on by a thread. It was there that he turned his intensity and physicality into effective NHL minutes on a team that was competitive for most of his run there. Kassian brought an edge that the Oilers severely lacked and gave them an option that they could plug almost anywhere in their lineup. But that was then, and this is now, and Kassian isn't that player anymore. His body has broken down, as per normal with physical players when they hit the wrong side of 30. But Kassian could still help Edmonton, and it feels like the Oilers are always looking for bodies up front. Kassian couldn't play in Edmonton's top-9, but he could be a could fill-in for their fourth line if they aren't able to find help between now and the start of the regular season.
Sticking with the West, the Colorado Avalanche were riddled with injuries last season. So much so that it looked like they might miss the playoffs entirely, however, a late-season rally secured their spot in the round of 16. But it was there that they were physically dominated by the Seattle Kraken and ousted in an exhilarating seventh game. The Avalanche were one of the lightest-hitting teams in the NHL last season, which on the surface isn't the big of a deal given how skilled they are. However, the regular season and the playoffs are two different things and Colorado didn't have an answer for Seattle in the postseason and really missed some of the grit they lost when Nazim Kadri departed last summer. Now, Zack Kassian is far from the answer to that problem, but he can offer Colorado something that is in short supply in their group, and it wouldn't cost them more than a contract slot and a league minimum contract.
Finally, in the East, one team that could use a depth physical forward is the Buffalo Sabres. Coincidently, the team that took Kassian in the first round of the NHL entry draft some 14 years ago. The Sabres have a competent fourth line at the moment with Tyson Jost centering Kyle Okposo and Zemgus Girgensons, but injuries happen (see Jack Quinn), and Kassian could provide insurance to their Sabres if they were to lose any additional depth up front. The Sabres were also a team that didn't throw the body around all that often-last year and with the talent that they have up front, they could likely place Kassian into a role that wouldn't overextend him and could allow him to perhaps resurrect his career once again.
Projected Contract
Kassian enters free agency at a time when his free agent stock is very damaged. And while he has his shortcomings, he still offers a rare combination of physicality mixed with a bit of skill and could find success when he is sheltered in the right situation.
At this point in his career Kassian would be lucky to get a one-way contract for the league minimum of $775K. The most likely outcome for him will be a PTO with a team that is looking to add a 13th forward that offers some sandpaper and can chip in on the fourth line when a regular falls out of the lineup. A role like that would allow Kassian to play to his strengths and would offer longer windows of recovery for an aging player who has been banged up from years of throwing his body around with reckless abandon.
Photo courtesy of USA Today Sports Images.