Navigating the salary cap is one of the more important tasks for any GM. Teams that can avert total cap chaos by walking the tightrope of inking players to deals that match their value (or compensate for future value without breaking the bank) remain successful. Those that don't see struggles and front office changes.
PHR will look at every NHL team and give a thorough look at their cap situation heading into the 2019-20 season. This will focus more on those players who are integral parts of the roster versus those who may find themselves shuttling between the AHL and NHL. All cap figures are courtesy of CapFriendly.
Vegas Golden Knights
Current Cap Hit: $80,474,999 (under the $81.5MM Upper Limit)
Entry-Level Contracts
D Zach Whitecloud (one year, $925K)
F Cody Glass (three years, $863K)
D Nicolas Hague (three years, $791K)
Potential Bonuses:
Whitecloud: $850K
Glass: $850K
Hague: $133K
While there is no guarantee that any of these three will be on the roster when the season begins, all three are expected to see time with the Golden Knights this season and could find themselves with significant roles depending on how things shake out. Glass, the team's biggest prospect, is finally turning pro and while the organization has said in the past that Glass needs a full year of AHL work, he may have proved himself after his junior season ended last year. The sixth-overall pick from the 2017 draft, tallied five points in six AHL regualar season games, but was also one of the team's top players throughout the AHL playoffs as he helped lead the team to the Calder Cup Finals. He tallied seven goals and 15 points in 22 playoff games. That play suggests that he might be ready and will compete for an immediate chance on the team's third line.
Hague and Whitecloud are expected to challenge for a spot on one of the open spots in Vegas' defense. Both players had impressive seasons with the Chicago Wolves last season and might be ready to make an impact. The 20-year-old Hague scored 13 goals in his rookie campaign, while the defensive Whitecloud showed off some offensive potential in his first full season in the AHL.
One Year Remaining, Non-Entry-Level
F Cody Eakin ($3.85MM, UFA)
F Ryan Reaves ($2.78MM, UFA)
D Nick Holden ($2.2MM, UFA)
D Jonathon Merrill ($1.38MM, UFA)
F Tomas Nosek ($1MM, UFA)
G Malcolm Subban ($850K, RFA)
G Garret Sparks ($750K, RFA)
F Curtis McKenzie ($750K, UFA)
F William Carrier ($725K, RFA)
D Deryk Engelland ($700K, UFA)
F Valentin Zykov ($675K, RFA)
With their cap room extremely tight, there remains a legitimate possibility that the team may still make a trade and if that does happen, the player is likely to come from this list of players. Eakin, Reaves and Holden are not likely to return in a year and could be trade bait. Eakin is coming off a career-best season with 22 goals and 41 points, but assuming the team is healthier this year, will likely settle into a third-line center role this year unless Glass beats him out. However, with Eakin's value at its highest, the team might be able to get the best return if they move him and his $3.85MM contract.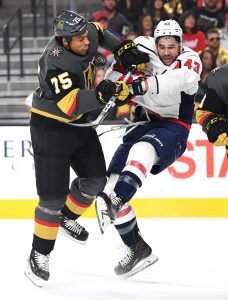 Reaves has become a fan favorite in Vegas, giving the team highlight reel hits and become a popular locker room presence. He also posted 305 hits for the Golden Knights. However, Reaves makes quite a bit of money for a player who produced nine goals and 20 points last season. With some young fourth-line players closing in on potentially replacing him, the team could find a taker in Reaves and his $2.78MM deal.
The team has been impressed with the development with Merrill, who was initially only looked at as an emergency defenseman, but really took that next step last season and has earned himself a full-time role with the possibility of even earning top-four minutes next season. Holden would be another option for the team free up cap room as the team signed him last summer to a two-year deal, but the veteran struggled to get consistent playing time and is on the outside looking in. The team might hope it can send Holden to a defense-needy team, but may be forced to bury him in the AHL if he can't prove he belongs on the Golden Knights roster and with Engelland likely taking a lesser role at the bottom of the defense next season, it might be hard to win a spot.
The Golden Knights also have an interesting battle in net for the backup goalie spot after acquiring Sparks during the offseason from Toronto. While Subban is the likely candidate to keep the position, Sparks could provide some much needed depth in goal for the future if the Golden Knights managed to hold onto him. Sparks was a top prospect goaltender just a season ago, but struggled in his first full season in Toronto. However, the Golden Knights hope he can bounce back quickly.
Two Years Remaining
F Paul Stastny ($6.5MM, UFA)
F Brandon Pirri ($775K, UFA)
The team has been set up to provide a number of short-term deals at higher cost and Stastny is one of those who signed a three-year deal at a high AAV. Injuries limited the veteran to just 50 games last season, but when he played, he provided excellent playmaking on the team's second line, scoring 13 goals and 42 points. If the 33-year-old can stay healthy this season, he could center one of the strongest lines in the league as he is one of the best playmakers who historically makes his line mates even better.
Pirri is an interesting addition. The 28-year-old showed off his scoring touch after being called up midway through the season. In just 31 games, he tallied 12 goals and 18 points, including a string of goals. Most expected the UFA to find a team that could offer him more playing time this summer. Instead he opted to remain and may get that playing time after the team decided to move KHL star Nikita Gusev to New Jersey this summer. Gusev had been penciled into the third line which now could fall to Pirri, who the team hopes can continue his scoring ways.
Three Years Remaining
G Marc-Andre Fleury ($7MM, UFA)
F Reilly Smith ($5MM, UFA)
D Brayden McNabb ($2.5MM, UFA)
While Fleury has been a stud since arriving from Pittsburgh in the expansion draft, the veteran goaltender is now 34 years old and has three years remaining on his deal. The Golden Knights have to hope that Fleury can continue playing at a high level for that time as they do not have a suitable replacement in the system at all yet and could find themselves in trouble in a few years if they can't find a suitable player to step in and help take the burden from the netminder. With little faith early in the season in Subban, Fleury played in 61 regular-season games last season, his highest total since 2014-15. Subban did improve somewhat and played better in the second half, but it's likely that Fleury will take on another significant load this season as well.
While 53 points may not be the type of numbers the team was hoping for from Smith, the Golden Knights know that Smith has proven to be a valuable commodity who is a key on the team's penalty kill and is an excellent playmaker, especially when playing with the top line. McNabb has also been a key player under a cap-friendly deal who is playing solid minutes in the top-four, while providing excellent defense along with 200 hits last year.
Four Or More Years Remaining
F Mark Stone ($9.5MM through 2026-27)
F Max Pacioretty ($7MM through 2022-23)
D Nate Schmidt ($5.95MM through 2025-26)
F William Karlsson ($5.9MM through 2026-27)
D Shea Theodore ($5.2MM through 2025-26)
F Jon Marchessault ($5MM through 2023-24)
F Alex Tuch ($4.75MM through 2025-26)
It's hard to believe, but after just two years, the team has its core in tact and locked up for a long time and should be Stanley Cup contenders for the next few years. Stone's value has only increased in the last year as he completed the team's quest to have two dominant lines. While the Golden Knights could alter their lines this season, Stone is expected to be a big piece and eventually the face of the franchise in Vegas after being acquired from Ottawa at the trade deadline and then signing a eight-year extension immediately after the trade and at $9.5MM, he may prove a bargain as the 28-year-old posted 33 goals and 73 points during the regular season, but really took off in the playoffs, putting up six goals and 12 points in seven playoff games.
While all the long-term deals look solid, if there is one to scrutinize even closer, it's the four-year extension that Vegas signed Pacioretty to a year ago. That extension is kicking in this year, but the 30-year-old didn't bounce back to his 30-goal ways that he had in Montreal in previous seasons. Pacioretty, who scored 30 goals five times in six straight years in Montreal, scored just 22 goals and 40 points in his first year in Vegas, but the team hopes they can get more out of him this year. He did show off more offense in the playoffs as well as he tallied five goals and 11 points in seven games.
The Golden Knights finally locked up Karlsson to a long-term deal, something both sides were hoping for and getting the forward to sign for under $6MM is impressive for the franchise. While the 24-year-old Karlsson saw his goal totals drop from 43 to 24 last season, a drop off was expected and the team believes that with two impressive lines, Karlsson should get more chances to score with less pressure from just top-line defenders.
Schmidt and Theodore should continue to develop and provide top-four defense for many years to come. Theodore in particular is only 24 years old and could break out and develop into a dominant defenseman in the next few years. Tuch took a solid step in his development, scoring 20 goals and 52 points in his second year and if the 23-year-old keeps improving, could be quite the bargain under $5MM in the future.
Buyouts
None
Retained Salary Transactions
F Tomas Tatar ($500K through 2020-21)
Salary Cap Recapture
None
Still To Sign
D Jimmy Schuldt (RFA)
The team might have to free up just a little extra to finally get Schuldt locked up for a number of years, but the top collegiate free-agent this offseason opted to sign with Vegas and could begin his career immediately. With attention from 29 of the 31 teams, many believe that Schuldt will get every opportunity to win a spot on the Golden Knights' defense and could make his impact right away. After four years at St. Cloud State, he still will have to prove that he can beat out Whitecloud and Hague, but once the RFA signs, he could end up being a big piece to the team's defensive outlook.
Best Value: Karlsson
Worst Value: Pacioretty
Looking Ahead
The Golden Knights general manager combo of George McPhee and Brad McCrimmon have done an amazing job of putting a team together quickly that is ready to compete immediately and have a chance to compete for many years. At the moment, the team has done a good job of locking up its core and while the team is right up against the cap, it does have a number of players making quite a bit of money while on short-term deals, which could allow the team to continue to upgrade to the team after those deals expire. Throw in a number of younger players who are getting closer and closer to being able to contribute, the team should be in solid shape for quite a while.
Photo courtesy of USA Today Sports Images.