The Philadelphia Flyers had to make a tough decision earlier this summer when it opted to buy out veteran defenseman Andrew MacDonald. The veteran has been a key piece in the Flyers' locker room, but the team felt it had to make a change. Regardless of the buyout, there should still be a place for the 32-year-old defenseman in the NHL. He just needs to find it. The blueliner may not be putting up big numbers on offense, but he could easily provide depth as a bottom-line defender for plenty of teams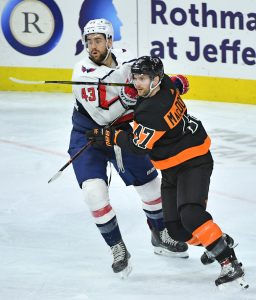 MacDonald was acquired by Philadelphia back in 2014 from the New York Islanders and was promptly signed to a long-term extension, signing a six-year, $30MM deal a month after the trade. While the defenseman provided solid defense when on the ice, the veteran was often injured and slowly has seen his play decline as his $5MM AAV became a target of criticism for fans. The buyout was largely expected, but many Flyers praised the veteran for his leadership skills.
That ability to lead could give MacDonald an advantage as teams with a young defense might gravitate towards a player who could help lead. Unfortunately, perhaps the main reason that he hasn't been signed yet is the fact that he has dealt with injuries and has slowed down a bit and certainly wasn't worth the $5MM AAV that he signed years ago.
Potential Suitors
A possible return to the New York Islanders could always be a possibility. MacDonald played his best years here and could serve as a veteran who could fill in as a 6/7th blueliner and another veteran who could help out with a bunch of up-and-coming defensive prospects such as Noah Dobson and Bode Wilde. However, the team does have several veterans already and likely wouldn't show a significant interest unless some of those players went down with injuries.
Although they have been mentioned often in regards to blueline free-agents, the Winnipeg Jets will be expected to add a few blueliners to fill out its depth eventually after the team locks up restricted free agents Patrik Laine and Kyle Connor. The veteran could also look to return to Canada and find a home there, but again teams like Montreal, Toronto and Ottawa may not be in need of a veteran blueliner as they all have quite a bit of depth.
In the end, however, MacDonald will likely just have to wait until teams lose a player to injury.
Projected Contract
MacDonald will never get anything near $5MM and likely at this point will have to accept a minimum salaried deal. Considering that he is still getting quite a bit from Philadelphia, that money should make it easier to accept any deal that might come along for him.
Photo courtesy of USA Today Sports Images.