Navigating the salary cap is one of the more important tasks for any GM. Teams that can avert total cap chaos by walking the tightrope of inking players to deals that match their value (or compensate for future value without breaking the bank) remain successful. Those that don't see struggles and front office changes.
PHR will look at every NHL team and give a thorough look at their cap situation heading into the 2019-20 season. This will focus more on those players who are integral parts of the roster versus those who may find themselves shuttling between the AHL and NHL. All cap figures are courtesy of CapFriendly.
New York Islanders
Current Cap Hit: $74,746,666 (under the $81.5MM Upper Limit)
Entry-Level Contracts
F Oliver Wahlstrom (three years, $925K)
D Sebastian Aho (one year, $925K)
D Noah Dobson (three years, $894K)
F Mathew Barzal (one year, $863K)
Potential Bonuses:
Wahlstrom: $538K
Dobson: $538K
Barzal: $400K
Aho: $100K
Barzal will be an interesting case as the young center saw his numbers drop off after an amazing rookie campaign as the 22-year-old got more attention from top defenders without John Tavares to protect him. While his goals only dropped by four (18) last year, he saw his assist numbers slip from 63 to 44. However, many people feel that Barzal should take that next step and establish himself as top-line center. While the Islanders can only hope that this will happen, it could also prove to be costly for New York as Barzal will be wrapping up the final year of his entry-level contract and could be in line for a major deal as the youngster is likely keeping a close eye on all the unsigned restricted free-agents on the market currently.
The Islanders have quite a bit of talent in the system and several of their top picks from 2018 could be ready to contribute this season. Wahlstrom, the 11th-overall pick, played well in his one season at Boston College, but looked even more impressive in a short showcase with the Bridgeport Sound Tigers of the AHL. He played five regular season games, scoring two goals, but added another two goals and four points in five playoff games. Dobson, the team's 12th-overall pick last season, could be ready to take a key spot in the Islanders defense.
While the defense could add Dobson this season, another addition could be Toews who looks to be ready for an increased role with the Islanders. The 25-year-old put up 18 points in 48 games last season and looks ready to contribute.
One Year Remaining, Non-Entry-Level
G Thomas Greiss ($3.33MM, UFA)
F Matt Martin ($2.5MM, UFA)
D Ryan Pulock ($2MM, RFA)
F Derick Brassard ($1.2MM, UFA)
F Tom Kuhnhackl ($850K, UFA)
D Devon Toews ($700K, RFA)
While Robin Lehner received all the attention for his stellar play in goal, Islanders' fans were just as pleased with the play of Greiss, who just a couple of years ago was considered to have an untradeable contract. However, no one is complaining after Greiss put up impressive numbers last year. The 33-year-old had a .927 save percentage and a 2.28 GAA in 43 appearances and should be a key piece for New York in his final year, although with several prospects getting closer to being NHL ready, this is likely to be his last year with the Islanders.
The 24-year-old Pulock continued to improve his game, especially offensively. He finished the season with nine goals and 37 assists, which is impressive considering the team's offense dropped off quite a bit since the 2017-18 season as the defenseman continues to work on his defensive game. He could be prime for another big contract if he can take his game to another level.
Islanders general manager Lou Lamoriello is a big believer in a veteran bottom-six and has done well with both Martin and Kuhnhackl as well as Brassard, who the team signed recently and could always get a new contract if they continue to perform well.
Two Years Remaining
F Casey Cizikas ($3.35MM, UFA)
D Adam Pelech ($1.6MM, UFA)
F Michael Dal Colle ($700K, RFA)
F Tanner Fritz ($700K, UFA)
The 28-year-old Cizikas had a breakout season last year. Not only did he finally break the double-digit barrier, he actually reached 20 goals. The hope is that Cizikas can repeat that success as he is expected to continue playing on the team's impressive fourth line. The team also has hopes that Dal Colle can win a regular spot. The 23-year old got a 27 game trial, scoring three goals and seven points last season.
The defensive minded Pelech has been a solid player for the Islanders and is quite a bargain at $1.6MM. Perhaps the top left-handed defenseman, he has received solid minutes and should continue to get good minutes this season. The team
Three Years Remaining
D Johnny Boychuk ($6MM, UFA)
D Nick Leddy ($5.5MM, UFA)
F Cal Clutterbuck ($3.5MM, UFA)
F Leo Komarov ($3MM, UFA)
D Thomas Hickey ($2.5MM, UFA)
F Ross Johnston ($1MM, UFA)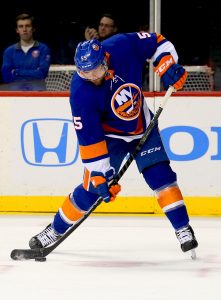 At age 35, the team will be paying for Boychuk's late years and there does seem to be a decline in his play as both his ATOI and his points dropped. On the positive, his 74 games played is the most he's played since he was with the Bruins back in 2013-14. However, he saw his minutes drop by almost two per game and picked up just 19 points last season. That could mean a reduced role for the veteran this season as he could slide outside the top four and move into a bottom-pairing role. The 28-year-old Leddy, however, continues to play well as he broke the 20-minute mark for the fifth-straight season. His offense, however, took a hit as he only tallied 26 points after three straight 40-point seasons, but with a defense-first philosophy, that might not be surprising. The team also has high hopes that Hickey, who missed quite a bit of time due to an upper-body injury, will stay healthy this season. The two-way blueliner will be a key addition for the team, but he will have to earn his playing time, especially if Dobson makes the roster out of training camp.
With Cizikas and Martin, Clutterbuck gives the Islanders a physical and offensive fourth-line that is one of the best in the league and the 31-year-old has been putting up 200-plus hits 10 of the last 11 years and is expected to continue that success. Komarov also has put up big hits (203), giving the team quite a bit of physicality for the next few years.
Four Or More Years Remaining
F Anders Lee ($7MM through 2025-26)
F Brock Nelson ($6MM through 2024-25)
F Jordan Eberle ($5.5MM through 2023-24)
F Andrew Ladd ($5.5MM through 2022-23)
G Semyon Varlamov ($5MM through 2022-23)
F Josh Bailey ($5MM through 2023-24)
D Scott Mayfield ($1.45MM through 2022-23)
Lamoriello was busy this offseason, signing four of these long-term deals this summer. The team was hoping to steal Artemi Panarin from the New York Rangers at the last minute, but when that fell through, the team immediately locked up their captain to a seven-year deal. Lee posted solid numbers, scoring 28 goals and 51 points, while showing off a plus-20 rating on the ice. Nelson, who many believed was the most likely to bolt the Islanders, surprised many by signing a six-year deal at $6MM after career-high 53 points and netted four goals in eight playoff games last year. Eberle was another key signing as the team committed five years and $5.5MM per season to him despite a down year where he had just 37 points, one of the lowest numbers of his career. However, a strong playoff performance might have been enough to prove his worth after he tallied four goals and nine points in eight playoff games.
The team made a shocking move this offseason when they opted not to keep the fan-favorite Lehner and instead signed Russian goaltender Semyon Varlamov away from Colorado. One reason for that was because the team still hopes to convince top Russian goalie prospect Ilya Sorokin to come to the U.S., which might be easier with Lehner out of the way and a veteran countryman in place to ease him into the NHL. However, Varlamov has the potential to be quite successful with the Islanders' defensive system. He has been quite successful over the years, but has had to deal with many injuries as well.
Bailey may be one of the better deals the teams has. The pass-first winger put up another solid season, putting up 16 goals and 56 points and added four goals in the playoffs and is a key player on the team's top-six. On the other hand, Ladd may have the contract that looks the worst on the team. The 33-year-old veteran continues to deal with injury issues. This time, the veteran only appeared in 26 games, putting up just three goals for the team. He put up a 23-goal season back in the 2016-17 season, but the team rewarded him with a seven-year, $38.5MM deal, which so far looks like a disaster after he has scored just 15 goals in two seasons and isn't likely to get the minutes he needs to make that deal look decent.
Buyouts
None
Retained Salary Transactions
None
Salary Cap Recapture
None
Still To Sign
This will be a key year for Beauvillier once he signs. A 2015 first-round pick, the 22-year-old winger struggled in a top-six role last year, putting up 18 goals and 10 assists and he must show that he can take his game to another level. He likely will command some kind of bridge deal to prove his value to the franchise as he hasn't necessarily shown enough to warrant a long-term deal. However, if he can't show that he belongs on the top-six, he could find himself falling to the third line soon.
Best Value: Bailey
Worst Value: Ladd
Looking Ahead
The Islanders put all their eggs in one basket this summer. Lamoriello had all the cap space he needed to shape the franchise any way he wanted, but in the end, he brought back almost all of his key unrestricted free agents and has committed to keep his team. The team broke all expectations last season as few expected the team to even make the playoffs, let alone sweep their first-round opponent. Regardless, the belief that under head coach Barry Trotz, the team will continue to get better and battle for a Stanley Cup for the next few years. The team has committed to its core and now have to hope that their farm system can continue to develop their young players and add to the Islanders team for the next few years.
Photo courtesy of USA Today Sports Images.