With the trade deadline now just over a week away, activity has started to pick up around the NHL.  Rumors of major trades continue, but so far just a few deals have been completed.
Lafreniere To Stay In CHL: Potential 2020 first-overall pick Alexis Lafreniere set the record straight after rumors were circulating that the 17-year-old may opt to sign a contract overseas and follow the footsteps of Auston Matthews who played his draft year in the Swiss NLA. Lafreniere's agent, Momentum Hockey Agency, released a statement making it clear that while the young talent did look into playing overseas, he and his family decided to stay in the CHL with Rimouski Oceanic of the QMJHL where he's played the last two years, having totaled 74 goals and 172 points in 110 games. At 6-foot-1, he already has the size and proven ability to play in a professional league, but he will stay put for one more year.
Pastrnak, Maatta Injured: The Boston Bruins and Pittsburgh Penguins each took a hit to their team when each team lost a significant player to injury. The Boston Bruins lost David Pastrnak for a minimum of two weeks after he underwent thumb surgery on Feb. 12 after he fell at a team function. The Bruins, who are fighting with the Toronto Maple Leafs for the second spot in the Atlantic Division won't be helped even if its for a few weeks without Pastrnak, who is the team's leading scorer with 31 goals as well as 66 points, second on the team. The Penguins also took a hit on their blueline when they placed Olli Maatta on injured reserve with an upper-body injury that would sideline him indefinitely. The team was getting back Justin Schultz from injury at the time, but the team was looking forward to getting back a fully healthy defense, which now they won't have for some time. To make matters worse, the team had recently dealt away Jamie Oleksiak to make room for Schultz, leaving the team with a lack of depth all of the sudden.
Wild Owner Approves Selling: Just hours after Minnesota Wild head coach Bruce Boudreau guaranteed that the Wild would make the playoffs, Wild owner Craig Leipold announced that he has given general manager Paul Fenton the green light to sell off some of the team's players in advance of the upcoming trade deadline. With the team dropping four straight and having a 2-5-3 record in their last 10 games, it might be time for Fenton to make his mark on this team after being hired this summer to fix the team's inability to advance deep into the playoffs. Among the numerous players who could be shipped off include pending unrestricted free agent Eric Staal as well as Charlie Coyle, who still has one more year on his deal. There are also a number of bottom six players who could be moved as well, including Eric Fehr, Matt Hendricks, Brad Hunt, Matt Bartkowski and Anthony Bitetto.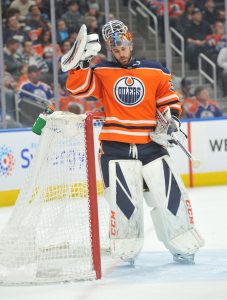 Philadelphia's Hart Gets A Mentor: The Philadelphia Flyers finally consummated a rumored trade in which it acquired Edmonton Oilers goaltender Cam Talbot for Anthony Stolarz. While Edmonton freed themselves some much needed cap room as Talbot was making $4.17MM, the Flyers got themselves what they hope will be a long-term veteran who can mentor their prized rookie Carter Hart for the next few years. Talbot, who was already familiar with Hart before, waived his no-movement clause to come to Philadelphia and made it clear that he was open to signing a new contract before July 1 to remain with the team.
Ottawa Intends To Trade Duchene: The Ottawa Senators have stopped in their attempts to sign Matt Duchene to an extension and have indicated to all teams that they intend to trade the 26-year-old center. According to reports, the Senators have shifted their focus of signing Duchene to making a full effort to locking up Mark Stone to an extension. Stone may have a day or two to make up his mind on whether he is willing to sign an extension or he too, will be made available to the league with the intention of selling them off at the trade deadline. Already there has been rumors that the Nashville Predators, the Columbus Blue Jackets and the New York Islanders have expressed serious interest in acquiring the center with more suitors likely to join in before the upcoming trade deadline on Feb. 25.
Photo courtesy of USA Today Sports Images.