With the trade deadline fast approaching, we continue our look at the situation for each team over the coming weeks. Where do they stand, what do they need to do, and what assets do they have to fill those needs? As we continue with the Metropolitan Division, here is a look at the New York Islanders.
The New York Islanders are under new management and new general manager Lou Lamoriello has made a name for himself over the years with numerous big deals at the trade deadline during his time with New Jersey and Toronto. The question is whether Lamoriello intends to making a big move with his team being atop the Metropolitan Division.
The team has a core of pending unrestricted free agents who Lamoriello may or may not bring back next season and a number of impressive prospects that are either on the team or sitting with the Bridgeport Sound Tigers of the AHL and has plenty of cap space to work with. Besides Mathew Barzal, the team still lacks a defining core to work and could use another big-name player or two to give the team several faces to the franchise, which is where the deadline could come in. The real question is do the Islanders want to take the chance of possibly damaging the chemistry the team has created so far this year under head coach Barry Trotz.
Record
35-17-6, first in the Metropolitan Division
Deadline Status
Serious to moderate buyer
Deadline Cap Space
$46.12MM in full-season cap hit, 0/3 used salary cap retention slots, 45/50 contracts per CapFriendly
Upcoming Draft Picks
2019: NYI 1st, CAL 2nd, NYI 5th, NYI 6th, NYI 7th
2020: NYI 1st, NYI 2nd, NYI 3rd, NYI 4th, NYI 5th, NYI 6th, NYI 7th
Trade Chips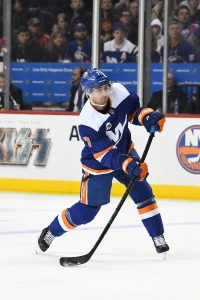 The team has a number of players it could package to a team for a big-name player as the team has five significant players who are approaching unrestricted free agency in the summer, including Jordan Eberle, Brock Nelson, Anders Lee, Valtteri Filppula and goaltender Robin Lehner. That doesn't mean the team has any intention of trading even one of those players. That also doesn't mean the team won't let them walk away in free agency either. In fact, there is little known about what the team intends to do before next season and knowing what we know about Lamoriello, the team will make significant changes to their team before the start of next season. However, if Lamoriello intends to make a deal, those five could potentially be part of any package. One interesting storyline is Lehner, who is having a comeback season after struggling greatly in Buffalo and dealing with alcoholism. However, does the franchise feel that he is worthy of a long-term deal or could Lehner be used to work out a deal for a Sergei Bobrovsky?
The team also has a number of young players who could be sent out as well, including Michael Dal Colle, Kieffer Bellows, Joshua Ho-Sang, Otto Koivula, and Sebastian Aho to name a few and that doesn't even include the talent they still have sitting in the junior ranks. Bellows could be a significant trade chip as the team's 2016 first-rounder has had significant success on his way up, but has also had some struggles. He currently has 11 goals as a rookie in the AHL. Ho-Sang, who has showed some offensive flair over the years, hasn't put it all together and has struggled with his attitude. One other significant asset the team has is a significant amount of cap space and the team could be willing to take on a bad contract or two if that can net them another talent.
Five Players To Watch For: F Keiffer Bellows, F Jordan Eberle, F Joshua Ho-Sang, G Robin Lehner, F Brock Nelson
Team Needs
1) Franchise Player: Other than Barzal, the team lacks that face-of-the-franchise player at the forward position who can take over games for the next eight years. The team does have Josh Bailey under contract for a few more years, but the rest of the top-six will have to be written, whether that includes re-signing some of their own unrestricted free agents or whether they attempt to trade for a player like Artemi Panarin, Matt Duchene, Mark Stone or even someone like Bobrovsky in net.
2) Upgrade on defense: The interesting thing about the Islanders' defense is that it went from being one of the worst defenses in the league in the 2017-18 season as they allowed 3.57 goals per game (31st in the league) and suddenly the team has totally turned that around in 2018-19 as they have allowed just 2.29 goals per game (first in the league). And that's with almost no changes on defensive personnel. The team lost defenseman Calvin De Haan, but basically returned the same group from the previous year. Obviously, much of the credit should be given to Trotz, but at the same time, the team needs to consider adding to that defense and improving its blueline like acquiring a Alec Martinez from Los Angeles or Cody Ceci from Ottawa.
Photo courtesy of USA Today Sports Images.