Following their loss to Carolina on Friday night, the Oilers pulled the trigger on trading goalie Cam Talbot, sending him to Philadelphia in exchange for netminder Anthony Stolarz. Both teams have announced the swap.
This move had been speculated over the past couple of days although it was believed that the Flyers preferred to send veteran Brian Elliott in the deal instead. Edmonton was facing a cap crunch with the pending return of defenseman Andrej Sekera as they needed to clear some room to activate him off LTIR. This move does that and more as the deal frees up just over $3.4MM in full-season cap space so when Sekera is indeed activated, they'll still have a couple million at their disposal.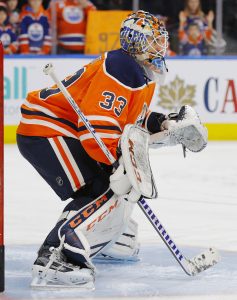 Beyond that, the deal is intriguing for both sides. In Talbot, the Flyers acquire what should be an upgrade for their backup position over Elliott and the oft-injured Michal Neuvirth which will help in the short term as they can ease Carter Hart's workload down the stretch if they so desire. It will also allow them to get a look at the pending unrestricted free agent to see if he's the right fit to work with Hart for the next few seasons. The two goalies know each other well already so there's a good chance that this played into the decision.
Talbot will need to fare a lot better with Philadelphia than he did with Edmonton if he wants to come close to matching his current AAV of $4.167MM though. He lost the number one role to Mikko Koskinen while his GAA (3.36) and SV% (.893) are the worst of his career. However, his career numbers are much more impressive with a 2.59 GAA and a .915 SV% in 284 games between the Oilers and Rangers and the Flyers are hoping he'll be able to return to that type of level. When he does suit up in a game for them, he will be the eighth different goalie they've used this season which will set an NHL record.
As for the Oilers, they too get to evaluate a potential fit for next season in beyond in Stolarz. The 25-year-old has battled injury issues over the past two seasons, playing in just 21 games combined over that span (including his stints in the AHL and ECHL). He was inconsistent with the Flyers this season, posting a 3.33 GAA with a .902 SV% in a dozen appearances and it's likely he's going to see a lot of action with Edmonton down the stretch.
Stolarz has to play at least 30 minutes in 10 of Edmonton's remaining 25 games in order to avoid qualifying for Group Six unrestricted free agency this summer. Accordingly, expect Ken Hitchcock to be calling his name early and often in the weeks to come.  If he reaches that target and becomes a restricted free agent once again, the Oilers will owe him a qualifying offer of just over $799K.
Photo courtesy of USA Today Sports Images.