The Columbus Blue Jackets are not having a good holiday season. Brian Hedger of NHL.com confirms that both Cam Atkinson and Alexander Wennberg will miss four to six weeks due to injury. Atkinson's foot was broken by a Seth Jones shot, while Wennberg will miss time with a back injury.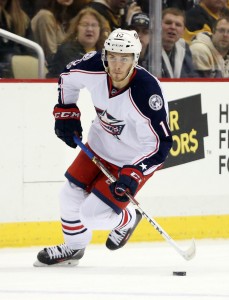 The news couldn't come at a worse time for the Blue Jackets, who go on the road for eight of their next 12 games and are trying to fight to stay relevant in the Metropolitan. With the entire division separated by just nine points, losing two of your best forwards for a six week stretch can be devastating. Luckily—if you can call it that—Wennberg and Atkinson had already been struggling this season, forcing other young players to step up offensively.
Last season saw the pair lead the Blue Jackets in almost every offensive category, with Atkinson scoring 35 goals and Wennberg recording 46 assists. They finished with 62 and 59 points respectively, and were deadly threats on the powerplay all season. This year, has been a little different.
The two have combined for just 29 points all season, and were a big part of the Blue Jackets early struggles on the powerplay. While in their offensive funk, the team turned to others like Pierre-Luc Dubois and Oliver Bjorkstrand to lead the way and will now have to again. With Brandon Dubinsky still out with a broken orbital bone, even more pressure will be placed on the young Dubois who has quickly gone from roster afterthought to first-line center.
It will be interesting to see if the Blue Jackets are forced to make a move to help their center group, or if they turn to players like Sonny Milano and Tyler Motte to try and plug the holes. With Artemi Panarin looking like himself again—15 points in his last 12 games—there could be enough offense to still carry the team for the time being.