The final full week of April resulted in quite a few headlines around the league, particularly behind the bench.  Here are five key stories from the week that was.
1) Kings Promote Stevens To Head Coach – While many teams will conduct a thorough coaching search before making a hire, Los Angeles opted to do the opposite.  Only John Stevens was seriously considered to replace Darryl Sutter behind the bench and one of the worst secrets in hockey was made official when the Kings officially named him as their new bench boss.  Stevens is no stranger to the team having been with the team for the last five years and will now be tasked with getting Los Angeles back into the playoffs.
2) Canucks Hire Green As Head Coach – The Kings weren't the only team who named a new head coach as the Canucks promoted Travis Green to the position from their AHL affiliate in Utica where he had spent the past four seasons.  It's the first NHL coaching gig for the long-time NHL veteran, who received a four year contract.  Vancouver appears headed for a longer-term rebuild and Green will likely have a longer leash to work with than Stevens will with Los Angeles.
3) Bruins Remove Interim Tag From Cassidy – The coaching news wasn't just limited to the Western Conference as following their first round loss to Ottawa, Boston removed the interim tag from Bruce Cassidy, making him their full-time head coach.  Cassidy took over midseason from Claude Julien and the move seemed to bolster the Bruins who went 18-8-1 after the change while the team looked reinvigorated as they started to score at a higher level.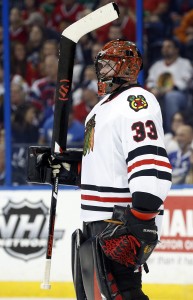 4) Hurricanes Acquire Darling – Trades at this point of the year aren't all that common but they do happen from time to time.  Carolina decided to try to get a head start on free agency, acquiring the negotiating rights to goaltender Scott Darling from Chicago in exchange for Ottawa's third round pick in 2017 (previously acquired for Viktor Stalberg).  No talks had been held with Darling's camp prior to the move but clearly GM Ron Francis is confident that he can lock up the pending unrestricted free agent and give the team another option between the pipes after Cam Ward and Eddie Lack both struggled this season.
5) Draft Lottery – Not too long ago, the NHL's Draft Lottery wasn't too eventful with only one team winning while only being allowed to move up four spots.  That changed last year and while that lottery didn't yield much movement, the one held on Saturday certainly did.  The Avalanche, Canucks, and Golden Knights all dropped three spots.  Taking their place in the top three were the Devils, Flyers, and Stars, respectively.  Philadelphia's jump to number two was particularly noteworthy as they were originally slated to select 13th.
Photo courtesy of USA Today Sports Images.