The last three drafts have produced a number of all-world talents who are not only leading respective rookies, but the league as well. Here's a look at the scoring leaders as the first quarter of the season nears completion.
Starting with Patrik Laine, the #2 overall pick in the 2016 draft, the Finnish forward has already recorded two hat tricks in his first pro season and has been drawing comparisons to his hero, Alex Ovechkin. Laine has been as advertised: a speedy sniper who always seems to be where the puck is. Not only does Laine lead all rookies with 12 goals, but he's #1 in the league amongst goal scorers, tied with a guy by the name of Sidney Crosby.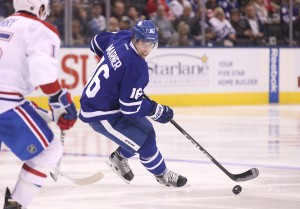 Mitch Marner is #2 in scoring with 16 points and has been so dominant, that it has CBC wondering if he's the "face" of the Maple Leafs. Marner has been nothing short of exceptional, notching seven goals and nine assists, buoyed by ten points in his last seven games. His commitment to a total game–not just scoring–even has bench boss Mike Babcock gushing. From CBC:
"You look at all the kids in our lineup — [defencemen Connor] Carrick and [Nikita] Zaitsev and [forwards Zach] Hyman and [Connor] Brown, and then the three guys that have elite skill — he not only has the skill but he competes every night," said Babcock.

"He competes with and without the puck. That's really positive. I've never coached a kid that good that young."
William Nylander and Zach Werenski are tied with 14 points apiece. Nylander, the eighth overall pick in the 2014 NHL draft,  has given the Maple Leafs a huge boost in terms of production, joining teammates Marner and Auston Matthews in turning the Leafs' fortunes around. For a kid who said back in March that he wanted to be "great," he's lived up to his expectations. Werenski is the only defenseman on the list and has been a major player in Columbus' surge over the past few weeks. Tom Gulitti writes that Werenski is a major reason the Jackets are off to a 10-4-2 start and the 19-year-old has been quarterbacking a the power play, another sign that he's a major player in Columbus' improvement.
Matthews rounds out the top five with 13 points, and much has been written about the number one overall pick of the 2016 NHL draft. Matthews scored four goals in his NHL debut, but has been silent for the past 11 games. Yet it's the maturation that Matthews and his fellow rookie teammates have shown that has caught the eye of his coaches and the league. Matthews commitment to a two way game, despite failing to score in nearly a dozen games, shows that he has bought into the Babcock system.
With three Leafs in the top five of scoring among rookies, happier days certainly seem to be on their way to Toronto.
Photo courtesy of USA Today Sports Images.