The NHL's trade deadline is just a month away, and any game-changing deals are yet to come. Though there were two big trades already this season—featuring Matt Duchene, Kyle Turris, Sami Vatanen and Adam Henrique—the market has been relatively quiet for nearly two months. Minor league deals, and the swap of Anthony Duclair not withstanding, fans are ready to land the big fish and take a run at the Stanley Cup playoffs.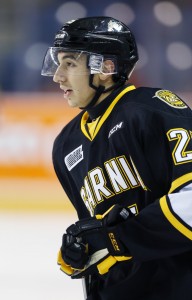 For some time now names like Max Pacioretty, Mike Hoffman, Patrick Maroon and Evander Kane have graced the Trade Bait board on TSN, but with today's update Frank Seravalli gives us a few interesting additions. One, Ryan McDonagh, is very much like those previously mentioned, a very good player heading towards the free agent market (in the summer of 2019 in this case) that could be moved when his value is still near its highest point.
But there are a couple of other new entries, including St. Louis Blues prospect Jordan Kyrou. While McDonagh and most of the other players are in or past their prime, Kyrou hasn't even begun his NHL career. Selected 35th-overall in 2016, the smooth skating forward has blossomed into one of the very top prospects in the entire league. In fact, Corey Pronman of The Athletic (subscription required) recently ranked him 19th among those already drafted. Five of the players ahead of him have already made their NHL debuts, including the likes of Kasperi Kapanen and Dylan Strome.
Seravalli speculates that Kyrou could be in a package to land Kane, one that according to Buffalo might need to include a first-round pick, conditional pick and an additional roster player. Kyrou's potential shouldn't be downgraded by the fact he fell out of the first round in his draft year, as he's shown over and over how dynamic his offense and skating ability can be. At the recent World Juniors, he led Team Canada with ten points in seven games and was a threat every time he touched the puck. Even with the absence to attend the tournament, he still leads the OHL in points with 73 in just 35 games and has a real shot at winning the league's Most Outstanding Player.
If a prospect like Kyrou is moved, it could be a trade deadline to remember for the ages. While there is no guarantee he or any other top name ever turns out to be an impact player in the NHL, the rental-for-prospect deals are often the ones looked back on years later with frustration. The Blues—and other teams like the Winnipeg Jets, from whom Seravalli mentions young players Nic Petan and Jack Roslovic as potential pieces—are looking for an impact player this season. They might just have to give up a future one in return.