While the stretch run is officially over with the NHL's declaration that the play-in games won't be part of the regular season, we still have one division left to get to in our Stretch Run Storylines series.  Our focus has been shifted to the Metropolitan Division with an eye on things to watch for in the postseason.  Next up is a look at the New York Rangers.
This season, the Rangers were expected to take a step towards moving out of their rebuild, especially after they added winger Artemi Panarin via the richest AAV handed to a winger in league history and picked up blueliner Jacob Trouba from Winnipeg in a trade.  However, they were struggling through the first half of the season before a midseason recall helped change their fortunes.  Whether or not that recall gets a chance to play in their play-in series against Carolina is among the things to watch for from New York when play resumes.
Zibanejad's Momentum
Over the final six weeks of the season, who was the top scorer in the NHL?  It wasn't Edmonton's Leon Draisaitl who was on a tear of his own and may be the Hart Trophy winner.  It wasn't Panarin who had a career year and finished tied for third in the league in scoring.  Instead, it was his linemate in center Mika Zibanejad.  Over his last 21 games from February 1st to the suspension of the schedule, he had 22 goals and 11 assists.  Yes, better than a goal per game pace.  (He also led in points per game if you want to look at the stat that way to balance out the differences in games played.)
Zibanejad and Panarin were dominant for large parts of what amounted to the stretch run.  While Panarin played at that level for basically most of the year, Zibanejad's top gear was something that he hadn't shown with any sort of regularity in the past.  While the Rangers are a deep enough team offensively to withstand Zibanejad reverting closer to his normal form (which is still a strong two-way pivot), they're much more dangerous with that duo lighting it up.  In a short series as the play-in round is, that could make or break New York's fortunes.
Who Starts?
For the first half of the season, New York's goaltending tandem was Henrik Lundqvist and Alexandar Georgiev.  On paper, it wasn't a bad duo – a proven veteran and a young goalie that has shown flashes of upside in his early career.  That didn't translate to much in the way of success, however, which necessitated the recall of Igor Shesterkin from AHL Hartford.  He made an immediate impact and ran with the number one job until the pandemic hit three months ago.
Now, David Quinn has a decision to make on who to start against Carolina.  On the surface, Shesterkin would make sense as he had the hot hand before but more than three months have passed since then and it'll be another month before games resume.  He's still relatively untested in North America with only a dozen NHL games under his belt so putting him into a must-win series does carry some risk.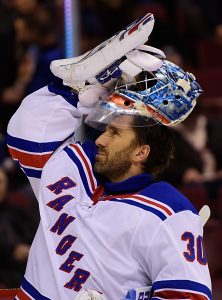 On the other hand, the other options carry some risk as well.  Lundqvist came into this season having posted the worst numbers of his career in 2018-19.  His numbers were slightly worse this year and he wound up as the third-string option frequently once Shesterkin was recalled.  The rest may help the 38-year-old in terms of being rested and ready to play though and he has a very strong track record of success in the postseason.  There are also questions about whether there's a spot for him next season with the two younger goalies likely to be around so giving Lundqvist the first shot would be a nice nod to a well-respected franchise mainstay.  But is there room for sentimentality in a short series?
As for Georgiev, he was consistently inconsistent while posting a dip in his save percentage from last season.  Having said that, he stole some games for the Rangers and if he's on, he could be the difference in this series.  On the flip side, the risk factor of playing Georgiev is high since if he's not at the top of his game, he struggles.
There is no simple answer here as all have arguments for and against playing them.  As a result, Quinn will certainly be keeping a close tab on his three netminders during training camp.  With a limited exhibition schedule, how each performs in practice may very well play a role in determining who starts against the Hurricanes.
RFA Watch
Salary cap space was an issue for the Rangers heading into the year as they more or less forced winger Brendan Lemieux and defenseman Anthony DeAngelo into taking cheap one-year deals.  That has worked out quite well for DeAngelo who had a career year offensively with 15 goals and 38 assists in 68 games.  A strong showing in the postseason will only his bolster his arbitration case which he is now eligible for.
Then there's Ryan Strome.  The center also had a career season with 18 goals and 41 helpers in 70 contests and will be a restricted free agent with arbitration eligibility.  He went into the season viewed as a possible non-tender candidate because of his required $3.2MM qualifying offer.  He has outperformed that rate but his future with the team still feels a little bit tenuous but a good performance here could help solidify his fate in New York.
For perspective, the Rangers have more than $67MM committed to 15 players for next season with DeAngelo, Strome, Georgiev and Lemieux all in need of new contracts.  With the expectation that next year's Upper Limit will be at or around the current $81.5MM mark, it will be a tight squeeze to keep all of them, fill out the rest of the roster, and remain under that threshold.  That means there may a bit more at stake for those players in this postseason.
Photo courtesy of USA Today Sports Images.