While the stretch run is officially over with the NHL's declaration that the play-in games won't be part of the regular season, we still have one division left to get to in our Stretch Run Storylines series.  We now shift the focus to the Metropolitan Division with an eye on things to watch for in the postseason.  We begin with a look at Washington.
The Capitals faltered a little bit down the stretch but still managed to hold onto the top spot in the Metropolitan by a single point.  Once again, they're one of the top-scoring teams in the league which will be what they rely on as they play their seeding games while the play-in series are being held.  Here is what else to watch for from Washington when play resumes.
Which Version Of Kovalchuk?
Veteran winger Ilya Kovalchuk didn't get much of a chance to show what he could bring to the Caps before the pandemic shut play down.  Acquired just before the trade deadline, he only got into seven games, scoring once while picking up three assists.  That continued a similar drop-off from his time in Montreal after he was quite productive for them after being signed.
There is some room for optimism when it comes to Kovalchuk's production when the puck drops though.  He started off strong with the Kings this season following an extended break with seven points in eight games.  He had five points in his first seven games with Los Angeles in 2018-19 as well.  When he signed with Montreal after being unsigned for nearly two months, he had eight points in as many contests.  It certainly seems that a well-rested Kovalchuk can still make an early impact which bodes well for Washington.
His role will be more limited than he is accustomed to; he was averaging less than 15 minutes a night before the shutdown, well below his 18:54 per game average with the Canadiens or 21:20 average for his career.  However, it's a role that the 37-year-old may be best suited for at this stage of his career and on a team that has enough firepower to make him a secondary scorer instead of one that's counted on to shoulder a large part of it, that will make Kovalchuk, a pending unrestricted free agent, an interesting wild card for them.
Goaltending Decision
Heading into this season, the question was how much ice time Braden Holtby would be ceding to his expected successor in Ilya Samsonov.  Despite the rookie outperforming him for most of the season though, Holtby still received the lion's share of the starts (47-22).  One benefit of being at or near the top of the division with a top offense is the ability to give the veteran a chance to play through his struggles.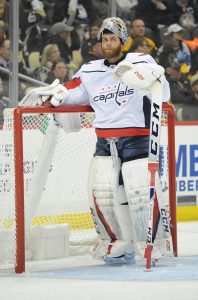 But that only works in the regular season.  The Capitals are now three games away from the playoffs so the time to let a veteran play out of a slump is over.  Statistically, there is a case to make that Samsonov should get the nod when those get underway as he had the much better numbers (2.55 GAA, .913 SV% compared to 3.11 and .897 for Holtby).  Holtby is certainly a well-regarded veteran but it may be tough to justify putting someone with a save percentage below the league average in there each game.
There are certainly questions about Holtby's future as well.  Washington was already looking like they were going to be a cap-strapped team before the pandemic began; with the projected cap increase looking exceedingly unlikely, it's even harder to foresee a scenario where he'll be able to return for 2020-21.  This is probably his swan song with the team…if he gets a chance to play at all and if he doesn't, that certainly won't help his case on the open market this summer.
Carlson Continuing?
Who led the Capitals in scoring this season?  It wasn't Alex Ovechkin, or Evgeny Kuznetsov, or Nicklas Backstrom, one of which had paced the team offensively in every year since Ovechkin entered the league back in 2005-06.  Instead, it was defenseman John Carlson.  After a breakout career year in 2017-18, he followed that up with another career-best offensive performance last season and despite only playing in 69 games this season, he set another new top mark with 75 points.
To further put that number in perspective, the rest of Washington's back end combined for a total of 78 points (11-67-78).  In other words, Carlson was basically their only offensive threat defensively.  In the regular season, the level of attention he received won't be as high as it will be in their first round series as their opponent will have more time to key in on him.  In the past two postseasons, there hasn't been much falloff in terms of his production in the playoffs.  With an even bigger target on his back this time as the top-scoring blueliner in the league and presumptive Norris favorite, will Carlson be able to produce at or a near a point-per-game level this postseason?  The answer to that will go a long way in determining their success this summer.
Photo courtesy of USA Today Sports Images.