While the stretch run is officially over with the NHL's declaration that the play-in games won't be part of the regular season, we still have one division left to get to in our Stretch Run Storylines series.  Our focus has been shifted to the Metropolitan Division with an eye on things to watch for in the postseason.  Next up is a look at Columbus.
The Blue Jackets were one of the surprises of the postseason last year.  Few gave them a chance against the Presidents' Trophy-winning Lightning but instead, it was Columbus that swept Tampa Bay.  This version of the team lacks the star power last year's group had with Artemi Panarin, Matt Duchene, and Sergei Bobrovsky all playing elsewhere but they were right in the thick of the battle for a top-three spot before the pandemic shut the season down.  They have a similar matchup as their first round clash last year as they'll be taking on Toronto.  Here is what to watch for from the Blue Jackets.
Return Of Walking Wounded
Some teams will benefit from getting a key player or two back from injury that may not have been available to play had the postseason gone on as originally scheduled.  The Blue Jackets aren't just getting a player or two back.  Instead, a third of their lineup will be returning.
Oliver Bjorkstrand was in the midst of a breakout season in spite of ankle and rib injuries that cost him 21 games; he still managed to lead the team in goals.  He's back.  Cam Atkinson was having a quiet year but is a top-liner for them still.  He's back from his lower-body issue.  So is promising youngster Alexandre Texier (lumbar stress fracture) and veteran Nathan Gerbe (groin) whose performance after an in-season call-up was enough to earn him a two-year extension.
But that's not all.  How about adding back a 25-minute per game defenseman to the lineup?  Seth Jones was one of just seven blueliners to have that ATOI and he is back from his ankle injury.  Getting a number one defender back is a huge addition.  Dean Kukan (knee) isn't as well known but he was holding down a regular spot on the back end before he went down.
Despite that, there are some players who won't be returning.  Josh Anderson won't be ready to go from his shoulder surgery and while he had a tough year offensively, his physicality will certainly be missed.  Veteran Brandon Dubinsky (wrist) will also remain out.  Even with them not playing, Columbus is getting several core players plus important regulars back.  Not many teams can say they'll benefit anywhere near as much from this delay as them.
Who Starts?
There were understandably question marks between the pipes heading into the season.  There are now as well.  But it's a different set of questions entirely.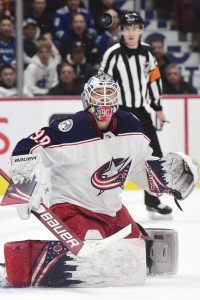 Heading into the season, it seemed like the Blue Jackets were being risky going with a relatively unproven tandem of Joonas Korpisalo and rookie Elvis Merzlikins.  Merzlikins struggling early on only compound that.  However, both got going as the season progressed and when Korpisalo went down, Merzlikins came in and went on a tear, making a compelling case to stay in the top role in the process.
Both now are healthy and with the fact that it will be more than four months between games before teams take to the ice again, it's an entirely clean slate.  Their three-week training camp could very well represent the competition to see who gets the nod in the first game against Toronto.
This series represents an interesting clash of styles.  The Maple Leafs had the second-most goals in the league this season while the Blue Jackets allowed the third-fewest.  With Columbus being a defense-first, low-scoring team, whoever gets the tap to start is going to have that extra challenge of facing a top attack.
Dubois' Final Push
Heading into this season, Pierre-Luc Dubois looked like a prime candidate for a breakout year.  His sophomore campaign was strong and he played well in their playoff run last season.  Things didn't quite go as planned, however.  While he managed to lead the Blue Jackets in scoring this year, his goals per game and points per game averages dipped despite a small uptick in ice time.  Losing players like Duchene and Panarin shifted Dubois from a secondary role to a front line one but the improvement in production wasn't there.
As a restricted free agent this summer, that certainly doesn't help his negotiating leverage.  Of course, he's still in line for a significant raise but between this and the expected flattening of the salary cap, the time may not be right for either side to commit to a long-term, big money deal that buys out the remainder of his RFA eligibility and takes out some of his UFA years.  However, a big showing offensively in the play-in round and potentially longer would certainly help his case.
Photo courtesy of USA Today Sports Images.