While the stretch run is officially over with the NHL's declaration that the play-in games won't be part of the regular season, we still have one division left to get to in our Stretch Run Storylines series.  Our focus has been shifted to the Metropolitan Division with an eye on things to watch for in the postseason.  Next up is a look at the New York Islanders.
Last season was a bit of a roller coaster for the Islanders.  They surprised many by finishing second in the division despite the departure of John Tavares and swept Pittsburgh in the first round of the playoffs before being swept by Carolina.  They basically brought back the same roster for this season and the results weren't as strong.  They're set to match up with Florida in the play-in round to get back to the playoffs; here's what to watch for from them.
Sorokin Saga
For years, Ilya Sorokin has been their goalie of the future.  The hope was that with the KHL shutting down its postseason, Sorokin would be free to sign his entry-level contract and burn it through this postseason.  In a normal year, that would be allowed since he was on New York's reserve list at the trade deadline.  However, the NHL has ruled that no more current year contracts can be signed.  That is being contested by the NHLPA with an answer expected by the end of the month.
The final decision will ultimately have an impact on the Islanders' plans.  If he's ruled eligible to play, he'll have an opportunity in camp to push for a top two spot although that would certainly be risky given his lack of exposure to play on the smaller North American ice surfaces.  It also means that he'd be able to sign a bigger contract this summer as a restricted free agent and eat into their projected cap space for the offseason.  If not, he'll ink his entry-level deal for 2020-21 (which will likely contain some achievable bonuses) and get his bigger second contract a year later.  With several other teams having players in similar situations, this is one that more than the Isles will be watching.
Pageau's Integration
Back at the trade deadline, the Islanders made one of the bigger splashes of the day, dealing 2020 first-round and second-round picks along with a conditional 2022 third-round selection to Ottawa for center Jean-Gabriel Pageau and then signed him to a six-year, $30MM extension hours later.  With the Senators, the 27-year-old was used in a top-six role and he responded with 24 goals and 40 points in 60 games that had him on his way to a career year before the pandemic hit.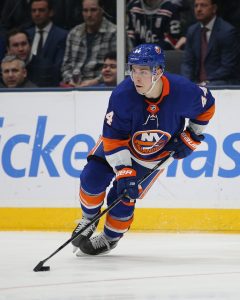 His ice time dipped a bit after being acquired and while he still received plenty of time in a special teams role, Pageau was used on the third line which is the role he has been most accustomed to in his career with Mathew Barzal and Brock Nelson playing ahead of him.  The transition wasn't the greatest as he had just a pair of goals in seven games after the trade before the pandemic shut down the schedule but he's hardly the first person to experience an offensive dip while trying to get acclimated to a new team.
This extended break and pending three-week training camp provide Pageau and the Islanders with an opportunity.  He'll have a chance to develop some chemistry with his expected linemates and readjust to playing in that bottom-six role.  Pageau has had a knack for scoring some big playoff goals in the past and New York will certainly be counting on him for that if they can get past the Panthers.  How well he integrates back into his old role will go a long way in dictating what type of success they'll have this summer.
Also worth noting here is the conditions of the first-round pick.  If the Islanders lose to Florida and manage to win a top-three pick, the selection would instead transfer to Ottawa in 2021.  The Draft Lottery will be held next week with seven teams and eight placeholder spots to represent the teams that will lose their play-in series.
Barzal's Last Push
Barzal's rookie season was one to remember as he led the team in scoring with 85 points in 82 games and actually out-produced Tavares.  Accordingly, expectations were through the roof heading into his sophomore campaign.  While his output wasn't bad by any stretch (18-44-62), it still represented a significant drop.  As he entered the final year of his entry-level contract, the spotlight was certainly on as he looked to get back to that higher level and bolster his value with the expectation of a long-term, big-money deal this summer.
While his overall production dropped again by two points, New York had 14 games left when the pandemic hit.  In terms of points per game, it improved from 0.76 a year ago to 0.88 this season which is a 72-point pace.  That's undoubtedly what Barzal's side will be using when it comes to contract talks.
This stretch of games will be his last chance to make his case the salary cap situation not looking as good as it did just a few months ago doesn't help him.  But Barzal had a strong showing in the postseason a year ago and a repeat performance could be the clinching element needed to ensure the long-term contract over a shorter-term bridge deal.
Photo courtesy of USA Today Sports Images.