While the stretch run is officially over with the NHL's declaration that the play-in games won't be part of the regular season, we still have one division left to get to in our Stretch Run Storylines series.  Our focus has been shifted to the Metropolitan Division with an eye on things to watch for in the postseason.  Next up is a look at Carolina.
The Hurricanes were one of the biggest storylines in the league last season as they worked their way to the Eastern Conference Final before being swept by Boston.  There were plenty of doubters that they'd be able to repeat that feat this season but while they find themselves in the play-in round, they were in a playoff spot for most of the season.  Carolina was one of two teams to vote against the 24-team format but they will nevertheless be facing the Rangers when play resumes this summer.  Here is what to watch for from them as they try to make it back to the postseason.
Who's The Starter?
After a strong showing last season, it looked as if Petr Mrazek was finally getting his chance to be the undisputed starter.  The Hurricanes handed him a two-year deal and traded a player that was eventually bought out (Scott Darling) to add James Reimer who was coming off arguably the worst season of his career to serve as the backup.
Things worked out a little differently though.  Reimer wound up having somewhat of a bounce-back season and ultimately had better numbers (2.66 GAA, .914 SV%) than Mrazek (2.69 GAA, .905 SV%) though the latter did have 14 more starts.  While Mrazek would appear to have the upper hand going into the series against New York, it's far from a guarantee that he gets the nod.
In a normal year, teams are hesitant to roll two goaltenders in a postseason series.  Usually, the starter gets the lion's share of the workload with the backup only coming in if it's a blowout.  But this isn't a normal year with a mid-summer training camp effectively leading into a must-win series.  Keeping both in a rotation may not be the worst way to go unless one gets on a roll.  Carolina dabbled with that a bit last year and we may see a repeat of it this postseason.
Williams' Future
One of the storylines in the first half of the regular season was if (or when) winger Justin Williams would come back.  That one came to an end in early January when he signed a one-year deal with a base salary of $700K plus bonuses.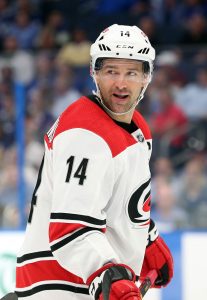 Let's put those aside for a minute and look at what Williams did in his part season.  He was productive in his limited role, picking up eight goals and three assists in just 20 games.  It's a small sample size but that tied for his highest goals per game rate in his career (0.40 which he also had in 2006-07).  Clearly, he can still be productive at the NHL level and now with the benefit of having basically a full training camp, that should bode well for his postseason performance; his reputation of stepping it up in the playoffs.
But despite his success in his limited action this season, Williams has been non-committal about whether or not he'll return for next year and GM Don Waddell echoed those sentiments earlier this month.  Throughout the playoffs last year, his playing future was a discussion point.  One year later, it doesn't appear as if it will be any different.
Now, let's go back to the bonuses.  Per CapFriendly, Carolina finished the year with roughly $977K in cap space before performance bonuses.  Andrei Svechnikov maxed his Class 'A' bonuses (Goals, Assists, Points, and Points per Game) which eats up $850K of that.  Williams has already hit $250K of his which means the Hurricanes are already over the cap and will face a bonus overage penalty for next season.  It's worth noting that Williams will get $250K if the Hurricanes make the playoffs (in other words, beat the Rangers), plus $100K for each round victory through the Conference Final, $250K if they win the Stanley Cup, and $250K for a Conn Smythe trophy.  The further Williams and Carolina go this postseason, the less they'll have to spend next season.
New Look Defense
At the trade deadline, Carolina decided to make a pair of moves to bolster their back end, adding Brady Skjei from the Rangers and Sami Vatanen from the Devils.  Brett Pesce was out for the season after being injured the game before the deadline and Dougie Hamilton was on the shelf as well.  Vatanen was dealing with an injury of his own when acquired and never had an opportunity to suit up before the pandemic hit.
Fast forward to now.  Vatanen is ready to play now as is Hamilton.  Skjei is still effectively a newcomer with only seven games under his belt.  For all intents and purposes, that's half of a new back end for the Hurricanes to work with relative to what they had for most of the second half of the regular season.
When you add them to a back end that also features veterans Jaccob Slavin, Joel Edmundson, Trevor van Riemsdyk, and Jake Gardiner, you get a very deep back end.  You also get a group that isn't going to have a lot of familiarity in terms of pairings.  The mid-July training camp is going to be very important for them in terms of quickly establishing chemistry as if this group plays up to its potential, it can be one of the better blueline units out there.
Photo courtesy of USA Today Sports Images.