While the stretch run is officially over with the NHL's declaration that the play-in games won't be part of the regular season, we still have one division left to get to in our Stretch Run Storylines series.  We now shift the focus to the Metropolitan Division with an eye on things to watch for in the postseason.  Next up is a look at Philadelphia.
Just before play was suspended due to the ongoing pandemic, the Flyers were on a roll having won nine of their last ten games.  That helped propel them to second place in the division and while they weren't able to lock down the top spot, they've positioned themselves to have a shot at the top seed in the East as they'll be playing a round-robin tournament (with Washington, Boston, and Tampa Bay) while the next eight teams in the conference will be participating in the Play-In Round.  Here are some of the storylines surrounding Philadelphia for when their postseason gets underway.
Step-Up Scorer?
The Flyers were one of the top-scoring teams in the league during the regular season with 232 goals which was good for sixth overall.  On the surface, it would seem like they have a go-to scorer or two that could get them that key goal at a critical time.  But they don't really have that and instead boast more of a by-committee attack.  Travis Konecny led the way during the regular season with 24 goals and even if you factor in that they lost the final 13 games due to COVID-19, he still wasn't quite on pace to hit the 30-goal mark.  That's a bit low for a team that was battling for the top spot in the East.
On the positive side, spreading out the attack makes it tougher for the opposition to key in on one top unit.  We've seen in recent years that teams can have some success in the playoffs with that type of approach and while the other teams that will be jockeying for seeding when play resumes, the Flyers will be the one team that stands out for being different in their approach.
Wingers James van Riemsdyk (now recovered from his finger fracture) and Jakub Voracek both had tough seasons while center Claude Giroux took a step back from well.  Giroux, in particular, has had a knack for stepping up in the postseason and could be one to watch for but all three have to be considered bounce-back options to watch for.
Gostisbehere's Role
2018-19 wasn't a great year for defenseman Shayne Gostisbehere.  While he still managed to put up 37 points in 78 games, that was a far cry from the 65 he had a season before.  Things got a lot worse this season.  Offensively, the 27-year-old struggled mightily, recording just a dozen points in 42 contests.  Yes, he missed 21 games with knee issues but he was also a frequent healthy scratch down the stretch.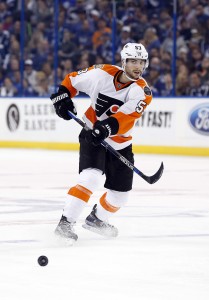 Will that continue into the postseason?  If head coach Alain Vigneault wasn't comfortable using him late in the year, it's difficult to think he's currently in their projected top six.  Much can change between now and then though.
Assuming Gostisbehere's role is at best limited in Philadelphia's postseason run, it's certainly going to further call into question his long-term future with the team.  With the Upper Limit of the salary cap appearing unlikely to move up much over the next couple of years, he could quickly go from being a nice luxury to have to one they won't be able to afford.  A minimal role in these playoffs won't help his value.  Of course, if he gets an opportunity and makes the most of it, that might be enough to boost his trade value after appearing to have a relatively soft market at the trade deadline.
Hart's First Postseason
This will be Carter Hart's first career postseason action and while he's firmly entrenched as Philadelphia's goalie of the future, how he performs could affect their offseason plans.  No, they're not going to bring in someone that's going to challenge him for the number one role but this postseason should be a good testing ground to see if they believe Hart is ready for a heavier workload.
If that's the case, perhaps they'd be able to set their sights on a cheaper backup goalie and use some of their savings at another position.  On the flip side, if he struggles, that might be enough for GM Chuck Fletcher to think that he needs a backup that can play a bit more in a pinch.  (Whether that's Brian Elliott again or someone else remains to be seen.)
There's no doubt that Hart is a fixture in their long-term plans but how he performs this postseason may be enough to factor into their short-term plans for next season when it comes to his backup.  That's certainly not going to provide any extra pressure on the 21-year-old but between going through his first playoff run, this should be something to follow.
Photo courtesy of USA Today Sports Images.