As things stand, the NHL is planning to have games resume at some point over the coming weeks.  Assuming the regular season continues and play doesn't jump immediately to the postseason, there will be plenty of things to watch for over the stretch run.  Over the weeks ahead, PHR will examine the top stretch run storylines for each team.  We complete our look at the Pacific Division with San Jose.
The San Jose Sharks made a solid run through the 2018-19 playoffs and looked ready to challenge for another run in hopes of winning a Stanley Cup final. Instead, the wheels fell off with the team struggling immensely. Lack of depth and not enough stars stepping up, San Jose wasn't able to put together their winnings ways, which cost the job of head coach Peter DeBoer (who eventually took the Vegas job and turned their struggles around) and saw the team drop like a brick in the standings with the worst record in the Western Conference.
Hertl Bounce-Back
The team suffered through a number of injuries this season, but their most devastating loss was top scorer Tomas Hertl, who tore his ACL and MCL in his left knee during a game on Jan. 29. Even if the league does go with a 24-team playoffs, the Sharks would be on the outside looking in, so they have to  hope their star players can bounce back.
After a 35-goal, 74-point season in 2018-19, many thought that Hertl might take his team to the next level. His numbers, however, were down this year in 48 games, scoring just 16 goals and 36 points. The team will need the veteran to not only bounce back from a major knee injury and find that scoring touch, which could be a great challenge. Word is that Hertl is making valuable progress in his recovery and is well ahead of schedule, suggesting he should be ready to be ready for training camp, whenever that is. Of course, can he bounce back offensively?
Will Sharks Bring Back Veterans?
The Sharks will have a couple decisions to make about their longtime veterans, Joe Thornton and Patrick Marleau. Both are unrestricted free agents, but do they want to bring back both their long-time stars for another year?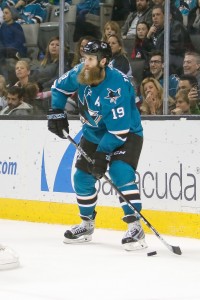 Thornton will turn 41 in July and has expressed interest in returning to the Sharks for another season. The veteran was open to a trade when the trade deadline neared, but he received little interest from top playoff teams and San Jose didn't get an offer worth taking. Thornton remains a solid middle-six option for them. Even at age 40, he still managed to score 31 points, while averaging 15:30 of ice time. The question is can he keep those numbers up or will his play continue to regress, making him more of a liability on the ice.
Marleau is a somewhat different story as the Sharks did get an offer for him at the trade deadline and did trade him to the Pittsburgh Penguins for a conditional 2021 third-rounder (unless the Penguins win the 2020 Stanley Cup, which would make it a 2021 second-rounder). However, there have been plenty of reports suggesting that Marleau, who will be a unrestricted free agent this offseason, would be open to returning to the Sharks. Even though he will turn 41 in September, Marleau finished with 11 goals and 22 points this season and showed some of his old scoring ways. Again, those numbers are also career-lows even with the Coronavirus shortening the season. However, he is just 51 games away from breaking Gordie Howe's games played record, which suggests he's open to another season.
Goaltending Needs
The Sharks goaltending was also a significant reason for the teams' struggles. San Jose locked up Martin Jones in 2017 to be their long-term goalie for the next six years, but with four years still on his contract, the team has to wonder if Jones is that answer. The 30-year-old is coming off two straight inconsistent seasons as he finished this season with a 17-21-2 record with a 3.00 GAA and a .896 save percentage. The hope was that backup Aaron Dell might be able to take a bigger load, but he struggled as well this year and now will be an unrestricted free agent in the offseason.
Where will the relief come from. It seems likely the team will bring in someone to help out, but with cap room being an issue, the Sharks may not be able to add anything more than a backup. The team did sign Russian goaltender Alexei Melnichuk to an entry-level contract. The 21-year-old dominated as a backup netminder in the KHL, but likely will need some time in the AHL before being ready to contribute.
Photo courtesy of USA Today Sports Images.