While the stretch run is officially over with the NHL's declaration that the play-in games won't be part of the regular season, we still have one division left to get to in our Stretch Run Storylines series.  We now shift the focus to the Metropolitan Division with an eye on things to watch for in the postseason.  Next up is a look at Pittsburgh.
The Penguins were slumping before the COVID-19 pandemic suspended the schedule as they had dropped seven of their last ten games.  As a result, they fell out of the second seed in the Metropolitan Division and while that may not have seemed like a big deal at the time, it came with a price as they will now have to get through the play-in round against Montreal in order to get back to being a mid-seeded team in the East which is where they were before the season was shut down.  Here is what to watch for when Pittsburgh returns to the ice either next month or in early August.
Guentzel's Return
Several teams will be benefitting from getting players back that weren't expected to be available had the playoffs began at their normal time.  The Penguins are one of the ones that will be getting a core player back as winger Jake Guentzel is expected to be available to return.  He had been slated to miss four-to-six months as of late December due to shoulder surgery but by the time the puck drops, more than six months will have elapsed.
After putting up 40 goals and 76 points last season (both career highs), Guentzel was on track to beat those numbers this year as he had 20 goals and 43 points in just 39 games before the injury shut him down.  Adding someone that was producing at that rate will be huge for a team that was near the middle of the pack offensively during the regular season – in large part due to several key injuries throughout the year.
As things stand, it seems likely that Guentzel would reprise his role as Sidney Crosby's left winger which is where he was for the majority of the year.  That would push late-season acquisition Jason Zucker down in the lineup, presumably onto the second line alongside Evgeni Malkin unless they want to move Zucker onto his off-wing.  When healthy, Pittsburgh features one of the more talented offences in the NHL and they'll be getting a big part of that back with Guentzel.
Goalie Battle
One of the reasons that the Penguins were able to withstand the rash of injuries was the breakout of goaltender Tristan Jarry.  He went from being a third-string option that was available in a trade to a player that was selected to the All-Star Game.  Statistically speaking (2.43 GAA, .921 SV%), he vastly outperformed Matt Murray (2.87 GAA, .899 SV%) but that didn't seem to matter much in terms of a distribution of playing time.  Out of the 69 games they played before the pandemic hit, Murray had 38 starts to Jarry's 31 despite his struggles.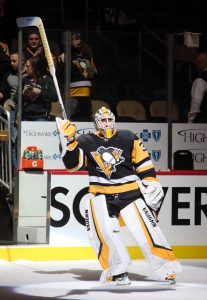 As a result, it's far from a guarantee that Jarry will be getting the nod in the first game against the Canadiens.  If the regular season distribution is any indicator, it could suggest Murray will get the nod.  Having said that, teams are more willing to let their veterans play through their struggles during the regular season but the playoffs are a different animal altogether.
On top of that, there is the fact that both netminders are restricted free agents with salary arbitration this offseason.  Murray has to be qualified at $3.75MM and should still be able to land more than that while Jarry will be slated to earn a sizable jump on his current $675K AAV.  With more than $68MM in commitments for next season already and the expected flattening of the salary cap (currently at $81.5MM), it's going to be difficult to keep both around.  If one of them takes the reins and runs with it in the postseason, it could play a key role in determining which one stays and which one could be on the move.
Wildcard On Defense
It has not been a year to remember for defenseman Justin Schultz.  After an injury-plagued 2018-19 campaign that limited him to just 25 games, he was hoping for a rebound year to boost his free agent fortunes.  That hasn't happened.
Instead, a pair of lower-body injuries plus the cancellation of their final 13 regular season games limited Schultz to just 46 contests.  On top of that, he struggled mightily offensively, tallying just three goals and nine assists on the year, a far cry from the 51 he put up in his first full year with the team back in the 2016-17 season.  His minutes also dipped a bit as well.
But there's no denying that when Schultz is healthy, he can impact the game in a lot of ways.  Instead of continuing to work off the rust, he's now well-rested and knowing that he'll be entering what is likely to be a weakened free agent market, he has a lot to play for.  During his time with the Penguins, the 29-year-old has been productive in the playoffs, putting up higher point-per-game averages than his regular season performance over the past three postseasons.  Doing that again would certainly boost Pittsburgh's chances of a successful playoff performance while helping restore some value on the open market.  That certainly makes him one to watch on their back end.
Photo courtesy of USA Today Sports Images.