Navigating the salary cap is one of the more important tasks for any GM.  Teams that can avoid total cap chaos by walking the tightrope of inking players to deals that match their value (or compensate for future value without breaking the bank) remain successful.  Those that don't see struggles and front office changes.
PHR will look at every NHL team and give a thorough look at their cap situation heading into the 2021-22 season.  This will focus more on players who are regulars on the roster versus those who may find themselves shuttling between the AHL and NHL.  All cap figures are courtesy of CapFriendly.
New York Islanders
Current Cap Hit: $85,229,188 (over the $81.5MM Upper Limit)
Entry-Level Contracts
D Noah Dobson (one year, $894K)
F Oliver Wahlstrom (two years, $894K)
Potential Bonuses
Dobson: $537.5K
Wahlstrom: $537.5K
Total: $1.075MM
Wahlstrom managed to play in 44 regular season games in his rookie campaign despite a whopping 26 assignments to the taxi squad last season.  He established himself as a capable secondary scorer and didn't look out of place in his first taste of playoff action either.  Wahlstrom should have a similar role this season if he can overcome a quiet training camp and with New York's cap situation, it's unlikely that he will get a long-term deal and unless he cracks the top six, he may be in tough to earn much on the bonus front.  A bridge deal that buys them short-term flexibility is expected.
The same can be said for Dobson who was a regular for most of his sophomore year.  He is improving but is still likely to be more of a depth player than a core piece in 2021-22 which makes it unlikely that he'd be able to command the type of money to justify a long-term contract or hit most of those bonuses.  He'll be bridged as well.
One Year Remaining, Non-Entry-Level
D Sebastian Aho ($725K, RFA)
D Johnny Boychuk ($6MM, UFA)
D Zdeno Chara (terms undisclosed, UFA)
F Cal Clutterbuck ($3.5MM, UFA)
D Andy Greene ($750K, UFA)
D Thomas Hickey ($2.5MM, UFA)
F Ross Johnston ($1MM, UFA)
F Leo Komarov ($3MM, UFA)
F Zach Parise (terms undisclosed, UFA)
D Ryan Pulock ($5MM, UFA)
G Cory Schneider (terms undisclosed, UFA)
Potential Bonuses
Greene: $250K
Let's start with Chara and Parise.  Islanders GM Lou Lamoriello has been quite secretive in contract disclosures so the full terms haven't come out yet.  The expectation is that they're for the minimum of $750K with some performance bonuses but that hasn't been confirmed.  Schneider's deal is also unknown but he played for the minimum last season on their taxi squad so it's likely he signed for that as well.  He may not play much – if at all – for the Isles this season but with Ilya Sorokin being waiver-exempt, sending him down and recalling Schneider to dip below their LTIR ACSL is a move we might see at times this season.
Clutterbuck has been a fan favorite for years and is an effective energy forward but for the role he plays, it's a price tag that's well above market value.  His salary is down to $2.5MM and it wouldn't be surprising if they try to sign him for a bit below that on a multi-year deal for next season.  Komarov was brought in to play a similar role as Clutterbuck but hasn't had anywhere near as much success.  Something closer to the $1MM mark is likely when he hits the open market.  Johnston has had a very limited role as one of the few remaining 'enforcers' in the league.  He's not that far off the minimum salary but he'll be hard-pressed to command more than that in free agency.
Pulock was a victim of their cap situation as they weren't able to afford to sign him long term.  That walks the 27-year-old to the open market in the prime of his career (barring an extension, of course).  He'd be a legitimate second defenseman on a lot of teams and that will create a strong market for his services where he could tack another couple million onto his current price.  Hickey will once again be buried in the minors, clearing $1.125MM off their books and he won't see a contract near that amount again.  Greene will serve as a depth player and all of those bonuses will be hit if he plays in 20 games.  Assuming he stays healthy, that should happen.  Boychuk will be on LTIR once again as his playing days are over and that is how the Isles will get back into cap compliance.
Two Years Remaining
F Mathew Barzal ($7MM, RFA)
D Scott Mayfield ($1.45MM, UFA)
F Richard Panik ($1.375MM, UFA)*
G Semyon Varlamov ($5MM, UFA)
*-Detroit is retaining another $1.375MM of Panik's contract
Barzal was also basically forced into a bridge deal, albeit the richest of its kind (at the time) since the Islanders didn't have the cap room to pay him more than this at the time.  He is their top center although his offensive production hasn't been able to get back to his rookie-season level.  He's subject to the new qualifying offer rules so he's looking at an offer of $8.4MM (120% of the AAV is lower than his final-season salary) with a long-term pact that buys out UFA years checking in a bit above that.  Panik was brought in as a money balancer in the Nick Leddy trade.  He's likely to be a role player (if he makes the team at all; he could be a cap casualty) and it's likely that his next deal will be closer to the $1MM mark.
Mayfield's five-year, $7.25MM contract was a head-scratcher at the time considering he didn't have a lot of experience but he opted for security and he has become quite the bargain for New York, playing his way into their top four for the price of a sixth defender.  That should change on his next contract where he should be able to double his current price tag.
Varlamov was signed to be the starter between the pipes but Sorokin's presence has changed that fairly quickly.  With Sorokin being the goalie of the future, Varlamov is likely to be in a platoon role at best.  He's well above average in that role but it is a bit of an overpayment if he winds up in the 35-40-game range.
Three Years Remaining
F Josh Bailey ($5MM, UFA)
F Anthony Beauvillier ($4.15MM, UFA)
F Matt Martin ($1.5MM, UFA)
G Ilya Sorokin ($4MM, UFA)
Bailey hasn't been able to hover near the point per game mark like he did in 2017-18 but he remains a capable top-six winger and at that price tag, the Isles are getting a pretty good return.  He'll be 35 in the first season of his next contract though which will limit his earnings upside three years from now.  Beauvillier's development has been slow and while he has shown flashes of top-end skill, the production hasn't been there.  This deal basically amounts to a second bridge contract and puts him in a spot to hit unrestricted free agency in his prime but he'll need to establish himself as a consistent second liner if he wants to land a sizable raise at that time.  Martin doesn't put up many points anymore but provides plenty of physicality.  His deal is likely close to what they'd like to do for Clutterbuck next summer while Martin will probably need to take another cut if he wants to re-sign when this deal is up.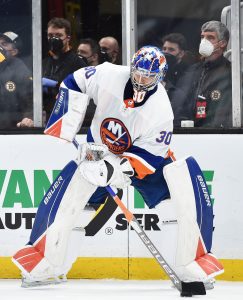 Sorokin is someone that the Islanders had to wait a long time for before he came to North America and even after his rookie deal, he still hasn't had a chance to prove much as he only played in 22 games last season.  Still, New York committed a relatively hefty contract for someone with that little experience but it's also a sign of how much they believe he's their long-term goalie of the future.  This deal gives him a chance to work his way into the number one role with Varlamov still in the fold while giving him an opportunity to earn a much bigger payday three years from now at a time where the Upper Limit should be starting to go up again.
Four Or More Years Remaining
F Casey Cizikas ($2.5MM through 2026-27)
F Anders Lee ($7MM through 2025-26)
F Brock Nelson ($6MM through 2024-25)
F Jean-Gabriel Pageau ($5MM through 2025-26)
F Kyle Palmieri ($5MM through 2024-25)
D Adam Pelech ($5.75MM through 2028-29)
Lee has only cracked the 30-goal mark twice (making it to 40 once) and doesn't put up a lot of points overall so this is a deal that is a bit of an overpayment.  However, he's also their captain and as long as he puts up 25-30 goals a year, they'll get a good enough return on the contract.  Nelson very quietly finished third on the team in scoring last season and has picked up his offensive production in recent years.  He's now a capable top-six center and while his contract isn't a bargain, it's fair market value.  Pageau's extension (coupled with the picks they gave up to get him from Ottawa) came as somewhat of a surprise as he's more of an ideal third-liner than a top-six piece but he's also very good in his role.  They're paying a premium but he's a great fit in that spot.  Palmieri is coming off a tough year offensively but if he's able to get back to the form he showed before in New Jersey, they'll be happy with this deal.  Cizikas' term was a big surprise this offseason but they certainly value the impact he can provide, even when it's from the fourth line.  Strictly by the numbers, it's an overpayment but they're not paying him for that long for his offensive production.
Pelech has never been an offensive threat but he is a very reliable defensive defender who can log significant minutes.  Those players still have plenty of value around the league and having a second or third defender locked up at this price point for that long should work out well for the Islanders.
Buyouts
G Rick DiPietro ($1.5MM through 2028-29, cap-exempt)
Retained Salary Transactions
None
Still To Sign
None
Best Value: Mayfield
Worst Value: Komarov
Looking Ahead
It's going to be a tough year from a cap perspective for the Islanders.  They'll be able to be compliant but with the team being in LTIR, they won't be able to bank any space for in-season movement and while we don't know what the bonuses for Parise and Chara are, it seems reasonable to think at least some of them are achievable which would then carry over onto their cap in 2022-23.
The good news is that there is some money coming off the books next summer in Komarov and Clutterbuck that can be re-allocated, likely towards trying to keep Pulock around and if they can do that, they can keep their core intact a little longer.  Obviously, Barzal's deal looms large and that's where they will benefit from some of the medium-term deals they've handed out recently with the lower AAVs there ideally allowing them to lock up their top center and stay cap-compliant.  They'll be hovering around the Upper Limit for a while but the Islanders are in reasonable long-term shape cap-wise.
Photo courtesy of USA Today Sports Images.