Navigating the salary cap is one of the more important tasks for any GM.  Teams that can avoid total cap chaos by walking the tightrope of inking players to deals that match their value (or compensate for future value without breaking the bank) remain successful.  Those that don't see struggles and front office changes.
PHR will look at every NHL team and give a thorough look at their cap situation heading into the 2021-22 season.  This will focus more on players who are regulars on the roster versus those who may find themselves shuttling between the AHL and NHL.  All cap figures are courtesy of CapFriendly.
New York Rangers
Current Cap Hit: $72,103,969 (under the $81.5MM Upper Limit)
Entry-Level Contracts
F Morgan Barron (two years, $925K)
F Adam Fox (one year, $925K)
F Kaapo Kakko (one year, $925K)
F Vitali Kravtsov (one year, $925K)
F Alexis Lafreniere (one year, $925K)
D Nils Lundkvist (three years, $925K)
D K'Andre Miller (two years, $925K)
Potential Bonuses
Barron: $850K
Fox: $850K
Kakko: $2.65MM
Kravtsov: $850K
Lafreniere: $2.85MM
Lundkvist: $850K
Miller: $350K
Total: $9.25MM
Kakko's first two seasons haven't gone particularly well as he hasn't been able to produce with much consistency.  That can certainly change but at this point, a shorter-term second contract seems likelier than a long-term pact while the bulk of those bonuses won't be met.  Lafreniere's rookie campaign was similar to Kakko's and he is one of New York's big wild cards heading into this season.  A strong sophomore year could put him in position to meet most of his 'A' bonuses at least, totaling $850K though the 'B' bonuses remain unlikely.  Kravtsov had a good season in the KHL but was relatively quiet in his first taste of NHL action.  Now only a year away from his second contract, a bridge deal should be forthcoming.  Barron may wind up also seeing action in AHL Hartford but if he winds up being a regular, he's likely not going to be able to hit most of his 'A' bonuses.
Fox, the Norris Trophy winner, is on quite the bargain of a contract.  His sophomore season was a dominant one and it's safe to say he'll be using some of the recent contracts for Dallas' Miro Heiskanen (eight years, $8.45MM AAV) and Colorado's Cale Makar (six years, $9MM AAV) as comparables.  As long as he stays healthy, he should hit all of his 'A' bonuses.  Miller is likely to have a similar role on New York's back end this season which should give him a shot at two or three of his 'A' bonuses while setting him up for a nice second contract though nowhere near what Fox's will be.  Lundkvist is expected to contend for a regular role but if they ease him in, it's unlikely he'll be able to hit most of his bonuses.
There's more emphasis on bonuses here than usual for a reason.  While the Rangers are more than $9MM under the cap, that doesn't factor in bonuses.  Knowing that several million of those bonuses are likely to be hit, their effective cap space is lower unless they want to face an overage penalty in 2022-23 which would not be a wise idea if it can be avoided.
One Year Remaining, Non-Entry-Level
F Sammy Blais ($1.5MM, RFA)
F Julien Gauthier ($775K, RFA)
G Alexandar Georgiev ($2.425MM, RFA)
D Libor Hajek ($874K, RFA)
F Ryan Strome ($4.5MM, UFA)
F Mika Zibanejad ($5.35MM, UFA)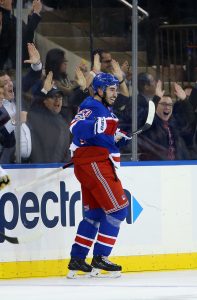 All eyes are on Zibanejad as what happens with him will greatly affect their plans moving forward.  If they lock him up to a long-term extension which could cost upwards of $10MM based on his current asking price, it's going to take them out of the mix for adding down the middle.  On the flip side, if they don't re-sign the 28-year-old, they'll be entering next summer with a significant void down the middle to try to fill if they aren't able to trade for a certain Buffalo center by then.  For the time being, Zibanejad is a number one pivot that's being paid like a number two center which is a great bargain for the Rangers but that is going to change before next season one way or the other.
New York reportedly gave consideration to non-tendering Strome in the 2020 offseason before signing him to this deal and he responded with a career year.  Part of that is playing with a top winger but another showing like that will give him a lot more leverage than he's accustomed to having as he enters the UFA market for the first time.  Blais was brought in to give the team some more grit but he will need to produce more offensively if he wants to get much more than his $1.6MM qualifying offer.  Gauthier managed to earn a spot on the fourth line for a good chunk of last season but will need to bring something offensively to the table.  He has produced at the lower levels but two goals in 47 career games isn't going to help his cause for a new deal.
Georgiev has seen his save percentage dip each season which is never a good sign while he is now firmly entrenched as the backup.  His $2.65MM qualifying offer may be a bit high for what they'll be able to afford next season so it wouldn't be surprising to see him in trade speculation again.  With the going rate for a good backup, Georgiev's next deal should come in only a bit higher than his qualifier unless he has a big platform year.
Two Years Remaining
F Filip Chytil ($2.3MM, RFA)
F Ryan Reaves ($1.75MM, UFA)
D Jarred Tinordi ($900K, UFA)
The Rangers drafted Chytil hoping that he would eventually fill a role down the middle.  That could still happen but so far, he has primarily been on the wing while his production has largely been limited so far.  Still just 22, that could change between now and 2023 where he'll be owed a $2.6MM qualifying offer.  He'll need to improve his offensive output to have a shot at earning a bigger raise beyond his qualifier.  Reaves is high-paid for the limited minutes he plays but players like him are always in demand.  He'll be 36 when his one-year extension is up and at that point, it seems unlikely that he'll be looking at a raise.
Tinordi has taken a long time to get to the NHL but a good showing in the second half of last season allowed him to land a two-year, one-way commitment on the open market.  If he can hold down a regular spot on the third pairing each season, he'll have a shot at a bigger deal in 2023 but if he winds up being more of a depth player as he typically has been, this is about as high as his salary will get.
Three Years Remaining
D Ryan Lindgren ($3MM, RFA)
D Patrik Nemeth ($2.5MM, UFA)
Lindgren moved into a regular top-four role for the first time last season and handled the extra responsibility well, earning him this three-year bridge deal that allows both sides to reassess before he gets to the open market.  Owed a $3.6MM qualifying offer (120% of the AAV is lower than the final-year salary), Lindgren will need to do more at the offensive end if he wants to get more than that.  Stay-at-home defenders can provide value still but at a lower price point than more offensive counterparts.  Nemeth is a good example of that.  He was in Detroit's top four for most of the last two seasons (plus a short stint on Colorado's third pairing) but while he's steady in his own end, his market value is capped by a lack of production.
Four Or More Years Remaining
F Barclay Goodrow ($3.642MM through 2026-27)
F Chris Kreider ($6.5MM through 2026-27)
F Artemi Panarin ($11.643MM through 2025-26)
G Igor Shesterkin ($5.667MM through 2024-25)
D Jacob Trouba ($8MM through 2025-26)
There's no doubt that Panarin's contract is on the high side – he's the highest-paid winger in the league.  However, the Rangers have gotten two high-scoring years out of him so far.  It's never going to be a bargain price tag but so far, so good on the production side of things.  Kreider's deal is cheaper but has the potential to be more concerning.  As their younger wingers move up the depth chart, Kreider will see his role reduced while power forwards don't always age well.  It seems likely that his contract will be an issue for them at some point down the road.  Goodrow managed to land a six-year deal which is impressive for a bottom-six player but he had a big impact for Tampa Bay on their third line and for the Rangers to trade for his rights early to give him the contract, they must have felt that bigger offers were coming had he made it to the open market.
Trouba was brought in to be the all-situations player that he wanted to be in Winnipeg but didn't get the chance there.  He hasn't exactly made the most of the opportunity.  His production has fallen off and while he's still a top-four defender, he's getting paid to be a number one, not a solid role player.
Shesterkin's NHL experience is quite limited – 47 career regular season games, to be exact – but he still carried some leverage in negotiations this summer which led to a four-year deal.  The 25-year-old had long been their goalie of the future while his early performance suggests he can live up to that billing.  The price tag is reasonable for someone in that role so while it's pricey for someone with as little NHL experience as he has, they should get a good return on their investment.
Buyouts
D Anthony DeAngelo ($383K in 2021-22, $883K in 2022-23)
D Dan Girardi ($1.11MM through 2022-23)
G Henrik Lundqvist ($1.5MM in 2021-22)
F Brad Richards ($1.055MM through 2025-26, cap-exempt)
D Kevin Shattenkirk ($1.433MM through 2022-23)
Retained Salary Transactions
None
Still To Sign
None
Best Value: Zibanejad (among non-ELC deals)
Worst Value: Trouba
Looking Ahead
Cap space isn't going to be an issue for GM Chris Drury this season as even after factoring in their bonus situation, they'll have ample space to try to add if the opportunity presents itself.  Having nearly a third of the roster on entry-level deals typically means a team is in good shape cap-wise.
But that only lasts for so long.  Big deals are on the horizon for Zibanejad and Fox for next season and likely Lafreniere a year later so those bargains won't be in place much longer.  It wouldn't be surprising to see the Rangers be a cap ceiling team as early as 2022-23.  Accordingly, if Drury does add this season, it's likely they'll be targeting expiring contracts before their core gets a lot more expensive fairly quickly.
Photo courtesy of USA Today Sports Images.