Navigating the salary cap is one of the more important tasks for any GM.  Teams that can avoid total cap chaos by walking the tightrope of inking players to deals that match their value (or compensate for future value without breaking the bank) remain successful.  Those that don't see struggles and front office changes.
PHR will look at every NHL team and give a thorough look at their cap situation heading for the 2021-22 season and beyond.  This will focus more on players who are regulars on the roster versus those who may find themselves shuttling between the AHL and NHL.  All cap figures are courtesy of CapFriendly.
Nashville Predators
Current Cap Hit: $71,926,142 (under the $81.5MM Upper Limit)
Entry-Level Contracts
F Cody Glass (one year, $863K)
F Philip Tomasino (three years, $863K)
Potential Bonuses:
Glass: $850K
Glass was brought in as part of the three-team trade that sent Ryan Ellis to Philadelphia.  His first two professional seasons haven't gone as expected as he failed to lock down a regular spot with Vegas, eventually leading to the swap.  He'll get that chance with the Predators but it's hard to see him doing so well to bypass a bridge contract in the process.  From a bonus perspective, he'll need to work his way into a top-six role if he wants to have a shot at hitting some of his 'A' bonuses.  Tomasino had a great showing in the AHL last season which certainly played a role in him being slotted in as a regular going back to the summer when they moved Viktor Arvidsson.  He has the potential to be an impact scorer although projecting his next deal this early in his career isn't really possible.
One Year Remaining, Non-Entry-Level
D Matt Benning ($1MM, UFA)
D Mark Borowiecki ($2MM, UFA)
F Nick Cousins ($1.5MM, UFA)
F Filip Forsberg ($6MM, UFA)
F Rocco Grimaldi ($2MM, UFA)
D Ben Harpur ($800K, UFA)
F Luke Kunin ($2.3MM, RFA)
G David Rittich ($1.25MM, UFA)
F Yakov Trenin ($725K, RFA)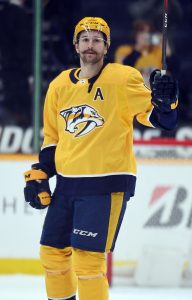 Forsberg's contract situation garnered some attention recently when he suggested that his intent is to play out his deal and then decide what he wants to do from there.  That's certainly within his rights but it's not ideal for the Predators.  As their franchise forward, they're going to want to know his intentions to know whether or not they'll be moving him in the coming months which makes his case one to keep an eye on.  From a next contract standpoint, he's in line to get a bit more than his current AAV but, barring a big 2021-22 season, it won't be a substantial jump.  Gabriel Landeskog's deal in Colorado (eight years, $7MM AAV) feels like the type of deal Forsberg might want to target if he's looking to do a max-term contract.
Kunin's first season with Nashville was similar to his last one with Minnesota – there were flashes of offensive upside and others where he, like many Predators, struggled offensively.  At this point, it's unlikely the two sides could find middle ground on a long-term commitment so the likelier scenario is that this season plays out to give them a better idea of what's to come.  A one-year deal that keeps him RFA-eligible and gives him a small raise is certainly a viable option.  Grimaldi wasn't really able to duplicate his 2019-20 performance and is more of an in-and-out depth player.  His next deal could be cut in half accordingly.  Cousins is a steady fourth liner that can move up when needed and while there is definitely a need for that around the league, it's a spot on the depth chart where teams are trying to save.  His next contract should come around this price tag as a result.  Trenin was a decent fourth liner last season and should have a similar role this year.  He's arbitration-eligible but with a limited track record, it shouldn't play much of a role.  He could crack the $1MM mark but not by much more unless he moves up the depth chart.
Borowiecki missed time last season due to a concussion as well as some mental health struggles and when he was in Nashville's lineup, he had a very limited role.  Unless he's able to lock down some more ice time, he'll be hard-pressed to get the same money on the open market next summer.  Benning stepped in nicely on the third pairing last season with an uptick in ice time.  At this point, he's still young enough to be viewed as a late-bloomer so it wouldn't be surprising to see him get a small raise next summer even though he didn't fare well in his first trip in free agency in 2020.  Harpur cleared waivers at the start of last season and frequently bounced back and forth between the NHL roster and the taxi squad but managed to play a regular role in the second half of the season.  He has bounced around so far and is better off as a depth player so it's unlikely he'll command much more money next summer.
Two Years Remaining
D Dante Fabbro ($2.4MM, RFA)
D Philippe Myers ($2.55MM, RFA)
F Mathieu Olivier ($750K, RFA)
Olivier brought some energy to the fourth line last season, earning this one-way deal as a result.  Unless he can work his way into a regular spot though, he's someone that should stay close to the minimum.
Myers was the centerpiece of the Ellis trade but is coming off a disappointing season with Philadelphia.  He'll have the chance to rebound while playing a significant role with the Preds.  Assuming he does well in a top-four role, he'll be in good shape to land a long-term contract in 2023 well beyond his $3.06MM qualifying offer.  Fabbro's sophomore campaign wasn't the best either which put him squarely in bridge contract territory this summer, one that he should be able to easily outperform.
Three Years Remaining
F Eeli Tolvanen ($1.45MM, RFA)
This was one of the more surprising contracts of the summer by the fact it was this low.  Granted, Tolvanen doesn't have a lot of NHL success under his belt but as a first-round pick in 2017, there's still some upside.  Nashville wants to feature him in a bigger role this season and there's a very good chance that this will wind up being a very team-friendly deal while still keeping him under team control at the end of it.
Four Or More Years Remaining
F Matt Duchene ($8MM through 2025-26)
D Mattias Ekholm ($3.75MM in 2021-22; $6.25MM through 2025-26)
F Mikael Granlund ($5MM through 2024-25)
F Ryan Johansen ($8MM through 2024-25)
D Roman Josi ($9.059MM through 2027-28)
G Juuse Saros ($5MM through 2024-25)
F Colton Sissons ($2.857MM through 2025-26)
The Predators sent Seth Jones to Columbus to land Johansen in 2016, then signed him to this contract a year later, thinking they had their center of the future.  That didn't happen and Johansen has been more of a secondary scorer the last couple of years.  That resulted in them adding Duchene where history basically repeated itself.  Both players are on deals that are now well above market value and Nashville will be hard-pressed to get out of these contracts while getting any sort of value in return.  Granlund had to settle for a one-year deal last season but did better this time around.  Based on his recent performance, it's a small overpayment but a bounce-back season is certainly realistic which would improve their value on the deal.  Sissons is a valuable role player whose production is on the lower end.  The AAV is a little on the high side but they clearly wanted him locked up for the long haul and they have the cap space to absorb the premium.
Josi was one of the top bargains in the NHL for several years before this deal brought him back to market value.  He's a legitimate top defender and based on the way the market went this summer, it's a fair price for Josi who figures to be a fixture moving forward even if Nashville goes in more of a rebuilding direction.  The same can be said for Ekholm who is on a bargain deal this season before his recently-signed extension kicks in next year.  He has been their number two rearguard in recent years and $6.25MM for that is certainly fair value compared some of the other contracts that have been signed.
Saros is now the undisputed starter in goal with Pekka Rinne hanging up his skates.  He was already easing into that role but the fact they still platooned for large parts of the last two seasons helped keep the price tag for Saros down.  He's right at the median mark in terms cost for starting goalies and with how he played last year, he's certainly in the top half of starters league-wide.  This should be another team-friendly contract to help offset those of Johansen and Duchene.
Buyouts
D Steven Santini ($275K in 2021-22)
F Kyle Turris ($2MM per year through 2027-28)
Retained Salary Transactions
None
Best Value: Tolvanen
Worst Value: Duchene
Looking Ahead
From a salary cap perspective, it's pretty much smooth sailing for the Preds for the foreseeable future.  Unless they're operating under a stricter budget, GM David Poile should have plenty of wiggle room to commit to a long-term extension to Forsberg and try to add some pieces if they want to try to quickly emerge from this reset they seem to be undergoing.  And if they go the other way into more of a pure rebuild, then cap space won't be an issue for a while.
Photo courtesy of USA Today Sports Images.