Navigating the salary cap is one of the more important tasks for any GM.  Teams that can avoid total cap chaos by walking the tightrope of inking players to deals that match their value (or compensate for future value without breaking the bank) remain successful.  Those that don't see struggles and front office changes.
PHR will look at every NHL team and give a thorough look at their cap situation heading into the 2021-22 season.  This will focus more on players who are regulars on the roster versus those who may find themselves shuttling between the AHL and NHL.  All cap figures are courtesy of CapFriendly.
Ottawa Senators
Current Cap Hit: $59,048,333 (under the $81.5MM Upper Limit and minimum cap threshold)
Entry-Level Contracts
D Erik Brannstrom (one year, $863K)
F Alex Formenton (one year, $748K)
F Joshua Norris (one year, $925K)
F Shane Pinto (two years, $925K)
F Tim Stutzle (two years, $925K)
Potential Bonuses
Brannstrom: $450K
Formenton: $107.5K
Norris: $850K
Pinto: $600K
Stutzle: $2.5MM
Total: $4.508MM
Norris is going to be the next big contract on the horizon for the Senators.  He was one of the top rookies in the league last season and should spend all of the upcoming season in a top-six role at the very least.  Impact centers get paid quickly and if they move to sign him to a long-term deal, he could jump into the $7MM range assuming he has a strong sophomore season.  Stutzle, another long-term building block, had some ups and downs in his rookie campaign but the high-end potential is certainly there.  If he progresses as expected, he could also be looking at a similar price tag on his next deal.  Pinto certainly didn't look out of place late in the season and should see extended NHL action this year.  How he fares in that should determine if he's heading for a long-term deal of his own or something shorter.  As for Formenton, the speedster split last season between Ottawa and AHL Belleville.  He should be able to lock down more of a regular spot in 2021-22 but is likely heading for a short-term second contract.
Brannstrom was the centerpiece of the Mark Stone trade back in 2019 although he hasn't yet been able to lock down a full-time NHL role let alone show signs of the offensive upside he has displayed in the minors.  He should push for a regular spot this season but he's also waiver-exempt which could make him the odd one out in training camp.  In either scenario, a bridge deal makes more sense for him.  Considering the bigger contracts they have on the horizon for Norris and Stutzle, they'll need some shorter-term deals to balance those out anyway.
One Year Remaining, Non-Entry-Level
D Josh Brown ($1.2MM, UFA)
G Anton Forsberg ($900K, UFA)
D Nick Holden ($1.7MM, UFA)
D Victor Mete ($1.2MM, RFA)
F Nick Paul ($1.35MM, UFA)
F Zach Sanford ($2MM, UFA)
F Chris Tierney ($3.5MM, UFA)
Tierney has been in trade speculation dating back to last season and that won't change anytime soon as he's unlikely to be in Ottawa's long-term plans.  He's a serviceable middle-six center who is probably better off on the third line but players like that have landed similar contracts to the one he has recently.  A big raise is unlikely but neither is a big dip this summer.  Sanford, acquired in the Logan Brown trade, has been a capable bottom-six winger but unless he has an uptick in production with his new team, it's unlikely he'll be able to get much more than his current price tag on the open market.  Paul hasn't been able to make the most of his increased playing time the last couple of years but as a physical player that can play both the wing and down the middle, he's someone that's probably going to garner a fair bit of interest which could push his next AAV past the $2MM range.
Holden was acquired as a salary offset in the Evgenii Dadonov trade this summer and is likely to have a similarly limited role with the Senators as he did with the Golden Knights.  Barring a surprisingly strong season, he's someone that is more of a candidate to land a PTO than a raise.  Brown also is expected to play a depth role which doesn't bode well for his first chance in unrestricted free agency.  That said, he'll only be 28 next summer so he should be able to land a guaranteed deal but at this point, it probably won't be more than this one.  Mete impressed after coming over from Montreal on waivers and will be looking to earn a top-four role for the first time since his rookie season.  That will determine if he can potentially double his AAV in that situation or whether he'll be a non-tender candidate with him having arbitration eligibility again.
Forsberg was claimed off waivers three times last season but held his own when called upon down the stretch with Ottawa, earning this new deal.  If he can establish himself as a quality backup, he could double his price tag or more but having been more of a third-stringer in his career, the likelier scenario is that he winds up in a similar spot next season which would come with a bit of a dip in pay.
Two Years Remaining
F Connor Brown ($3.6MM, UFA)
D Michael Del Zotto ($2MM, UFA)
F Austin Watson ($1.5MM, UFA)
D Artem Zub ($2.5MM, UFA)
Brown's offensive output has increased with Ottawa as he has been used in a bigger role than he was with Toronto but it hasn't come at the expense of his defensive play.  All of a sudden, he has become a strong two-way player.  His ice time may dip as younger players move up the depth chart but for the time being, his deal is a nice bargain and the longer he plays at that level, the more expensive he's going to be two summers from now.  Watson makes perhaps a bit much for someone that's primarily on the fourth line but it certainly isn't a big overpayment and with the cap space they have, it's one that they can certainly afford.  It's hard to see him getting more on his next deal, however.
Zub had to wait a bit to get into the lineup but when he did, he quickly became an important part of their back end which earned him this two-year extension.  Given that he only has 47 career NHL games under his belt, pegging his value on his next contract will be tough; it'll go up if he can stay in the top four but if he winds up settling in as more of a third-pairing option, he might be in tough to land a raise.  Del Zotto's contract came as a surprise to many for someone that has had to settle for discount deals the last two seasons but the Sens believe he can be a capable veteran to hold down a spot while their prospects develop.  He'll be 33 when his next deal gets signed and it's hard to imagine he'll get more than this.
Three Years Remaining
G Matt Murray ($6.25MM, UFA)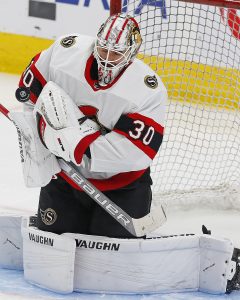 When Ottawa acquired Murray early on the second day of the 2020 NHL Entry Draft, they were hoping that they found not only their goalie of the present but also potentially their goalie of the future.  But things didn't go swimmingly for him as he followed up the lowest save percentage of his career with an even lower one in his first year with Ottawa.  Yes, the Senators weren't a great team but his struggles certainly contributed to that.  In terms of AAV, only five goalies have a higher one than Murray but so far, he hasn't provided an adequate level of goaltending let alone a high-end showing for someone making more than most starters do.
Four Or More Years Remaining
F Drake Batherson ($4.975MM through 2026-27)
D Thomas Chabot ($8MM through 2027-28)
F Colin White ($4.75MM through 2024-25)
Batherson only has one full NHL season under his belt (and it was a pandemic-shortened one) so his deal does carry some risk.  However, if he can become even a capable second-line winger long term, the contract should hold up well.  Similar logic was applied to White's deal when it was signed in a similar situation to Batherson's but his contract has not held up well so far as he has been limited to a depth role without much production.  There's still time for that to change but with Norris and Pinto also in the mix, he'll need to produce soon or run the risk of being buried down the depth chart.
Chabot was another player who signed a long-term deal quickly, with a year left on his entry-level deal, in fact.  This one has worked out quite well so far as he has established himself as a legitimate top-pairing defenseman and at 24, there's still room for improvement, especially as the Sens improve.  With how much contracts for top blueliners have gone up lately, this one already appears to be a below-market deal with a chance for it to become more team-friendly as he improves.
Buyouts
D Dion Phaneuf ($354K through 2022-23)
F Bobby Ryan ($3.583MM in 2021-22, $1.583MM in 2022-23 and 2023-24)
Retained Salary Transactions
None
Still To Sign
Tkachuk is another part of Ottawa's long-term core and is viewed by some to be their next captain, possibly as soon as this deal gets done.  There have been suggestions that the same deal that Chabot has is on the table which would immediately make him Ottawa's top-paid forward by a significant margin.  The deal will eventually get done with a soft pressure point being the start of the season; not only do they want him on opening night but they'll need to get compliant with the salary floor and Tkachuk's deal will easily put them over.  Otherwise, they'll need to add some payroll.
Best Value: C. Brown
Worst Value: Murray
Looking Ahead
From a cap space perspective, it's smooth sailing for the next couple of years as Ottawa will be comfortably below the Upper Limit.  Once new deals for Norris and Stutzle are done though, those pacts plus Chabot's and Tkachuk's will represent a sizable chunk of their payroll.  It's at that time that their spending will need to pick up and get closer to the cap in order to build and maintain a strong core around them.  Until then, GM Pierre Dorion has all sorts of flexibility to work with.
Photo courtesy of USA Today Sports Images.