The Nashville Predators have placed forward Tommy Novak on injured reserve. According to the team, Novak will be out for four-to-six weeks with an upper-body injury.
In a corresponding move, the Predators have recalled defenseman Spencer Stastney from their AHL affiliate, the Milwaukee Admirals.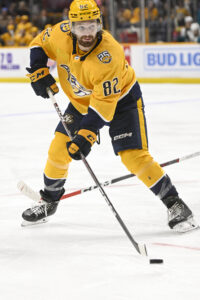 The loss of Novak, 26, for this extended timeframe is a significant one for both Nashville and Novak himself.
For Nashville, the team is losing its second-line center, one of its most reliable offensive producers, and someone who stands behind only Filip Forsberg on the club's scoring leaderboard.
For Novak, this injury represents a moderate setback in a crucial platform season.
Although Novak has been undeniably stellar since breaking into the NHL last season, (he scored 17 goals and 43 points in 51 games last year) he doesn't exactly have the largest sample size of success at the game's highest level.
Sure, Novak was moderately productive for four seasons as a Minnesota Golden Gopher and hovered around the point-per-game mark at times for AHL Milwaukee, his NHL resume, outside of last season and the start to this year, is relatively thin.
That's relevant for Novak specifically, as he's a pending unrestricted free agent and could very well want to cash in on the open market. Missing four-to-six weeks not only costs Novak a chunk of games in which he could again showcase his talent, it also confirms that he will, barring an extension, enter the open market without a single complete NHL season of productivity.
Assuming he gets there, will he still be an in-demand player on the open market? Absolutely, as he won't even turn 27 until April and has so far scored 12 points in 14 games. If he can put together a near-point-per-game season, he'll still be hitting free agency as a relatively young, highly productive pivot. Those types of centers almost never hit the open market.
But even though Novak will likely still be in a solid position to hit free agency, the reality is that this injury is a setback in terms of Novak's ability to reach the apex of his earning power this summer.
Replacing Novak on the Predators' roster is Stastney, a 23-year-old left-shot defenseman. The Illinois native has been a developmental success story for the Predators, as he's begun to establish himself as a quality depth defenseman, someone who can hold down a top-four role in the AHL and then survive in the NHL when called upon.
That's a better-than-expected outcome for a fifth-round pick, and the silver lining to Novak's injury is that the Predators will get another chance to see what Stastney can do at the NHL level.
With this recall, the Predators are now carrying eight defensemen on their roster, though with Ryan McDonagh out of the lineup Stastney could see some ice time should head coach Andrew Brunette prefer him to Marc Del Gaizo, who brings more offensive touch but a bit less defensive reliability compared to Stastney.
Photos courtesy of USA Today Sports Images