Legendary Montreal Canadiens netminder Carey Price confirmed to reporters today his nagging knee injury will prevent him from returning to NHL play "barring a miracle," expected news after missing the entire 2022-23 season and all but five games in 2021-22. Price had left the door open to a return at the beginning of last season but mentioned he was still having trouble with day-to-day activities and would have to wait and see how much he improved over the coming months.
Price said today he's still not where he'd like to be in terms of his quality of life and, therefore, is all but closing the book on his 15-year NHL career. He is one of the best netminders in franchise history for a team stacked with legends such as Ken Dryden, Jacques Plante and Patrick Roy. While never winning a Stanley Cup, he got awfully close in 2021 as he guided the Canadiens on a miracle run to the Stanley Cup Final in what would be his final full season. He does have some significant hardware to his name, however, winning the Vezina and Hart Trophies in the 2014-15 season.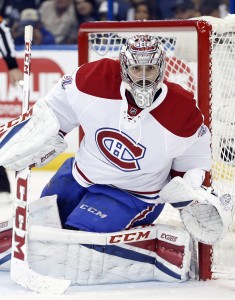 Selected fifth overall in the 2005 NHL Entry Draft, Price is the best of a quartet of elite netminders to come out of the class, which included Ben Bishop, Jonathan Quick and Tuukka Rask. While he wouldn't make his NHL debut for another few years, he made his presence known immediately as a rookie in the 2007-08 season. While starting just 40 games, he still managed to finish fourth in Calder voting and ninth in Vezina voting after posting a 24-12-3 record and a .920 save percentage. He would eclipse the .920 mark five more times over the years, including a four-year stretch from 2013-14 to 2016-17, when he was arguably the most dominant netminder in the league when healthy. Despite all that, he would be woefully overlooked when it came to awards voting, only earning a Vezina Trophy nomination twice.
That aforementioned four-year run was enough to make Price the highest-paid goalie per season in NHL history, inking an eight-year, $10.5MM AAV extension with the Habs on July 2, 2017. That contract, with a full no-movement clause, will remain in effect through the 2025-26 season. Price said today he's open to the Canadiens trading his contract to alleviate any potential salary cap issues.
His 712 NHL games are the second-most all-time among goalies who spent their entire NHL career with one franchise, trailing only Henrik Lundqvist. At career's end, he boasts an all-time record of 361-261-79, 49 shutouts, a 2.51 goals-against average, and a .917 save percentage. He holds Canadiens franchise records for both games played and wins.
Unfortunately, nagging hip and knee problems which exacerbated over the course of the 2021 playoffs were simply too much to overcome in order to make a full-time NHL return. Price wasn't expected to miss any time after the initial surgery, undergone after the Canadiens left him exposed in the 2021 Expansion Draft for the Seattle Kraken. In fact, the Canadiens said themselves he'd be ready for opening night in 2021-22. He entered the NHL/NHLPA Player Assistance Program at the beginning of 2021-22, however, and sustained a setback while training for his return after exiting the program in January. He got healthy enough to play at the tail end of the season, but the appearances caused further swelling in his knee – making it clear his playing days were potentially coming to an end.
All of us at PHR wish Price the best as he puts his true focus on the post-playing aspect of his career.
Photo courtesy of USA Today Sports Images.