With the trade deadline fast approaching, we will be taking a closer look at the situation for each team over the coming weeks.  Where do they stand, what do they need to do, and what assets do they have to fill those needs? We start with a look at the Vegas Golden Knights.
This is a somewhat different year for the Vegas Golden Knights who took the league by storm last season in route to a Stanley Cup Finals appearance. While Vegas remains playoff bound as they are firmly entrenched in third place with 62 points. However, this Vegas team has shown inconsistency throughout the year. While it looked like the Golden Knights had turned the corner throughout December and January, the team suddenly finds itself in a four-game losing streak with the Tampa Bay Lightning in front of them next. After trading a first, second and third-round pick to acquire Tomas Tatar at the deadline, who turned out to be a major disappointment, the team might be more reluctant to make a big trade at the deadline and may be more inclined to just add some depth options this time around.
Record
29-21-4, third in the Pacific Division
Deadline Status
Buyer
Deadline Cap Space
$15.554MM in a full-season cap hit, 2/3 used salary cap retention slots, 47/50 contracts per CapFriendly
Upcoming Draft Picks
2019: VGK 1st, VGK 2nd, VGK 3rd, NSH 3rd, WPG 3rd, VGK 4th, MON 5th, MIN 5th, VGK 5th
2020: VGK 1st, VGK 2nd, DAL 2nd, PIT 2nd, VGK 3rd, VGK 4th, VGK 5th, VGK 6th, VGK 7th
Trade Chips
Perhaps the biggest trade chips that the Golden Knights possess are their draft picks. General manager George McPhee has already sent off quite a few to acquire Tatar and then flip him along with top prospect Nick Suzuki and another second-rounder to pry Max Pacioretty from Montreal. However, as the team keeps an eye the future, the team also full well knows it may not want to move any more of their top picks in the next few years. That doesn't mean they don't have some later picks that they could move, including three third-rounders this year and three second-round picks in 2020 if they want to add some depth to their team. If they really want to make a splash, the team could include a first-rounder, but they may be reluctant to do so.
The team also has significant cap room, although that has been slowly disappearing. The team still has to lock up center William Karlsson, who will be a restricted free agent against after signing a one-year deal, but the team has all their key players locked up for at least the next two years, so they could take on an expensive contract for a discount.
The forward lines look pretty set even without Erik Haula, who could miss the entire season, but the team has a number of depth forwards who they could move like Oscar Lindberg, Ryan Carpenter or even Tomas Nosek to free up a valuable roster space. The question is whether other teams would be interested in any of those options. Carpenter could be of value to a team needing a bottom-six depth option, while Nosek is still young enough to offer some potential. As for defense, while the team could use an upgrade, the Golden Knights already traded away Brad Hunt, suggesting they are unlikely to move another defenseman now and although they have several interesting young defenseman waiting in the wings in the AHL, it's unlikely the team is going to move out a player to make space for a prospect.
Five Players To Watch For: F Carpenter, D Nicolas Hague, D Nick Holden, F Nosek, G Malcolm Subban
Team Needs
1) Top-Four Defenseman: While the team doesn't really need a big-name forward at the trade deadline, defense could be a different matter. The Golden Knights defense is good, but the team was almost desperate to acquire Erik Karlsson last season from Ottawa, but came up just short. They followed that up by adding Nick Holden during the offseason, but that's hardly the answer either. With Deryk Engelland starting to show his age, Holden struggling and star prospect Erik Brannstrom not yet ready to contribute, the team could use a defenseman that can help protect goaltender Marc-Andre Fleury. Plenty of rumors seem to have Vegas focused on one of St. Louis' top defenders, including Alex Pietrangelo or Colton Parayko, but the team would obviously have to move more than a few middle-round picks to acquire either of them.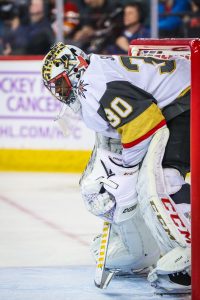 2) Back-up Goaltender: Vegas has struggled finding a solid backup. While Subban has the skills, the 25-year-old is just 2-5 this season with a 2.95 GAA and a .904 save percentage and is currently injured. On top of that, he has made just eight appearances this season, which isn't really helping a 34-year-old Fleury who has already appeared in 46 games this season, the same number he played in during the regular season a year go. With no prospects in the wings, it might make sense for Vegas to go out and get a Keith Kinkaid, Jimmy Howard or another veteran goalie to fill the void for the remainder of the season and give them an option to re-sign them this summer if they work out.
Photo courtesy of USA Today Sports Images.