There had been plenty of speculation in recent days that the Hurricanes and Justin Williams were closing in on a deal but it's now official.  The team announced that they've signed the winger to a one-year contract.  He will receive a base salary of the league minimum $700K (pro-rated) plus up to $1.3MM in potential performance bonuses based on individual and team play both in the regular season and playoffs.
GM Don Waddell released the following statement on the signing:
We've been in frequent contact with Justin over the last few months regarding his status. We're thrilled that he has decided to return to playing, and we're confident that adding him to our group will help us both on and off the ice.
The 38-year-old served as Carolina's captain last season before "taking a break" from the game back in early September before training camps open.  However, he continued to skate and was believed to have increased his training in recent days with talks intensifying towards a new contract.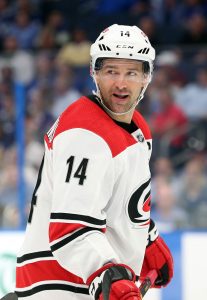 Williams was rather productive for the Hurricanes a year ago when he collected 23 goals and 30 assists while playing in all 82 regular season games; his 53 points were good enough to rank third on the team in scoring.  While it would be unreasonable to expect him to come in and produce at a similar rate down the stretch this season, he should still be able to be a useful secondary scorer on a team that is already in the top ten in goals scored.
For his career, Williams has 312 goals and 474 assists in 1,244 games between four teams.  His 786 points have him in the top 200 in all-time NHL scoring.
The structure of the contract, though a little odd, isn't much of a surprise.  As a result of the Patrick Marleau acquisition and buyout back in June, the Hurricanes are carrying his full $6.25MM deal on the books this season.  Add to that the summer signings of winger Ryan Dzingel and defenseman Jake Gardiner (who combine for a $7.425MM price tag) and Carolina is a team that's relatively tight to the cap.  Structuring the deal to be bonus-laden minimizes the potential cap effects this season while also not taking too much away from their current cap room.  If the bonuses ultimately push them over the Upper Limit, the overage penalty would be applied in 2020-21 when Marleau's deal is off the books and they have more flexibility to absorb it.
Considering that he hasn't played all season, it will be interesting to see if Williams jumps in right away for their next game on Friday against Arizona or if he will need some more time to get into playing shape.  Either way, what has already been a pretty deep attack this season just got deeper.
Photo courtesy of USA Today Sports Images.