Free agency is now a little less than a month away and teams are looking ahead to when it opens up.  There will be several impact players set to hit the open market in July while many teams have key restricted free agents to re-sign as well.  We continue our look around the NHL with an overview of the free agent situation for the Montreal Canadiens.
Key Restricted Free Agents
F Cole Caufield – While the Canadiens have the fifth-overall selection and there have long been rumors aplenty of Winnipeg Jets forward Pierre-Luc Dubois' desire to play in Montreal, this Canadiens offseason is all about Caufield. The 22-year-old sniper has emerged as a star since he arrived on the scene late in the 2020-21 season and was scoring at a 46-goal pace before undergoing season-ending shoulder surgery.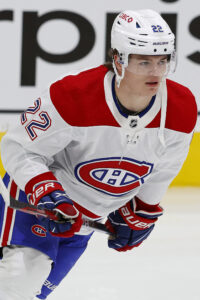 Canadiens head coach Martin St. Louis seemed to revive Caufield after a miserable start to his rookie season and since the Canadiens' new bench boss took over Caufield has been the centerpiece of Montreal's offensive attack.
He won't turn 23 until January, and his chemistry with team captain and franchise face Nick Suzuki is something Montreal can build around as they continue a rebuild. It's overwhelmingly likely that the Canadiens would prefer a long-term extension for Caufield, similar to the eight-year deal former GM Marc Bergevin inked with Suzuki in 2021.
But the main question is whether the two sides can reach an agreement on a long-term deal both sides are satisfied with, as there are some questions that will need to be answered. While they remain likely to prefer a long-term deal, could the Canadiens be more hesitant to pay top dollar for a Caufield extension given Caufield's shoulder injury?
On the flip side, could Caufield prefer a shorter bridge contract in order to sign his long-term deal a little further down the line when he won't have his injury hanging over his head, and when the salary cap will be quite a bit higher? Those are difficult questions to answer, but thankfully for Canadiens fans the bottom line is there does appear to be a shared desire to find a long-term solution that keeps Caufield with the 24-time Stanley Cup champions.
F Denis Gurianov – Acquired in a straight swap for veteran scorer Evgenii Dadonov, Gurianov flashed some serious promise in Montreal but also remained mired in similar inconsistencies to the ones that doomed his tenure with the Dallas Stars. The 2015 12th overall pick turns 26 this summer and is eligible to receive a qualifying offer at the $2.9MM he made last season. After he scored five goals and eight points in 23 games in Montreal, the Canadiens will need to decide if they have a place for Gurianov next season, and if so whether they're willing to keep him at his qualifying offer price tag.
As the success of offseason trade acquisition Kirby Dach illustrated, the Canadiens believe they have an exceptional player development infrastructure and the type of environment in place to allow underperforming players to take new steps forward in their careers. It's possible that they'll want to see what their staff can do with Gurianov given more time, though it does seem more likely that they'd prefer to retain him at a cap charge a few notches below his qualifying offer.
F Rafael Harvey-Pinard – Harvey-Pinard burst onto the scene after Caufield's injury and ended up finishing the season tied for fourth on the Canadiens in goal scoring, proving to be a major success story for the Canadiens' development pipeline. He scored 14 goals in just 34 games and showcased the kind of work ethic and hockey sense that reminded some fans of players such as Brendan Gallagher and Artturi Lehkonen.
A 2019 seventh-round pick, Harvey-Pinard has scored exceptionally well at the AHL level (56 points in 69 games in 2021-22, 16 goals, and 31 points in 40 games this past year) and seems to be a potential long-term NHL player for the Canadiens. It's probably a bit too early for the team to consider an extension with significant term attached for Harvey-Pinard as he still has just 38 NHL games on his resume, but a short-term one-way deal that gives Harvey-Pinard the platform to shine on the Canadiens' roster on a more extended basis could be the right move for both parties.
Other RFAs: F Jesse Ylonen, F Lucas Condotta, F Mitchell Stephens, F Joel Teasdale, D Nicolas Beaudin
Key Unrestricted Free Agents
F Sean Monahan – While the main reason the Canadiens acquired Monahan last summer was to acquire the first-round pick the Calgary Flames sent with him, early this season it seemed Montreal had unlocked something in Monahan as well. The 28-year-old averaged nearly 28 goals per season from 2013-2020 but had recently seen injuries decimate his on-ice effectiveness and availability. That paved the way for the Flames to pay the Canadiens to acquire him and for Monahan to get a clean slate to attempt to revive his career.
After 25 games, it seemed that he'd done exactly that as he'd scored 17 points, good for a 56-point 82-game pace. But once again major injuries prematurely ended Monahan's season, and placed the future of his career into serious question. If he can remain healthy, he's the type of player nearly every NHL team could find a place for. But he's unfortunately been unable to find the ice consistently in recent years, and any interested teams will have to factor that into whether they offer him a contract.
The CBA has provisions placing Monahan in a unique position, where he will be eligible to earn performance bonuses on his next contract as a player who has played over 400 NHL games and spent over 100 days on injured reserve. Could an incentives-laden one-year deal returning Monahan to Montreal make sense for both sides?
F Jonathan Drouin – While it's to a lesser extent than Monahan, injuries have also laid waste to the recent seasons of Drouin's career. Significant wrist troubles have sapped much of the luster from a shot that scored 21 goals earlier in his career, and Drouin scored only two goals in 58 games this past season. Now 28 years old, it's clear the 2013 third-overall pick isn't going to be the star offensive generator he was once promised to become.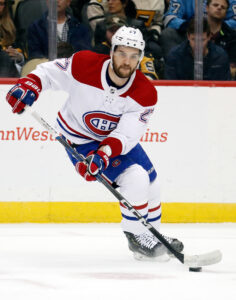 But what's also clear is that Drouin still has something to offer an NHL club. Despite lacking the ability to threaten defenders and netminders with his shot, Drouin still managed to tally 27 assists and finished with 29 points in 58 games, a 41-point full-season pace. He remains a skilled offensive player capable of contributing on a scoring line, and given his recent struggles he could likely be signed this summer to a relatively cheap contract.
With the ability to sign anywhere, Drouin will likely be more of a priority for clubs hard-pressed by the salary cap looking to add some skill on the cheap to their roster. As a result, it looks increasingly likely that his formal exit from Montreal will come soon.
F Alex Belzile – A well-traveled minor-league veteran, Belzile set a career-high in NHL games played with 31 this season, and scored decently well with 14 points in largely a fourth-line role. Belzile is a versatile depth forward with some physicality to offer and has been a difference-making AHLer for many years now. It's likely in the Canadiens' best interest to retain him on a reasonable contract extension to bolster the lower end of their NHL lineup, though one can't rule out that Belzile's recent performances might have generated leaguewide interest in his services.
Other UFAs: F Anthony Richard, F Chris Tierney, F Paul Byron, D Frederic Allard, D Madison Bowey, D Corey Schueneman
Projected Cap Space
With Carey Price's $10.5MM AAV contract now almost certainly a permanent LTIR fixture, the Canadiens have more breathing room under the cap than they might have had in recent years. The expiry of Monahan and Drouin's two contracts, which together cost over $10MM against the cap, provides additional room for the team to maneuver. While a solid chunk of the Canadiens' projected $19MM in cap space will be earmarked for a Caufield extension, there remains ample room for the team to operate and potentially make some meaningful additions.
Photos courtesy of USA Today Sports Images.  Contract information courtesy of CapFriendly.