Free agency is now a little less than a month away and teams are looking ahead to when it opens up.  There will be several impact players set to hit the open market in July while many teams have key restricted free agents to re-sign as well.  We continue our look around the NHL with an overview of the free agent situation for the Nashville Predators.
Key Restricted Free Agents
F Cody Glass – After being acquired by the Predators before the 2021-22 season, Glass only managed eight games in Nashville, playing primarily with their AHL affiliate, the Milwaukee Admirals. In 66 games at the AHL level, Glass scored 14 goals and 48 assists, also chipping in six points in seven games during the 2022 Calder Cup playoffs.
Glass finally made the Predators out of training camp, earning a spot on the roster before the start of this season. In 72 games played for Nashville, Glass scored 14 goals and 21 assists. In clearly his best season in the NHL up to this point, Glass averaged almost 15 minutes of ice time a night, showing strong defensive awareness highlighted by his 35 takeaways and 23 giveaways.
In taking such a strong step in the right direction in becoming an effective two-way center at the NHL level, Glass's next contract should still be on the cheaper end for Nashville. Still only 24 years old, his age and relatively short stretch of playing well, should both work to keep the cap hit down on a short-term deal.
D Jake Livingstone – Signed on March 29th, Livingstone could be one of the more important undrafted free-agent signings of the year. The young defenseman played at Minnesota State University, thriving under the direction of coach Mike Hastings. Livingstone was a top defenseman on the team that would eventually lose to Denver University in the 2022 National Championship game.
In his last season of college hockey, Livingstone scored eight goals and 27 assists in 39 games, which would translate to above-average scoring numbers for a defenseman in the NCAA. As the future for Tyson Barrie and Dante Fabbro is not determined beyond next season, Livingstone could become a solid defenseman in Nashville's bottom four.
D Callan Foote  – Acquired at the trade deadline from the Tampa Bay Lightning as part of the package for Tanner Jeannot, Foote was actually used quite heavily by Nashville down the stretch. The former 14th overall pick of the 2017 NHL Draft, Foote was hindered during his time in Tampa Bay due to so many excellent defensemen above him on the depth chart. In Nashville, especially as the roster gets an injection of youth, Foote should have more access to playing time going forward.
In Tampa Bay, over the course of three seasons, Foote only managed to play around 13 minutes a night. In Nashville, finishing off the 2022-23 season, Foote was averaging slightly above 16 minutes a night. In the past, he has shown the ability to block shots and throw hits at a good level for a defenseman, but his possession metrics have left a lot to be desired. Next season, Foote may benefit more from playing with defensemen such as Roman Josi, or Carrier, two defensemen that have historically produced strong possession metrics.
Other RFAs: F Rasmus Asplund, D Alexandre Carrier, F Jimmy Huntington, F John Leonard, F Markus Nurmi, F Isaac Ratcliffe, G Tomas Vomacka
Key Unrestricted Free Agents
F Zach Sanford  – Fortunately for Nashville, there are not many players set to hit unrestricted free agency this summer, therefore eliminating a potential pressure situation for new General Manager Barry Trotz. After spending the 2021-22 season split between the Ottawa Senators and the Winnipeg Jets, Sanford was signed as a depth forward, only managing to play 16 games for the Predators this year.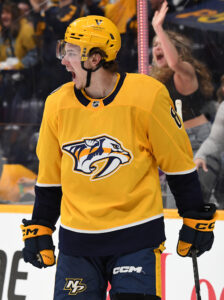 Playing in Milwaukee for much of the year, Sanford provided a good piece of veteran leadership, and he was able to score 12 goals and 16 assists in 45 games. In the 2023 Calder Cup Playoffs, Sanford scored three goals and four assists, as the Admirals are on the brink of elimination in the Western Conference Final against the Coachella Valley Firebirds.
Other UFAs: F Anthony Angello, F Austin Rueschhoff, G Devin Cooley
Projected Cap Space
Entering this summer, Nashville will have around $15.5MM in available cap space. Much of their total space is being eaten by the contracts of Josi, Matt Duchene, Ryan Johansen, and Filip Forsberg, all of who are making $8MM or over a year.
Thankfully for the Predators, with 22 selections in the next two NHL drafts, there should be quite the influx of younger talent into the roster, hardly a drop in the bucket in terms of the financial outlook. Although Glass will be making more than his previous salary of $874K a year, his next contract should not eat into their available cap by any great margin. If Nashville does look to move more expensive contracts out this summer, Duchene and Barrie are likely the only two that would have any value, as Johansen would likely need a sweetener attached, and the Predators have not shown any desire to move on from Ryan McDonagh, Josi, or Forsberg.
Photos courtesy of USA Today Sports Images.  Contract information courtesy of CapFriendly.