With the Chicago Blackhawks deciding to rebuild halfway through their previous rebuild, speculation has run rampant about all-time great Patrick Kane's future with the team. If dealt, he'd be one of the best players and biggest names traded in the past few seasons, joining blockbuster deals like the Jack Eichel and Erik Karlsson trades. However, TSN's Darren Dreger today pumped the brakes on trade rumors, saying that Kane's camp "remains undecided" and that any rumors at this point are purely speculative.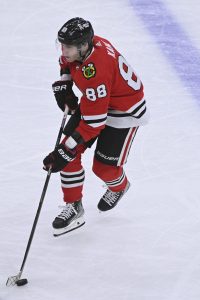 At 33 years old, Kane still has 100-point potential while logging heavy minutes. He hasn't hit that mark since posting 110 points in 2018-19, but he's stayed well above a point-per-game pace since then on a continually struggling Blackhawks squad. One of the most decorated American-born players of all time, his playing ability still remains very close to his prime.
It's because of that fact that a potential trade seems so realistic to fans around the league. It would've seemed a guarantee just a few seasons ago that Kane would remain a Blackhawk for life, but as the team failed to rebuild quickly (or properly in the slightest) and management changed hands drastically, no one would blame him for not wanting to waste the last few seasons of his peak on a sinking ship.
With or without Kane, Chicago figures to be a bottom-five team next year with little doubt. Trading him could, however, end up being the difference between a top-five selection and the 2023 first overall selection, which would land them a potentially generational center in Connor Bedard.
Just one season away from unrestricted free agency, it could make a lot of sense for Chicago to deal him ahead of the season too. While they might not get as high of a return without an extension in place for Kane with his new team, it could open the door for him to return to the team in 2023-24 to potentially usher Bedard into the league if they do land the top pick.
Regardless, Kane's choice will be an important one to watch as the offseason progresses. He'll still command a fair bit of salary cap space even if Chicago does retain salary, unless the acquiring team wishes to pay a third team extra assets in order to retain additional salary.
Photo courtesy of USA Today Sports Images