Despite his declining production in recent years, P.K. Subban still represents an interesting free agent case. On a short-term, low-cost deal, a team would be getting the 2013 Norris Trophy winner who as recently as 2020-21 was still averaging more than 22 minutes a night. According to his agent Don Meehan, who spoke with Nicolas Cloutier of TVA Sports, Subban is still considering his options and intends on playing in 2022-23.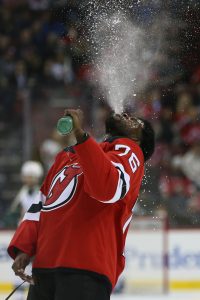 Only 33, Subban made it onto our top-50 free agent board at No. 37, ahead of some other defensemen like Ian Cole, Jan Rutta, Olli Maatta, and Colin Miller who have already found homes for next season. While a team couldn't know that they are definitely getting a player better than that group, none of them have ever come anywhere close to the kind of upside that Subban has shown in the past.
The fact is, as a right-handed offensive defenseman, it might actually be a player higher up that chart that is holding things up. John Klingberg is still unsigned, and represents a much more in-his-prime option for a team looking for a little boost on the back end. Once he makes a decision on where to go next, there may be additional teams interested in adding Subban as a cheaper fallback plan.
No matter where he goes, Subban will be looking at a massive pay cut. He has carried an average annual value of $9MM since 2014 when he signed an eight-year, $72MM deal with the Montreal Canadiens. Traded twice since then, it's been so long since Subban was on a reasonably-priced contract that it's hard to really understand what kind of upside he could even provide at this point.
There is a chance of significant surplus value if he's willing to sign a one-year deal, though detractors will say that his best days are so far behind him that it would be wasting money. There could be a good argument for a professional tryout in this case, even if that seems farfetched with the prices that other defensemen have received this summer. It would allow a team to see Subban in their system before making a commitment, and allow him to negotiate a bit more lucrative contract closer to the season, should his play dictate it.
Photo courtesy of USA Today Sports Images